As an urban guy, I watched with envy my friend park ranger spending whole days and nights in our hunting area. To my remark that life in nature is beautiful, that young, but seasoned outdoorsman answered that nature is gorgeous only at the pictures; otherwise, it scratches, bites and pokes through.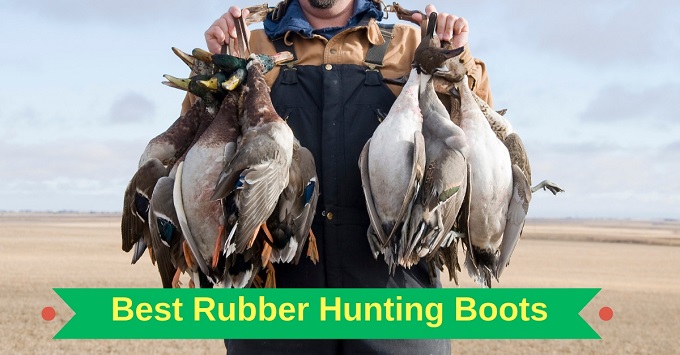 Then I remembered my first steps 30 years ago when I started planning to get into the hunting world. My mentor, as well as my older, more experienced colleagues, told me that besides a gun, the most critical pieces of equipment I can have are the proper boots.
Some time back, besides military footwear, an ordinary choice was rubber boots, both featuring good endurance and dependable protection against elements.
Today there are many types and materials hunting boots are made of, but the rubber hunting boots are still a valid option, especially if your hunting trip takes you over swamps and streams.
To summarize, here's my list of the Best Rubber Hunting Boots.
Best Rubber Hunting Boots
Before diving into the details of each, let's discuss what we're looking for in rubber hunting boots.
---
What are the advantages/benefits of rubber hunting boots?
Indeed, the rubber is a bit old school, but you should keep in mind that standing in the ankle deep water will not withstand even the best Gore-Tex or similar "waterproof" materials to keep your feet dry.
In case you hunt in terrains with wetlands and shallow waters, and the waterproof footwear is recommended, then without questions, rubber boots are the best choice.
There is nothing worse in hunting than having wet and cold feet, so if you have a possibility of going through water, mud or snow the best solution for you would be a good pair of rubber hunting boots.
Waterproof
Rubber hunting boots come in a variety of styles, but the quality ones are made using vulcanized rubber as this highly durable material boasts of 100% waterproof characteristics.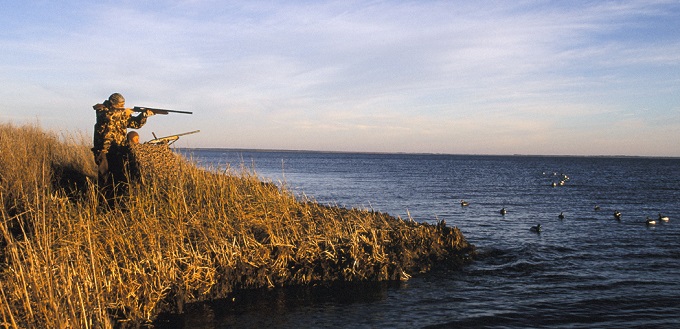 Scent-free
Another advantage over more traditional leather or synthetic materials is lack of scent, which makes rubber boots ideal for bow hunters in the deer stands. As the vulcanized rubber is mostly impermeable to air it can help hide your scent.
Support
Being waterproof and flexible at the same time, good rubber boots also provide you with higher ankle support and snug fit around the ankle and heel.
Lightweight
Along with increased flexibility and speed on the trail, rubber boots with minimal weight are the best choice. Since the vulcanized rubber is lightweight material, hunting boots allow you to walk for long distances with less difficulty for your feet and without worrying about the comfort issues.
What to expect from the best Rubber Hunting Boots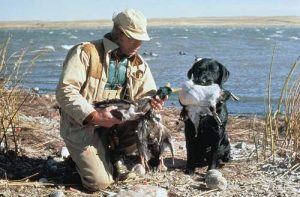 There are several different categories of hunting boots that are purpose designed for separate applications. Indeed that all hunting boots are not made the same, but the most versatile arguably may be rubber hunting boots because you may use them as basic hunting footwear for all year long, not just during hunting season.
Anyway, when you are in a quest for the right kind of hunting rubber boots for your feet you should know at what terrain type or weather conditions you will probably perform hunting.
Investing in a pair of high-quality adequate hunting rubber boots will improve your agility, stamina and strength.
Things to look for/attributes that differentiate these products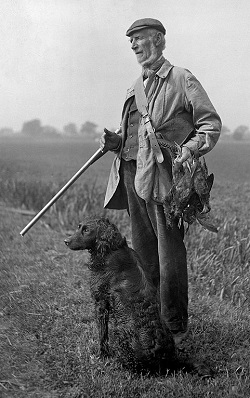 These boots offer a surprising amount of universality, so it's not uncommon to find people wearing hunting rubber boots all year round or while working around the farm or fishing.
While many authors recommend purchasing top-of-the-line, high-priced hunting boots, many smaller brands will provide hunters with similar levels of comfort and protection but at much fair prices.
There are a few points experienced hunters and first-time buyers should be reminded of when while choosing a pair of best rubber hunting boots.
Hunting socks
Firstly, if you are shopping in brick and mortar stores don't forget the socks that you wear when hunting. On the other hand, it can be a bit hard to select footwear to purchase from the online retailers, but the basic rule is that you don't get a boot that is too short.
Height
Because of the different hunting landscapes that you will be walking on, the height of the boot is an important factor. Hunters who go through the waterfowling areas and marshlands need to have a long shaft to prevent water from getting in. While the rubber boots have a height range of around 10 to 18-inches shaft, the best boots are higher than the full length of your calf, but keep in mind that taller rubber boots will weigh more.
Closures
The average rubber hunting boot will have a tie at the top, like a drawstring bag, to secure the inside from dust, debris and water even more effectively.
Insulation
Whereas all rubber hunting boots will resist water and keep your feet comfortable and dry, they are not considered the best cold weather footwear. However, with changes in customer demands, rubber boots are nowadays constructed with warm neoprene uppers as well as up to 2,000 grams of insulation. Such models of rubber boots are able to withstand frigid temperatures, but a rule of thumb for an all rounded rubber boot is to go with about 1,000 grams of Thinsulate.
Tread
Boots with good tread or non-slip sole are definitely a great feature you should look for. While the increased surface area will protect your feet and ankles from falls, the boots with aggressive lugs have good traction and shed mud or snow much better.
Other Considerations
Purchasing hunting rubber boots is not as easy as choosing a pair of working shoes so you should consider a few other features like:
The heel kicker is placed on the back of the boots and serves for a simple boot removal after a long day hunting
The shovel guard, as its name says is reinforced part of the boots enabling easier shovel digging and climbing.
Side gussets help keep out debris and provide a more snug, comfortable fit
Snake proof feature is especially useful if you hunt in areas where snakes dwell
Today most rubber hunting boots come in a wide variety of styles and colors to suit every taste, but currently the most popular is a mossy oak camouflage pattern, which makes the rubber boots inconspicuous in forested areas.
Limitations And Precautions For Using This Type Of Product
Over time, the hunting boots have evolved and used the new high-tech materials they keeping us more comfortable and dry while we are on the hunt.
Since the hunting boots are made of vulcanized rubber, they are waterproof and tend to absorb scent, but it also means these are not perfect for hunting that requires a lot of walking because they don't breathe well, and may be too warm for the hot climate.
On the other hand, rubber-hunting boots traditionally are not recommended for use in particularly frigid conditions.
Furthermore, while the rubber boots don't provide sufficient support, you can find models with more knobby soles to protect you when hunting in rocky or rugged terrain, but they can also be a bit noisier than smoother soles.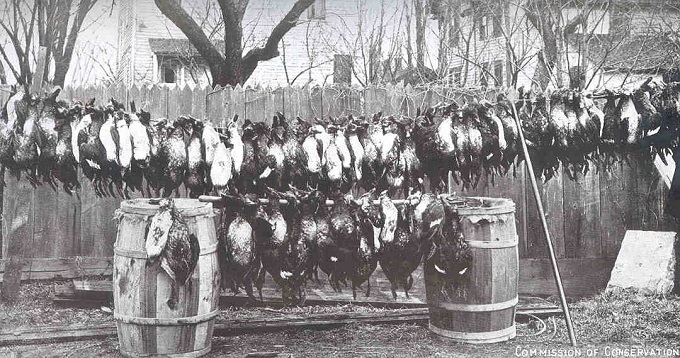 Hunting is both fun and challenging, but if you want to enjoy such moments, you need to have a well-fitting pair of hunting boots. In order to help you to choose the most appropriate gear for hunting, we have developed this guide with all of the things you need to know before making a decision. In addition, we have put together a list of our five proposals that will perform equally well in any weather, whether it is over tough terrains like rocky areas, marshland or swamp water.
---
Rubber Hunting Boots Recommendations
1. Bogs Bowman-M
As most of the rubber boots manufacturers, BOGS Footwear makes their Bowman Hunting Boots in China, but they are an entirely new level of comfort over the $50-$60 boots that typically are coming from PRC.
At first glance, the Bogs Bowman-M are recognizable by the handle opening at the top of boots that makes more comfortable to pull them on than other brands.
Whereas these pull-on hole handgrips are a nice touch, they might be an issue since these handles might start to tear over time.
The Bowman provides more insulation with 6mm Neo-Tech lining than other brands' "lite" boots do, so you don't have to wear very thick or double socks for your cold hunting.
Although the boots have several linings and shaft measuring approximately 14.5″, they are still very lightweight measuring around in at a mere 2.6 lbs per boot.
This waterproof hunting boot is featuring Bogs Max-wick moisture-wicking lining designed to eliminate bad smell and paired with Airmesh to allow feet to breathe and achieve warmth without bulk. The Airmesh consists of several small fibers that don't tear the neoprene to shreds.
Unlike most of its counterparts with a usual wavy pattern, the Bowman Hunting boots sport great non-slip tread design with a self-cleaning deep lug outsole. The aggressive tread provides sure footing on slopes and inclines and cleats don't tend to accumulate mud.
Additionally, this pair comes with a heel kick on the back, which is helping you, easy to get boots off.
The only area that might be an issue is the boot tops because they are firm and will not allow you to place your pant legs over the boots.
| Pros | Cons |
| --- | --- |
| ✓ 6mm Neo-Tech Insulation | ✗ Very firm and wide tops prevent you from pulling pant legs over the top |
| ✓ Max-wick moisture wicking lining | ✗ The handles might start to tear over time |
| ✓ Each boot is only 2.6lbs.aproximately | |
| ✓ Handle opening at the top of boots for easier pull them on | |
| ✓ Heel kick on the back for easier get off | |
2. Kamik Hunter Boots
Canadian company Kamik has more than 100 years of experience in making outdoors style footwear. Compared to others in the industry, Kamik rubber hunting boots are quite affordable, while their products deliver superior comfort and durable protection in the most extreme conditions.
Made in Canada, these winter rain boots are great in cold weather – rain or snow because their 8mm thermal guard liners enable you to hunt in freezing temperatures even up to -40 degrees F (-40°C) without your feet getting cold.
Kamik made Hunter boots with a synthetic upper, which makes them 100% waterproof. Additionally, it comes with the adjustable drawstring collar to keep out snow, moisture and debris.
With height of 14.5 inches and 3.89 lbs weight per pair, this waterproof knee-high boot might seem like they would be a little heavy, but the insulated rubber boot made to last while they will keep your feet warm and dry even in freezing temperatures.
While Kamik rubber hunting boots provide the optimal level of insulation in cold weather, the moisture-wicking lining inside the boot is removable so it can be taken out to dry. You can also wear these Kamik's boots in warmer weather without inner lining because in that case, extensive sweating won't be that big of an issue.
Specially designed Kamik's EXPLORER outsole is made of the synthetic blend to provide you with decent traction when you are going through the unsteady grounds and in any conditions.
The Hunter boots are available only in green and black color.
| Pros | Cons |
| --- | --- |
| ✓ Removable 8mm (1/4″) thermal-guard liner | ✗ There are few issues with Quality Control |
| ✓ Boots with -40-degree Fahrenheit temperature rating | ✗ Pair of boots weighing at 3.9 lbs might be a bit heavy |
| ✓ Kamik's EXPLORER rubber Outsole | ✗ Camo pattern is not available |
| ✓ Shaft measures approximately 13″ from arch | ✗ Shaft measures approximately 13″ from arch |
| ✓ Adjustable calf strap | ✗ Adjustable calf strap |
3. Muck WET-998K
The Muck WET-998K boots can be used for many outdoor activities like fishing, hiking or even farming, but these rubber boots are best for hunting because for their sneaker-like feel.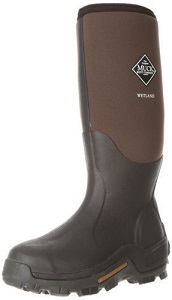 Since the MuckBoot boots combine vulcanized rubber uppers and stretch-fit neoprene construction, this 100-per cent waterproof footwear will allow you to keep your feet dry no matter what the weather conditions are.
With an overall height of 16 1/2″ and a shaft that measures about 15-inch from the arch, you do not have to worry about water entering the boot.
While the boots are not insulated, they will keep you warm during the winter with signature Muck Boot 5mm CR Flex-Foam neoprene. Additionally, the stretch fit topline binding will ensure a tight fit and it will stay snug around the calf to get warmth in and cold out as well as keep out debris.
Moreover, for more comfort, the inside of these perfect mid-season boots is lined with breathable Air mesh lining and features the EVA contoured and molded midsoles that follows the feet's natural shape.
These knee-high rubber boots sport the sturdy rubber soles that wrap around the boots to ensure stable footing and protection on any rugged terrain.
While the self-cleaning MS-1 ribbed outsole provides that most mud will easily fall off, the unique treads aren't exactly suited well for scrambling over wet rocks or walking on ice.
Although the Muck Boot Company claims they are the "gold standard" for rubber mud boots, at average weight per pair of 4 lbs. 2 oz., limited temperature range from -20 °F to 50 °F (-30 °C to 10 °C), and occasional issues with quality control (QC). Wetland boots are just an average addition to MuckBoots line-up of outdoor footwear.
| Pros | Cons |
| --- | --- |
| ✓ 5 mm neoprene provides comfort and flexibility | ✗ Not for frigid temperatures |
| ✓ 15-inch shaft height offers maximum protection | ✗ Tread lacks grip |
| ✓ Air mesh inner lining | ✗ Not so light with a 40-ounce weight per each |
| ✓ A top can be rolled down to cool down a bit | ✗ It came only one color |
| ✓ CR flex-foam upper | |
| ✓ Soft fleece lining enhances comfort | |
| ✓ Self-cleaning MS-1 soles | |
4. LaCrosse Grange 18"
LaCrosse introduced a non-insulated, do-it-all 18" high rubber boot dubbed Grange in 1957 pairing ozone-resistant waterproof rubber with a lugged outsole.
Great for hunting and farming, these boots are completely waterproof making them a perfect choice for every outdoor activity such as walking through puddles, mud, and even for moving through streams too.
Since the insoles come with removable EVA foam footbeds these 4.5 lbs, weight boots are comfortable too and you can wear them over 8 hours on your feet without sore or tired feet.
The LaCrosse Ankle-Fit design combined with fiberglass shank provides maximum arch support and keeps the boot locked-in while walking to ensure a secure fit.
These LaCrosse Men's Grange hunting boots feature a chevron-cleated outsole to prevent slippage and provide better debris-shedding traction and grip. Additionally, Lacrosse vulcanized this outsole to the boot to avoid separation from each other.
While Grange sports a 17-inch shaft, LaCrosse made them of scent free and 100% ozone resistant rubber. The boots are equipped with an adjustable back gusset for fit adjustments what is a nice touch.
This is excellent go-to all-around quality boot available in green color and different sizes, but LaCrosse's Grange is not ideal for women's use, especially for women with small shoe sizes.
| Pros | Cons |
| --- | --- |
| ✓ LaCrosse's Grange comes with a 17-inch shaft | ✗ The boots are tight at the ankle and not easily pulled off |
| ✓ Ozone-resistant, scent-free rubber for durability | ✗ They come without heel extension |
| ✓ Removable EVA footbeds provide cushioning | ✗ They do not come in the ladies sizes |
| ✓ LaCrosse Ankle-Fit design prevents slippage while walking | |
| ✓ Chevron-cleated outsoles give great grip and traction | |
| ✓ At 36 ounces per boot, they are lightweight | |
5. LaCrosse Alphaburly Pro 18″
The LaCrosse is a company with a long tradition and their Men's Alphaburly Pro series consists of the insulated and non-insulated models.
LaCrosse Alphaburly Pro 18″ for men is an uninsulated hunting boot that can be worn in all types of terrain as well as various other outdoor conditions.
The 16-inch shaft of the boot enables you for wading through water and in swampy areas or for walking on potentially rough terrain. Though this Alphaburly comes with an extra 18″ length, this non-insulated version weighs only 4.8 pounds per pair.
It also comes with a thick EVA midsole to provide you with extra comfort, cushioning and shock absorption.
Made of tough rubber, a specially designed chamfered sole will shed mud easily while it will provide you with the necessary traction for moving through different terrain.
A handy feature about this boot is the adjustable rear gusset that makes it easy to remove the boot after a long day.
Rated for temps as low as zero degrees Fahrenheit up to 70 degrees F (-18°C to 21°C), an 18″ tall hunting rubber boots Alphaburly Pro with a neoprene liner will be comfortable enough to wear year-round. Actually, the boots are constructed with 3 layers of rubber hand-laid around the heel and toe area as well as 2 layers of rubber over insulating neoprene core across the instep.
Besides premium rubber, these boots use the pre-waterproofed leather as a double-layer vamp for added support and durability.
| Pros | Cons |
| --- | --- |
| ✓ Made of scent-free rubber | ✗ It cannot be used in frigid temperatures |
| ✓ Leather/Neoprene upper combination | ✗ Height may be uncomfortable for persons shorter than 5'8″ |
| ✓ Removable EVA footbed | ✗ A strap on the calf doesn't last |
| ✓ It comes with long shaft measuring 15.75″ from arch | |
| ✓ Neoprene gusset enhances the overall fit | |
| ✓ It is offered in several colors and pattern options | |
| ✓ Temperature range: 0-70 degrees Fahrenheit | |
---
Conclusion
Between all above-reviewed rubber boots, LaCrosse Alphaburly Pro scent-free, knee-high waterproof rubber hunting boots embedded all needed features for a pleasant hunting experience. Although uninsulated they will help you stay warm at reasonably low temperatures. The carved neoprene lining of the boot, besides some insulation, will make it breathable. The long shaft keeps your feet well protected whereas the adjustable gusset offers a customizable ankle fit.
All in all, LaCrosse Alphaburly Pro boot is perfect for anyone looking for an affordable all-weather hunting boot.

When you take your passion seriously, or you expect to be in a generally damp environment, then investing in a quality pair of rubber hunting boots is your right choice.
Like almost every part of hunting gear, rubber boots come with their benefits and setbacks and you should choose one that is suitable for certain hunting environments.
As you found until now, boots for hunting can destroy or make it fun, so carefully selected rubber hunting boots are comfortable, warm and stylish at the same time. On the other hand, as a rule of thumb, they are not suitable for hunting in freezing temperatures, especially if you are hunting from a stand or not moving around much.
Although good quality wellies might cost a bit, we recommend you to buy a pair of the best rubber hunting boots you can afford.
Unlike your favorite hunting firearm, you will probably not be passing your rubber hunting boots to your heirs, so have on mind the adapted quote : "Life is short, so you should enjoy every moment of every day, especially in the hunt".