You have invested a lot of your time and money into shooting/hunting sports. It sure is a lot of fun, but the sport is rather a pay to play one.
To save money, some of us learn reloading and casting our own bullets to cut costs. Some of us also cite the meat we put into the fridge.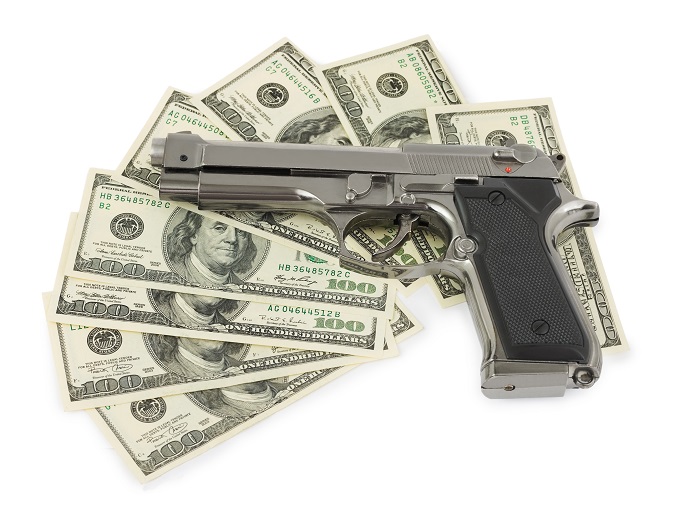 But don't you think it's time to earn big money from the things we love?
If you can make a YouTube channel about your shooting, that's super cool. But it takes a lot of effort. I have a better idea where you sit back, relax and earn some money. (Sounds like a scam? No, um, it really is not. Trust me.)
That's right. Now's the time to buy firearm related stocks, gentlemen, and women.
Disclaimer : I the writer, have no investment position whatsoever in mentioned stocks in this article at the time of this writing. But I might buy them in the future.
Disclaimer 2 : I the writer, have no professional financial training.
Trump Slump & Remington's Bankruptcy
Have you heard the news that Remington, one of our favorite gunmakers, filed for bankruptcy in March 2018.
The reason for this bankruptcy is said to be declining sales and profit during President Trump's era (Some called it "Trump Slump"). After President Trump got into power, many people feel that their 2nd amendment right is secured. They feel that it's a good time to "reduce" their stockpile of guns and ammo.
This slowing demand (or purchase), of course, doesn't affect only Remington.
Sturm Ruger & Co Inc (Ruger)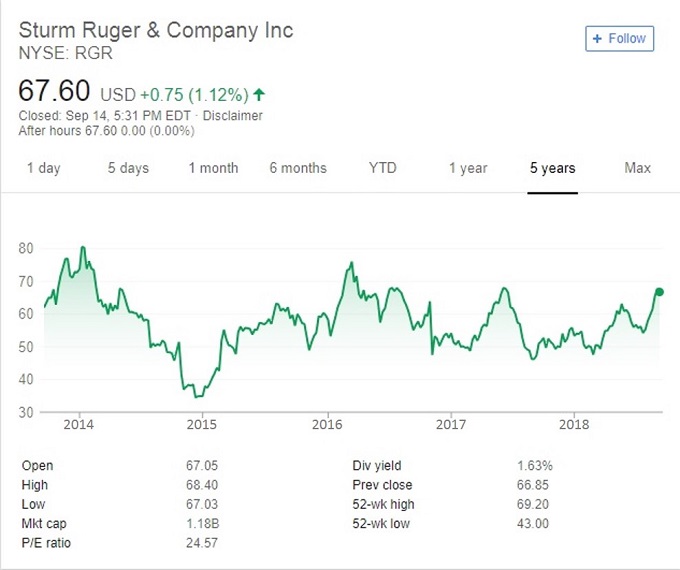 Sturm Ruger & Co Inc, better known by the shortened name Ruger, is an American firearm manufacturing company based in Southport, Connecticut.
According to the ATF statistics for 2015, Ruger is currently America's largest firearm manufacturer, as well as the second largest pistol/revolver manufacturer (behind Smith & Wesson) and rifle manufacturer (behind Remington) in the United States.
Notable financial statistics
Sales in 2017 is 21% less than in 2016
Net Profit in 2017 is 40% less than in 2016
And 2018 seems to be similar to 2017
American Outdoor Brands Corporation (Smith & Wesson)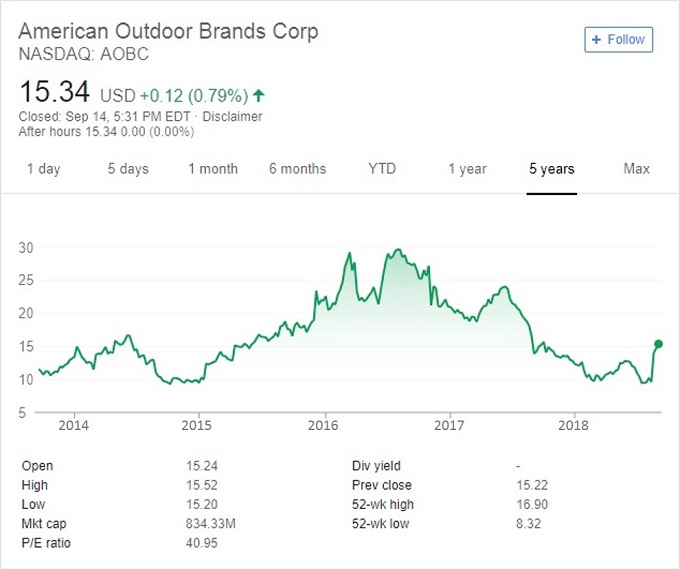 Until 2016, the company was named Smith & Wesson Holding Corporation. American Outdoor Brands Corporation is an American manufacturer of firearms and outdoor sports and recreation products. It owns 18 brands. And its principal brand is Smith & Wesson firearms.
In 2017, firearms accounted for 86% of AOBC's revenues.
Notable financial statistics
(May 2017 – April 2018)
Sales in 2017 is 33% less than in 2016
Net Profit in 2017 is 84% less than in 2016
Vista Outdoor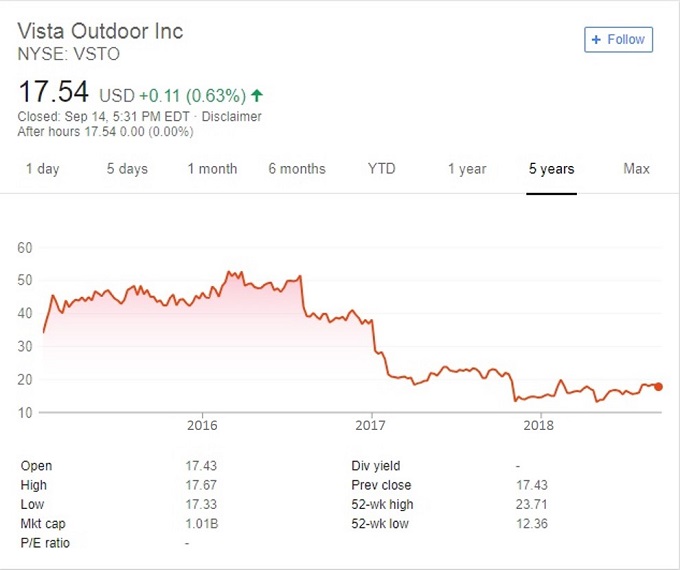 Vista Outdoor Inc. is an American publicly traded "designer, manufacturer, and marketer" of outdoor sports and recreation products. It operates in two segments, shooting sports and outdoor products, as a "house of brands" with more than 40 labels and subsidiaries.
In 2018 Vista Outdoor, the owner of Federal Premium, Savage Arms, Bushnell, Hoppe's 9, etc. , planned to sell its gun manufacturing business and focus on ammunitions and other outdoor activities products instead.
Notable financial statistics
(April 2017 – Mar 2018)
Sales in 2017 is 9% less than in 2016.
Net Loss in 2017 is $60 million.
Situation seems to worsen in 2018 for Vista Outdoor.
To Sum Up
As you can see, things are not so bright for the firearm manufacturers in recent years. But this is the exact reason why you should invest in these stocks today.
Looking for a scope for your AR-15? See Best AR15 Scope.
Why it's a perfect investment opportunity
I do not claim to be a master of investment but I am sure that most of you readers have heard of some of these time-tested investment philosophies.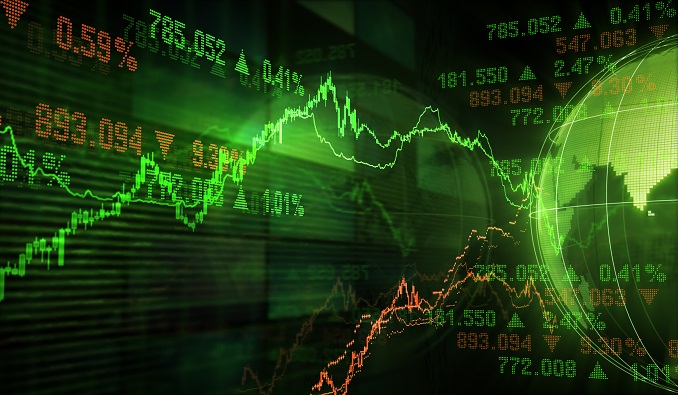 "Buy companies(stock) that you know and love."
"The time to buy is when there's blood in the streets."
"You can't see the future through a rearview mirror."
Guess what, our situation fits perfectly according to these philosophies!
"Buy companies(stock) that you know and love."
This statement means that you should only invest in stocks that you know a lot about them. What are their products? How are their customer service? Are they winning against competitors?
If you think about it, we're far more knowledgeable about these things than 99% of people on Wall Street.
For instance, these "stock gurus" might have heard about "Sturm Ruger & Co" but many of them don't even know how popular is the Ruger 10/22. Some people also don't know when hunting season starts and might misinterpret the cyclical period of sales.
But we do know about these things. We know that 6.5 Creedmoore is gaining popularity in recent years. We know that many cheap China brands are entering into the market to compete with U.S. goods. And we also know which optics brand is the most popular for military operations.
For any of you who have good relation with gun shop owners, retailers and workers, you can easily acquire information about how the businesses are like in recent months.
With these information at hand, we're far more informed than most people regarding investment in shooting/hunting related stocks. And that's why we should be able to do better.
"The time to buy is when there's blood in the streets."
The statement was made by Baron Rothschild since 18th century. But it still holds true today.
As you saw earlier, 2018 is a bad year for firearm industry. Many companies are experiencing sharp drops in profit.
If that's not enough blood for you, do you know that some big investment funds and firms are avoiding firearm stocks like the plague? Plus, there are activist movements promoting the dumping of firearm stocks. Have a look at these silly articles.
Obviously we don't buy into these absurd notions, and that gives us a more reasonable view of things such as that firearms will always be appreciated in the United States.
A quick advice on their attitude, "don't take it personal". Thank them for their poor attitudes that we get to buy cheap stocks.
"Generally, the greater the stigma or revulsion, the better the bargain." – Seth Klarman
"You can't see the future through a rearview mirror"
Making money in stocks is about anticipating the future. And particularly with firearm related stocks, we should be able to anticipate better.
Politically speaking, President Trump is kind of an extreme guy. It's highly likely that he'll face much stronger opposition in this upcoming midterm election. Which should alight the need to stockpile firearms again.
Furthermore, there are signs of recovery in firearm sales during 2018. Which means that the future for firearm related firms should be brighter than in 2017.
The best time to buy any stock is when things are so bad, but are about to improve. That way you'll get the cheapest possible stock with highest amount of gains.
Smells like profit to me!
If you're interested in shooting long range but don't have a long range scope, see Best Long Range Scope and Long Range Scope on a Budget.
Timing & Price Charts
No investment decision should be made without consulting the chart. It can help you with short term timing of when to buy and sell.
There are various tools out there, 100 days moving average, RSI, EMA, Fibonacci and the like. But I'm not too knowledgeable about these.
If you happen to know about them, you're likely to make more profit. But I mostly use just graph patterns for my investment decision making.
Sturm Ruger & Company Inc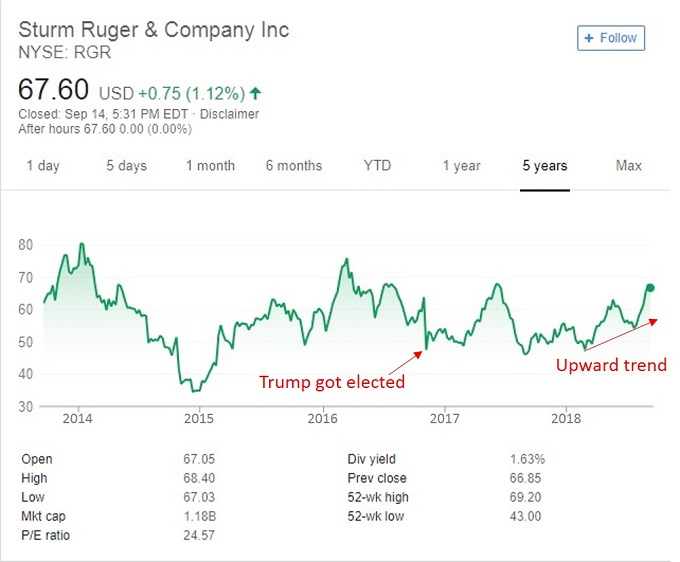 You can see the sharp drop on November 2016, where President Trump got elected. And the upward trend starting from around March 2018.
$80 in 2014 was its all-time high, so you might want to buy now and sell it around $75-$80. That would translate to return of about 11%-18%.
American Outdoor Brands Corporation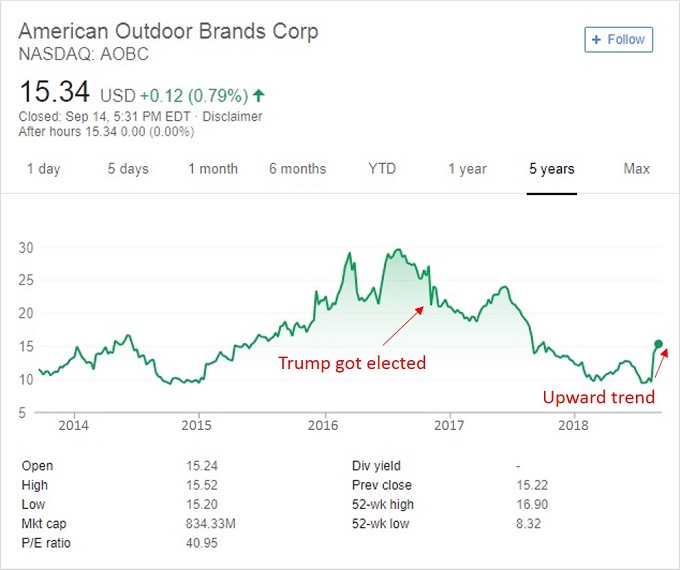 Smith & Wesson price has a somewhat similar pattern to Ruger. Price drop since Trump got elected.
But the good thing is that current price is still far from its all time high of $29.72 in August 2016, meaning that there are a lot of room to run. If you buy this stock at $15.34 and it went back to its all time high, your return profit will be about 94%!
Taking into account the recent sharp price rise, you may be in for a quick profit!
Vista Outdoor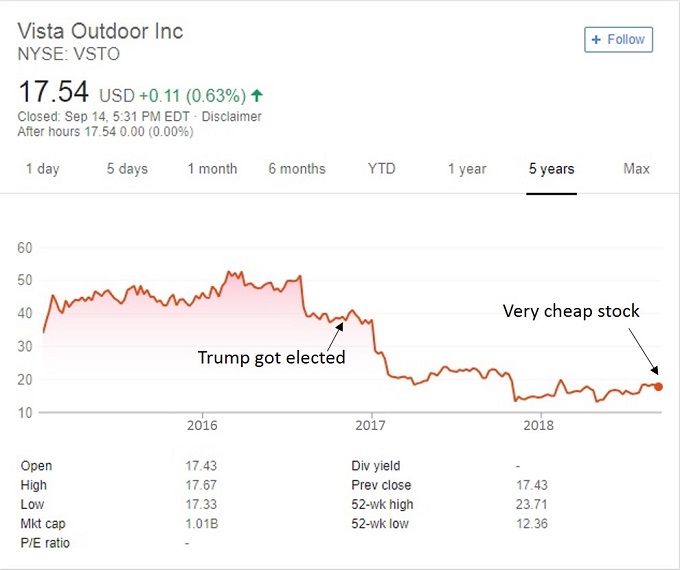 Vista Outdoor is rather different from the previous two. The stock dropped sharply and has not shown signs of recovery yet.
From my point of view, this is due to the fact that Vista Outdoor is operating at a loss since April 2016. Its business is in a more dire situation than Ruger and Smith & Wesson. And there's the announcement of selling some part of its businesses.
With that said, Vista Outdoor offers the highest potential gain, if they really recover from the slump.
In the end, I think it boils down to whether you believe in its products. What do you think of Federal Premium, Savage Arms, Bushnell and Hoppe's 9? If you think these are great products that you and your sons and daughters will use in the future, then you should buy it. But if you don't like these products, then Vista Outdoor is bound to fail.
A risky move? Yes, that's why the investment decision must be done by sportsman who really know about shooting/hunting like you.
Looking for a great hunting scope? See Best Hunting Scope and Best .308 Scope.
Valuing these businesses for buying price
This part is for those people who crave some mathematical calculations. Please note that for those who get a headache every time you do the math, you can skip this part. The conclusion will mostly be the same and you will not lose anything skipping this process.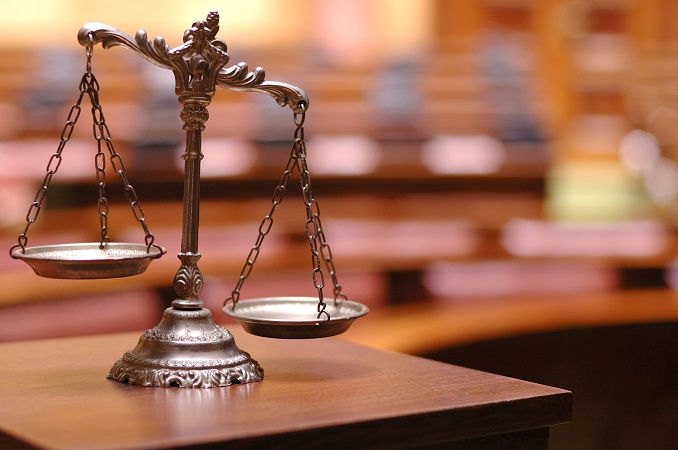 There are many ways to value a business. But here I will use a simple proxy of P/E ratio to determine whether the price is cheap or expensive.
According to multpl.com, the average P/E ratio for NYSE stock on 14 Sep 2018 is 25.16x. This crudely means that if our stock's P/E are higher than 25.16x, they are more expensive than the average stock in NYSE. While if they're lower than 25.16x, they are cheaper.
Now let's take a look at the P/E ratios of the above mentioned stock. (P/E ratio is readily available below the charts above.)
Sturm Ruger – 24.57x
Smith & Wesson – 40.95x
Vista Outdoor – Not applicable
*Vista Outdoor's P/E ratio is undefined because they're having a net loss in the first half of 2018 (data as of the day of this writing).
Whoa! So these are all expensive except Sturm Ruger? No, no, no. Hold your horse. The net profit of these companies here are under pressure from the Trump Slump. We're predicting that it will return to its former glory within a couple of years.
So I assumed a net profit number from its peak during 2016. Here is the adjusted P/E ratios.
Sturm Ruger – 67.6/4.59 = 14.73x
Smith & Wesson – 15.34/2.25 = 6.82x
Vista Outdoor – 17.54/2.35 = 7.46x
*Data from Morningstar.com
Completely different results! You'll see that all 3 of these stocks are much cheaper than most stocks in NYSE with Smith & Wesson being the cheapest.
As long as you believe that these stocks will make a comeback in terms of profitability, you can buy your favorite firearm stocks with confidence.
Want a good scope for plinking? See Best .22 Scope and Best Rimfire Scope.
Conclusion
The slump on the firearm industry is making firearm related stocks cheap and attractive.
Granted, their financial performance are affected in this period. However with the upcoming midterm election, combined with our knowledge in the niche, we should be able to make informed decision that few man from Wall Street can execute.
The graphs & charts are showing an upward trend. P/E ratios are unreasonably low compared to most stocks in NYSE. And lastly, you know the business conditions of these stocks very well.
It's now the time to use your shooting/hunting knowledge to make big money.
Looking for a scope for your AR-10? See Best AR10 Scope.
← More tips on how to save money on your ammo