AK-47 was first manufactured in 1947 (hence the name AK47) by Mikhail Kalashinikov, a russian soldier and a weapon engineer. Since then, it has been favored by military and many others because of its high reliability, low cost and effectiveness. A 2007 study suggested that AK-47 accounted for 15% of firearms worldwide.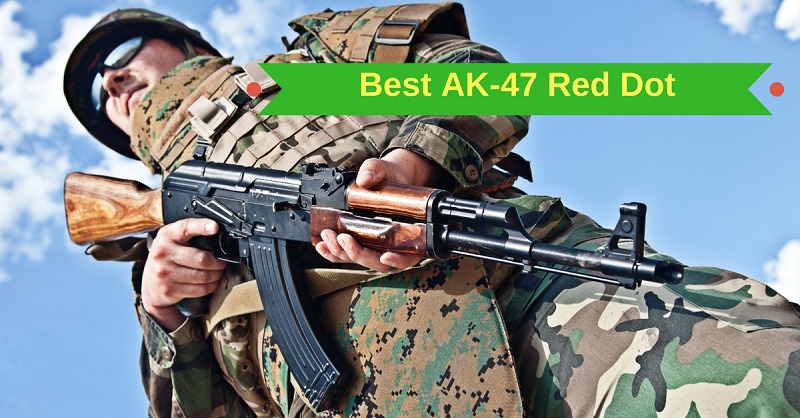 Being a combat gun with deadly effective range under 200 yards, a suitable upgrade is to make faster target acquisition system with little to none diminishing FOV. That way, you can keep your eyes on surrounding threats and shoot with speed and accuracy. Magnifying is not needed as shooting is likely done at closer range.
From reasons outlined above, red dot sights become the best optics for AK-47.
There are some myths on the internet claiming the AK-47 features high recoil which is totally false. This is based from personal experience and the fact that AK-47 is built for ease of use and is
also a weapon of choice for child soldiers.
Here's a summary list for my Best AK47 Red Dot.
---
What to look for in a red dot?
Type of red dots
There are 3 types of red dot in the market :
Reflex Sight – low power LED is reflected on the objective lens to create the red dot. Due to simpler construction, it's generally lighter and less bulky than holographic sights. An example of this is the Aimpoint model.
Holographic Sight – A more powerful laser is bounced on mirrors to generate the red dot. Due to its structure, parallax error is less than reflex sights. However, it consumes batteries much faster. EOTech products are examples of this model.
Laser Sight – This is just a laser pointer attached to your firearms. The dot is placed on your target instead of the glass.

Reticle Size
As the name suggests, a single dot is the most common reticle for a red dot sight. Its size is measured in MOAs. Basically you want a red dot that is large enough for you to see but not too large that it obscures your target or make shooting inaccurate
As a rule of thumb, 1 MOA equals to 1 inch at 100 yards, 2 inches at 200 yards, 3 inches at 300 yards and so on. Small MOA like 1-3 is good for accuracy shooting while larger MOA is good for fast target acquisition. Imagine placing a shot at 50 yards away with 3 MOAs red dot. Your dot will have 1.5 inches in diameter, which should be good enough in most cases.
Reticle Shapes and Color
Other than a plain dot, some red dots offer shapes like crosshairs, dot with circle, dot with semi-circle and many others. There are many colors apart from red such as green or blue. But in my opinion, red is the easiest to spot on most occasions.
This is mostly up to you. Just pick the one you like.
Reticle Intensity and Night Vision Compatibility
An ideal red dot must be easily seen both in bright daylight and close quarter rooms with few lightings.
Another useful feature is red dot's compatibility with night vision optics. When turned on, night vision brightness settings should be faint enough that it will not blind you while using night vision optics. This will gives you the edge when shooting in the dark, but normally comes with higher price tag.
Lens Coating
As with any optics, quality lens coating help with image quality and reduces glare from looking in the direction of or away from the sun.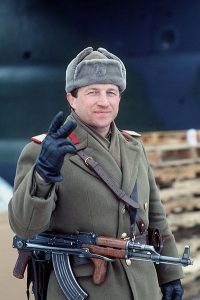 Tube shapes and sizes
There are 2 style of shapes to consider
Tube Sight

– This looks similar to a scope. It's advantage is durability. And in case of very bright sunny days, you can use filters to make red dot more visible.

Open Sight

– This features a square screen you can look through. It is generally lighter and less bulky. But doesn't go along with filters.
A quick mention on field of view (FOV), even though open sights generally give more FOV, it isn't much of a plus as you probably would be using both your eyes and see surrounding areas without having to look through the glass.
Battery Life
A crucial factor for red dots, as no dot is visible if you run out of power. Since battery technology has improved so much over the years, some red dots can be turned on for 3-5 years straight (albeit not the highest power). Thus many people turned it on all the time, even though firearm may be sitting in a storage.
Holographic sights use lasers not LED as normal red dots. They tend to consume lots of energy. Thus Holographic sights have shorter battery life.
One thing to note, cold weather drains more battery power. So if you live in colder areas, you need to prepare backup or check your battery frequently.
Some optics employs alternative ways to lighten up the reticle. The Trijicon AccuPoint uses Tritium while some other models use solar panels to help generate power. These tend to have longer life but lower brightness.
For battery life, reliability is key. No one wants to have dead batteries in the middle of an operation.
Durability and Warranty
A practical red dot needs to be water-proof, fog-proof and shock-proof. The optic must be able to withstand lots of abuse. And it should handle high recoil rounds. For AK-47, recoil will not be much of an issue.
Note that the highest durable red dots are made by Aimpoint. If you are going on a military operations, it's a good choice to look at. Note that super durable optics also come with higher price tag.
Lastly, if all else fails, one needs a good warranty and customer service from the manufacturer. Defects and accidents do happen. And there's the matter of transferability warranty, which normally makes reselling value higher.
Co-witnessing
Co-witnessing is about mounting red dot sights while retaining iron sights to serve as a backup. This is not a necessary thing to do, but it can help you when the red dot fails.
There are 2 popular setup for this :
Absolute co-witness

– Aligning rear sight, red dot sight and front sight on a same line

Lower ⅓

– Aligning the red dot sight higher while iron sights are at about ⅓ of overall red dot sight picture
It's a matter of preference and mostly comes down to tube size and mount. With a bigger tube, one might be forced to use the Lower ⅓. Other than that, you can line up whichever way you want with the right mount.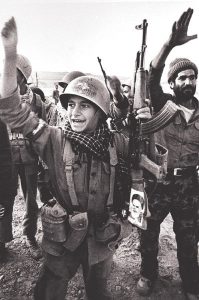 Objective Lens Diameter
A larger objective lens doesn't mean much for a red dot as you tend to use it with both eyes open. Your field of view should be unlimited. Larger objective lens tends to be heavier and might make it difficult for absolute co-witness.
Parallax
Some red dots offer a parallax free feature which is favorable. However, no optic is truly parallax free. Note that the term "parallax free" in industry standard is parallax free from 30 yards onward.
---
Best AK47 red dot Recommendation
With the criteria of "What to look for" as a guideline, here's the selection.
1.Bushnell AK Optics AK 1x25mm Red Dot Sight
This is a budget option from Bushnell. The image quality is ok but cannot be used under direct sunlight as the red dot is not bright enough. The optics is light (3.7 ounce) and compact (2.4 Inch length). Reticle size is a bit big at 3 MOAs, but usable.
"
Bushnell touts that this red dot is specifically built for AK rifles. But in fact, it is almost the same as the Bushnell Trophy TRS-25 Red Dot Sight with different letterings and a bit higher price. The reason I recommend this red dot is that the TRS-25 (the one I don't recommend) have many reports of defects lately. It seems they have lower their quality criteria or QC check. Just so you know, both the optics are made in China.
The Bushnell AK Optics can handle AK-47 recoil and holds zero well. The red dot is durable for its price and comes with Lifetime Limited Warranty which protects you from defects for the lifetime of the original owner.
This red dot is ok if you don't want to spend too much. If you want to further save some money and test your luck with defects, go with the Bushnell Trophy TRS-25 Red Dot Sight
| Pros | Cons |
| --- | --- |
| ✓ Low price | ✗ Not daylight bright |
| ✓ Ok image | ✗ Not very durable |
| ✓ Lightweight and compact | ✗ Made in China |
| ✓ 11 Intensity settings | |
| ✓ Waterproof and Fogproof | |
| ✓ Lifetime Limited Warranty | |
Price : $
2. AT3 LEOS Red Dot Sight with Integrated Laser & Riser – 2 MOA
This red dot is crisp with 6 brightness settings. It is bright enough to be used under sunlight. And it comes equipped with a built in laser, which is bright and can point out to at least 25 yards distance on dim light environment.
"
The optic is not night vision compatible and seems to have Quality Control problem. There are some reports on defectives since purchase. Some says that the battery cover is not tight and would results in the red dot occasionally turning off after shots.
Luckily, the AT3 offers Lifetime Warranty which is very satisfactory as they will repair or replace the product once it becomes unusable. From various reports, their customer service is very attentive and tries to really fix any issues with their products.
This red dot also features 2 MOA dot size which is good for AK-47. It also boasts 50,000 hour of battery life which is rather an over exaggeration, but still lasts reasonably long. There is only one option for reticle shape and is heavier than the Bushnell's (8.3 ounce). The optics is parallax free at 25 yards upward.
Flip up lens caps are spring loaded and works well. If you don't get a lemon (defect ones), the red dot is durable. It's also waterproof, fogproof and shockproof of up to 800 G's impact and would hold zero for AK-47 easily. That said, the AT3 LEOS is a bit heavy at 8.3 oz.
| Pros | Cons |
| --- | --- |
| ✓ Bright and crisp red dot | ✗ QC problems as they are quite a number of defects |
| ✓ 2 MOA dot | ✗ Battery cover not tight |
| ✓ Reliable warranty with great customer service | ✗ A bit heavy (8.3 oz) |
| ✓ Durable and weather resistant | ✗ No night vision settings |
| ✓ Acceptable battery life | |
| ✓ Parallax free at 25 yards | |
| ✓ Comes with Laser and flip up caps | |
Price : $$
3. Primary Arms 2 MOA Advanced Micro Red Dot (MD-ADS)
This red dot features 2 MOA dot which is good for AK-47. It comes with 12 brightness settings, 2 of which are night vision compatible. On sunny day, with higher brightness setting, you can clearly see the dot. And about the night vision level, when used the dot will become invisible to the naked eye and can only be picked up by night vision optics to prevent bloom.
"
Lightweight (3.9oz) and compact, this Primary arms red dot are made in China. It boasts 50,000 hour of battery life which I haven't verify it. But it's unlikely the case. You better change the battery before it runs to 50,000 hour. When the battery is running low, it will stay at low power, and that's the time to change battery.
The optics certainly can hold zero from the recoil of an AK-47. Waterproof for 72 hours under 2 meters depth, fogproof and shockproof, it is a durable red dot. Unfortunately, it has 3 years warranty which isn't bad but less than red dots mentioned above.
| Pros | Cons |
| --- | --- |
| ✓ 12 brightness settings | ✗ 3 years warranty |
| ✓ Clear and bright even on sunny days | |
| ✓ Has 2 night vision settings | |
| ✓ Lightweight and compact | |
| ✓ 2 MOA Reticle | |
| ✓ Durable | |
Price : $$
4. Holosun HS510C 2 MOA Open Reflex Red Dot Sight
The Holosun comes with lots of features. It has 10 Daylight & 2 NV Compatible brightness settings. Furthermore, it has 3 reticle choice that you can switch between with ease :
"
2 MOA Dot
2 MOA Dot with 65 MOA Ring
65 MOA Ring
Other than that, it has 2 battery source, normal battery and solar cells. The solar power is supplementary, as it cannot turn on the highest brightness level on its own. That said, it can power lower brightness settings while battery is down and should help lengthen battery life.
The Holosun also has Auto on-off feature. When it is put down and not used for about 10 minutes, it goes into sleep mode. Once you move it, it comes back on again, further saving battery life.
Note that, you can manually turn it off to shut down this Auto on-off feature.
However due to its many features, the Holosun HS510c is not as light as it should be (8.3 oz).
The body is made from aircraft grade aluminium and the hood is made from titanium alloy which help it's durability. And red dot brightness is clear as expected of red dots in this price range. One negative though, auto brightness is a bit dim.
Holosun's Limited Lifetime Warranty goes to only the original owner and it applies to the metal structure of the product and does not apply to the optical and illumination systems. The optical system is covered by the 5 year warranty. The illumination system including electronics is covered by the 3 year warranty. Batteries are not covered under warranty.
| Pros | Cons |
| --- | --- |
| ✓ 3 reticle choice | ✗ Warranty is not great |
| ✓ 2 source of power | ✗ Auto brightness a bit dim |
| ✓ Has 12 brightness settings and is bright enough | ✗ A bit heavy |
| ✓ Night vision compatible | ✗ Higher priced |
| ✓ Clear image | |
| ✓ Durable | |
| ✓ Longlife battery | |
Price : $$$
5. Aimpoint PRO Patrol Rifle Optic
Aimpoint Pro is one of the more affordable red dot model from this brand. It is rather a no-frill-but-excel-at what-it-does kind of optics. It has 2 MOA dot and 10 brightness settings. On higher power, the dot is easily seen under sunlight. There are 4 levels of night vision compatible brightness.
"
The real selling point for any Aimpoint product is the reliability in real world situation. This red dot is designed to take some serious beatings and is favoured by the military. It can withstand a lot of shock (40 +/- 4 g in y and z axis, 500 g in x axis) and is waterproof up to 150 ft. The warranty is 2 years for professional or competition use and 10 years for personal use which is very acceptable in my opinion.
Battery life is dependable to 30,000 hours on power setting level 7. This is a reliable number as Aimpoint Pro is known to work for more than 3 years under a single battery. You can leave the optics always on, knowing that there is no fumbling with the on/off switch during an emergency. Always ready from the get go.
The downside is that, due to high durability, it's a bit heavy for a red dot (7.8 ounce) with not so much additional features. Plus, even though it's a cheaper model in Aimpoint's arsenal, it's still higher priced than other optics mentioned above.
| Pros | Cons |
| --- | --- |
| ✓ Reliable and Durable | ✗ A bit heavy for red dots |
| ✓ Long life battery | ✗ Not much additional features |
| ✓ Clear, bright and night vision compatible | ✗ Higher priced |
| ✓ Decent warranty | |
Price : $$$$$
---
Conclusion
The important thing for AK-47 is how fast you can aim and shoot your close range target (within 200 yards). If your intend use for AK is home defense, the Aimpoint Pro becomes the most reliable red dot of choice. With this you'll have a peace of mind, knowing that it'll never fail you in the time of need. If you have enough budget, this is one of the best red dot to have.
However, not everyone has lots of money to spend. If you're rather tight on budget, go for Primary Arms 2 MOA Advanced Micro Red Dot (MD-ADS). It offers good quality with very affordable price. Daylight bright, clear dots, night vision brightness and super lightweight, this is the best value for money in my opinion. It's less reliable than an Aimpoint, but you can schedule to check your red dot every one and a half year, just to be safe.