AR is the most popular modern sporting rifle of the world. This is due to its reliability, lightweight, accuracy and tons of modification options. Both the AR-15 and the AR-10 are civilian versions of military rifles. Hence they are most commonly used for tactical, home defense, CQB and 3 gun competition. Note that with tons of upgrades and variations, other uses such as target shooting, long range shooting and hunting are also viable. For the sake of this red dot recommendation however, I'll stick with tactical and home defense uses.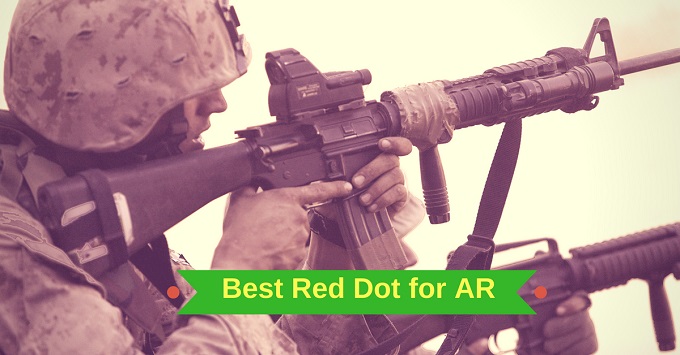 The best red dot for an AR must be reliable and durable enough that you'll have a peace of mind in any emergencies. Furthermore, to reduce human errors, it should be hassle-free and simple to operate.
To summarize, here's my list of the best red dot for AR.
Before getting to know these red dots, first you should know what qualities are good for an AR red dot.
---
What makes a good red dot for AR ?
Type of red dots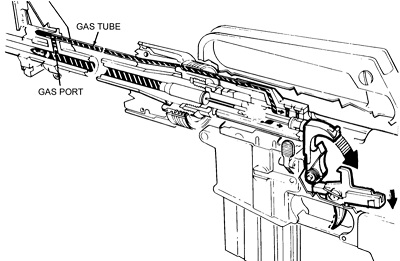 There are 3 types of red dot in the market :
Reflex sight – low power LED is reflected on the objective lens to create the red dot. Due to simpler construction, it's generally lighter and less bulky than holographic sights. An example of this is the Aimpoint model.
Holographic sight – A more powerful laser is bounced on mirrors to generate the red dot. Due to its structure, parallax error is less than reflex sights. However, it consumes batteries much faster. EOTech products are examples of this model.
Laser sight – This is just a laser pointer attached to your firearms. The dot is placed on your target instead of a glass.
Reticle MOA size
Next thing to consider is your preferred reticle/dot size. It's measured in MOA or Minute of Angle which is "1/60 of an angle" (Remember your math class? A circle has 360 degree of angle).
As a general rule, bigger MOA will result in faster target acquisition as it is easier for you to locate the dot. However precision is traded off as you can't pin-point on the exact spot you want to aim. This is especially good for short range use.
Smaller MOA, on the other hand, gives you more precision but slower target acquisition. This makes it ideal for short to medium range.
1 MOA is the smallest possible in the market as of today. 2-4 MOAs are considered standard. And you can find red dot with as big as 16 MOAs in the market.
Reticle Shapes and Color
Other than a plain dot, there are other shapes out there that can increase the red dots effectiveness.
Dot with a circle – A 65 MOA circle line is added to help for pinpointing the dot and very short range shooting. This is especially useful for 1 MOA dots.
Triangle – A Triangle replaces the dot. It's purpose is to allow for pinpoint aiming by using it's apex and normal shooting using the triangle. It's especially useful for large MOA red dots where precision is diminished.
BDC – A BDC reticle instead of a dot. This is suited for people who'd like to shoot longer range.
Color other than red is also available. Green and blue can work well in certain background but it's mostly a matter of preference. I think color red is very easy to spot.
Dot intensity and night vision
Basically you need a red dot that doesn't get washed out in bright sunny days and doesn't cause you bloom in low light or dark environment. This means a red dot with adjustable brightness, preferably one with gradual adjustments.
Some models offer auto-brightness adjustment where the red dots detect ambient light and adjust accordingly. This is a good option as you don't have to manually adjust it every time when you change locations. That said, manual adjustment is still needed in some case such as firing from a dark room to the bright sunny outside. The equipment will detect little light and choose low brightness settings. This will result in your dot getting washed out and you want to be able to override that.
Night vision compatibility is another feature to look for if you happen to own night vision device. These brightness settings are lower than what human eyes can see. They can only be seen by night vision optics and hence, will not cause bloom.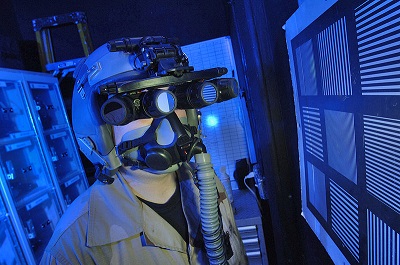 Glass and Lens Coating
As with any optics, quality glass and lens coating help with image quality and reduces glare from looking in the direction of the sun or having the sun directly behind your back
Tube Shapes
There are 2 style of shapes to consider.
Tube

– This looks similar to a scope. It's advantage is durability. And in case of very bright sunny days, you can use filters to make red dot more visible.

Open Sight

– This features a square screen you can look through. It is generally lighter and less bulky. But doesn't go along with filters.
A quick mention on field of view (FOV), even though open sights generally give more FOV, it isn't much of a plus as you probably would be using both your eyes and see surrounding areas without looking through the red dot pretty well.
Co-witnessing
Co-witnessing is about mounting red dot sights while retaining iron sights to serve as a backup. This is not a necessary thing to do, but it can help you when the red dot fails.
There are 2 popular setup for this :
Absolute Co-witness

– Aligning rear sight, red dot sight and front sight on a same line

Lower ⅓

– Aligning the red dot sight higher while iron sights are at about ⅓ of overall red dot sight picture
It's a matter of preference and mostly comes down to tube size and mount used. With a bigger tube, one might be forced to use the Lower ⅓. Other than that, you can line up whichever way you want with the right mount.
Battery Life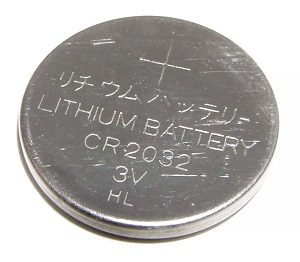 A crucial factor for red dots, as no dot is visible if you run out of power. Imagine a home defense situation, when you go out and pull your trusted AR out of your safe. Only to find out that your red dot ran out of juice. That's going to be some nightmare.
Don't let that happen by choosing a red dot with long battery life and schedule to replace battery early. Some high quality dots boast 50,000 hours of battery life. That's like 5 ½ years!
Here are some more facts concerning batteries you should know.
Keep backup batteries with your red dots, just in case
Cold temperature has adverse effect on battery life
Holographic sights consume batteries faster than reflex sights
Some sights use alternative source of energy like tritium and have no need for batteries
Special mention to Auto On-Off feature : Some red dots use motion sensors to detect movement and execute auto on-off. This has the benefit of saving battery life, especially for people like me who tend to forget turning off things.
This is a big plus in terms of emergency situations. You pick up your trusty firearm, and never have to worry about turning on the red dot. One less possible error is always a good thing in my book.
Parallax
Some red dots offer a parallax free feature which is favorable. However, no optic is truly parallax free. Note that the term "parallax free" in industry standard is parallax free from 30 yards onward.
Durability and Warranty
A red dot for tactical and home defense purpose needs to be highly reliable. Because you're basically trusting your life with it. It must be waterproof, fogproof, shockproof and able to withstand extreme weather plus lots of abuse. The ability to hold zero is another important thing. Even though conventional AR-15 has mild recoil, there are also variants with high recoil. Your red dot should be reliable enough that you never worry about losing zero.
Note that the highest durable red dots are made by Aimpoint. If you are going on a military operations, it's a good choice to look at. Note that super durable optics also come with higher price tag.
Lastly, if all else fails, one needs a good warranty and customer service from the manufacturer. Defects and accidents do happen. And there's the matter of transferability warranty, which normally makes reselling value higher.
---
Red Dot Recommendations
1. Aimpoint PRO Patrol Rifle Optic
Aimpoint PRO is one of the more affordable red dot model from this brand. It is a no-frill-but-excel-at what-it-does reflex sight. It has 2 MOA dot and 10 brightness settings. On higher power, the dot is easily seen under sunlight. There are 4 levels of night vision compatible brightness.
The real selling point for any Aimpoint product is the reliability in real world situation. This red dot is designed to take some serious beatings and is favoured by the military. It can withstand a lot of shock (40 +/- 4 g in y and z axis, 500 g in x axis) and is waterproof up to 150 ft. The warranty is 2 years for professional or competition use and 10 years for personal use which is very acceptable in my opinion.
Battery life is dependable to 30,000 hours on power setting level 7. This is a reliable number as Aimpoint PRO is known to work for more than 3 years under a single battery. You can leave the optics always on, knowing that you do not have to fumble on on/off switch during an emergency, and be ready from the get go.
The downside is that, due to high durability, it's a bit heavy for a red dot (7.8 ounce) with not so much additional features. Plus, even though it's a cheaper model in Aimpoint's arsenal, it's still higher priced than other optics mentioned above.
| Pros | Cons |
| --- | --- |
| ✓ Military grade durability | ✗ A bit heavy for red dots |
| ✓ Long life battery | ✗ Not much additional features |
| ✓ Clear, bright and night vision compatible | ✗ Higher priced |
| ✓ Decent warranty | |
Price : $$$$$
2. EOTech 512 Tactical Holographic Sight
This is for people who feel tube red dots obscure your vision and target. The holographic sight features 1 MOA with 65 MOA circle making it suitable for both short and long range.
20 levels of brightness settings ensures that the reticle is visible on any lighting conditions whether a sunny day or a dark room. Note that the EOTech 512 is not compatible with night vision devices.
Battery consumption is much faster than reflex sight. That said, it requires 2 AA batteries (lithium or alkaline) to operate and is easy to obtain. Schedule your battery replenishments and there shouldn't be a problem. Automatic battery check indicator is also available.
Parallax error is minimal due to the fact of holographic sights contructioin. That said, there is still some minor parallax errors, as with all optics in the market today.
It can hold zero very well on hard recoil like .50 BMG. However, thermal drift is an issue for it. When you move to another area with significant temperature difference, such as from +122 to -22 degree, your zero can possibly shift by a whopping 20 MOAs. Make sure to re-zero when moving to a place with significant temperature difference.
Auto shutdown feature of every 4 or 8 hours is a bit troubling as it can shut down in the middle of action. Furthermore, at the bottom corner ⅛ of the glass, the dot tends to fade away.
10.9 ounces is considered quite heavy. Durability is military grade. 5 years warranty is offered, plus another 5 years for $79 bench fees for each fix you send in.
| Pros | Cons |
| --- | --- |
| ✓ Clear 1 MOA dot with 65 MOA circle | ✗ Thermal drift |
| ✓ Military grade durability | ✗ Timed auto shutdown |
| ✓ Less parallax error | ✗ Rather heavy |
| ✓ 20 brightness settings | ✗ No night vision |
| ✓ 5 years warranty | ✗ Consumes batteries faster |
Price : $$$$
3. C-MORE Systems Railway Red Dot Sight
The C-More red dot is an open sight red dot with 2, 4, 6, 8, 12, 16 MOAs to choose from. This means that you can get the right size reticle for whatever intended task, be it short range, CQB, fast target acquisition type or the longer range shooting.
It's built in rail system makes mounting on any weaver or picatinny rail easy. Plus it can be absolute co-witness on AR-15 with ease.
The simple dot reticle is very clear and good for fast target acquisition. It's also very bright that you'll have no problems in bright sunny days.
Another favored feature is its lightweight (5 oz) and it is one of the more favored red dots for USPSA and other 3 gun competition. Battery life is great as it is still going strong for me after 2 years of normal use.
One thing to complain is that the zeroing procedure is a bit complex. Furthermore, the elevation adjustment is very sensitive. But it's a one time thing and once sighted in, its ability to hold zero is admirable. Make sure you follow the instructions provided carefully in the zeroing part.
It's great in terms of durability and is perfect for home defense. However, in military operations, it's durability is still inferior to Aimpoint products. The C-MORE has 1 year original owner only warranty that does not cover normal wear and tear.
| Pros | Cons |
| --- | --- |
| ✓ Clear dot, fast target acquisition | ✗ Hard to zero |
| ✓ Daylight bright | ✗ Not great warranty |
| ✓ Many reticle MOA size | |
| ✓ Easy to mount | |
| ✓ Durable | |
Price : $$$
4. Sig Sauer Romeo 5 1x20mm Compact 2 MOA Red Dot Sight
This is a budget option for AR red dot. The Sig Sauer Romeo 5 has 2 MOA dot reticle with 10 brightness level of settings. 2 of which are night vision compatible, meaning it will be invisible to the naked eye and can only be seen with a night vision device.
The dot itself is clear and crisp. It's bright enough that you can use in broad daylight. Furthermore it comes with Motion Activated Illumination, meaning that with enough motion the red dot will automatically turn on. And it can go standby when idle for a while. And yes, you can manually turn it off, so no worries about depleting the battery when the red dot rides in your vehicle.
It comes with a low mount and an absolute co-witness mount for AR platform. This makes mounting process easier to do. Sighting in is also simple. Note that the adjustment knob covers can be turned into screws to dial in elevation and windage adjustments.
The optic can hold zero really well. It can even withstand magnum and shotgun recoil. That said, it's not air gun rated so don't use it on those as they have 2 directional recoil and unique vibrations which the Romeo 5 isn't built for.
Durable, waterproof, fogproof and shockproof, Sig Sauer also offers 5 years warranty on the electronics and lifetime warranty on the rest. The Romeo 5 boasts 40,000 hours of battery life. I haven't been able to verify this claim but it good battery life. It's also not heavy at 5.1 oz.
With its price point, the optic still suffer from QC problem, albeit much less than lower end red dots. Not round, starburst, multiple dots can still be found. Another downside is that it's higher priced than the rest of the red dots recommended.
| Pros | Cons |
| --- | --- |
| ✓ Low Price | ✗ QC problems |
| ✓ Night vision compatible | ✗ Not as durable as military grade red dots |
| ✓ Auto on-off feature | |
| ✓ Acceptable battery life | |
| ✓ Hold zero on magnum and shotgun rounds | |
| ✓ Durable and weather resistant | |
| ✓ 5 years warranty | |
Price : $$
---
Conclusion
If you have enough budget, the Aimpoint PRO is one of best red dot sight in my opinion. Granted, it will not be as rugged as the Aimpoint Micro T-2 but it is less than ⅓ of the price. For most people, the Aimpoint PRO can offer you a peace of mind, knowing that it'll never fail you in the time of need.
However, not everyone has lots of money to spend. If you're rather tight on budget, go for Sig Sauer Romeo 5 1x20mm Compact 2 MOA Red Dot Sight. It offers good quality with very affordable price. Daylight bright, clear dots, night vision brightness, lightweight with Motion Activated feature, this is the best value for money in my opinion. It's less reliable than an Aimpoint, but is rugged enough for the majority of people including me.