Red dot sights are Quality Control in fast fire, close combat situation. It has proven statistically to be better than iron sights in terms of accuracy. Due to no magnification, you can use it with both eyes open comfortably. Signature benefits of red dots are unlimited field of view and eye relief. Shooting become much easier to the point that even beginners can hit targets fairly well on 50 yards range.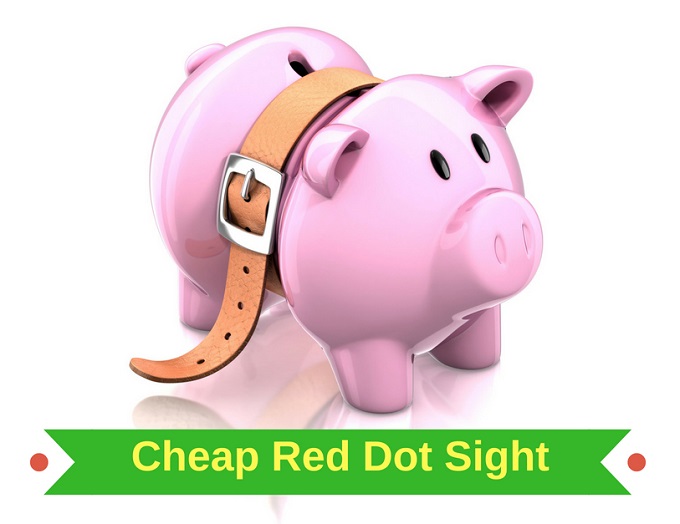 Aimpoint, EOTech and ACOG are well known brands for red dot optics. However, not everybody has unlimited cash and the need for battle-ready red dot sights like those. For home defense, plinking or most applications, one can make do with lower priced red dots.
For people with tight budget, I've searched for low price, affordable yet quality red dots and came with a list for you. Here's my list of recommended cheap red dot sights.
To appreciate these red dots, one must first know what to look for. Let's discuss what are the qualities you look for in red dot sights.
---
What to look for in a red dot?
Type of red dots
There are 3 types of red dot in the market :
Reflex sight – low power LED is reflected on the objective lens to create the red dot. Due to simpler construction, it's generally lighter and less bulky than holographic sights. An example of this is the Aimpoint model.
Holographic sight – A more powerful laser is bounced on mirrors to generate the red dot. Due to its structure, parallax error is less than reflex sights. However, it consumes batteries much faster. EOTech products are examples of this model.
Laser sight – This is just a laser pointer attached to your firearms. The dot is placed on your target instead of a glass.
For budget minded people, reflex sights are the way to go as it is not too expensive and works well in most situations.
Reticle Size
As the name suggests, A dot is the most common reticle for a red dot sight is the dot. And its size is measured in MOAs. Basically you want a red dot that is large enough for you to see but not too large that it obscure targets or make shooting inaccurate.
Larger dots, like more than 3 MOAs, is easier to spot, thus making target acquisition much faster. It is ideal in a close combat situation where pin-point accuracy is not important.
Smaller dots on the other hand, has the advantage of accuracy as the dot size permits for finer aiming. However the split second spent finding the dots and placing it will make slower target acquisition compared to larger dots.
As a general guideline, 1 MOA equals to 1 inch at 100 yards, 2 inches at 200 yards, 3 inches at 300 yards and so on. Imagine placing a shot at 100 yards away with a 3 MOAs red dot. Your dot will have 3 inches in diameter.
Choose reticle size that is appropriate for your range and target size. Note that standard red dots are about 2-4 MOAs.
Reticle Shapes and Color
Other than a plain dot, some red dots offer shapes like crosshairs, dot with circle, dot with semi-circle and many others. There are many colors apart from red such as green or blue. But in my opinion, red is the easiest to spot on most occasions.
Reticle Intensity and Night Vision Compatibility
An ideal red dot must be easily seen both in bright daylight and in close quarter rooms with few lightings. Plus it should provide gradual adjustment in brightness settings.
Auto-brightness and night vision compatible are nice features to have. But they often add to the price tag. For cheap red dot sights, one should skip these features.
Glass and Lens Coating
As with any optics, quality glass and lens coating help with image quality and reduces glare from looking in the direction of the sun.
Tube Shapes
There are 2 style of shapes to consider
Tube – This looks similar to a scope. It's advantage is durability. And in case of very bright sunny days, you can use filters to make red dot more visible.
Open Sight – This features a square screen you can look through. It is generally lighter and less bulky. But doesn't go along with filters.
A quick mention on field of view (FOV), even though open sights generally give more FOV, it isn't much of a plus as you probably would be using both your eyes and see surrounding areas without looking through the red dot pretty well.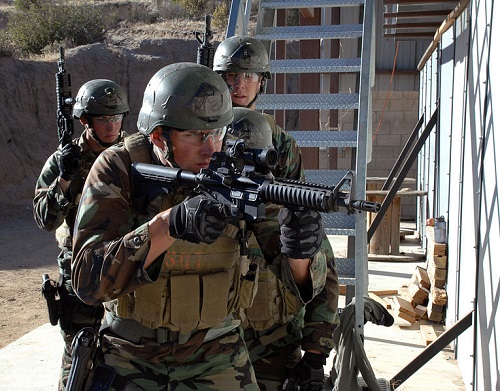 Battery Life
A crucial factor for red dots, as no dot is visible if you run out of power. Since battery technology has improved so much, some red dots can be turned on for 3-5 years straight (albeit not the highest power). Thus many people turned it on all the time, even though firearm may be sitting in a storage.
Auto on-off feature is not a necessity if you want to save cost. Unless you frequently forget to turn off your optics.
One thing to note, cold weather drains more battery power. So if you live in colder areas, you need to prepare backup or check your battery frequently.
For battery life, reliability is key. No one wants to have dead batteries in the middle of an operation.
Durability and Warranty
For cheap red dots, the ability to hold zero for a long period of time is something to consider. Too cheap red dots work temporarily on low recoil rounds like .22, but might fail further down the road.
Quality control is often badly done on cheap optics. This is a fact of life and you need to cope with it. Make sure you can get a refund on defects (Amazon Prime), order early on in case you need to get a new one, check for defects and don't get frustrated are the things you need to do. Keep in mind that cheap optics are a hit or miss. And that's why it's low priced in the first place.
Any practical red dot needs to be water-proof, fog-proof and shock-proof. Furthermore, the optic must be able to withstand some abuse to be reliable.
Lastly, if all else fails, one needs a good warranty and customer service from the manufacturer. Defects and accidents do happen. And there's the matter of transferability warranty, which normally makes reselling value higher.
Co-witnessing
Co-witnessing is about mounting red dot sights while retaining iron sights to serve as a backup. This is not a necessary thing to do, but it can help you when the red dot fails.
There are 2 popular setup for this :
Absolute Co-witness

– Aligning rear sight, red dot sight and front sight on a same line

Lower ⅓

– Aligning the red dot sight higher while iron sights are at about ⅓ of overall red dot sight picture
It's a matter of preference and mostly comes down to tube size and mount used. With a bigger tube, one might be forced to use the Lower ⅓. Other than that, you can line up whichever way you want with the right mount.
Parallax
Some red dots offer a parallax free feature which is favorable. However, no optic is truly parallax free. Note that the term "parallax free" in industry standard is parallax free from 30 yards onward.
Price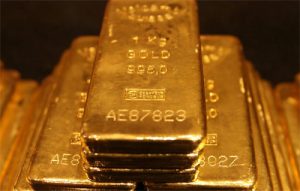 Just for a point of reference, let's define how much is cheap. :
Under $50 : Very cheap – Not durable, high recoil rounds should never be used
Under $100 : Cheap – More acceptable quality, Quality control issues, high recoil rounds are not recommended
$100-$150 : Rather cheap – Acceptable quality red dots, high recoil rounds ok for some models, Quality control issues
In this article, the red dots are around $50-$150 price range at the time of this writing. However prices fluctuate with demand vs supply and might move from the intended range a bit.
---
Red dots Recommendations
1. Ozark Armament Rhino Tactical Green & Red Dot Sight
This Ozark red dot is a very budget option but it is well built enough to hold zero on recoil of .308 cartridges. Glass is clear enough and the 4 MOA dot has no blurring.
With a 4 MOA dot, it's big enough for you to easily spot it and make fast shots. There are 2 colors, red and green, with 5 brightness settings. Red and green are the most easy to spot for human eyes depending on background color. Brightness is enough to use in bright days. It has no night vision brightness, which is acceptable for red dots in this price range.
The included cantilever mount make co-witnessing on AR platform quite an easy thing to do.
Lens coating is not that great and you may experience glare when facing the sun or when the sun is directly behind your back. This make low light shooting experience
Quality control is the bane for this scope, as there are high percentage of blurry dots, multiple dots and loose zero. Fortunately, it comes with 1 year hassle free warranty and attentive customer service. You can reliably contact them in case of defects. That said, check for defects early on and choose Amazon Prime in case you need to return it.
Durability is not that great, bumping or dropping the red dot is not advised.
| Pros | Cons |
| --- | --- |
| ✓ Clear glass and dot | ✗ Sun glare issue |
| ✓ Daylight bright | ✗ Not for high recoil rounds |
| ✓ 2 reticle color | ✗ Not very durable |
| ✓ Good customer service | ✗ Quality control problem |
| | ✗ 1 year warranty |
Price : $
2. AT3 Tactical RD-50 Red Dot Sight – 2 MOA
The AT3 RD-50 is a tube structure reflex sight with built in mount for standard picatinny or weaver rail. It is lightweight (3.6 oz) and compact.
Glass is clear edge to edge. The 2 MOA red dot is easily seen and slightly less crisp than higher end red dot sights. It has 11 brightness settings, none of which are night vision compatible, but this makes adjustment gradual enough for various lighting environment. It's also daylight bright for sunny day uses.
The AT3 RD-50 can hold zero up to 500g and can be used on shotguns and springer airguns. Note that springer airguns have 2 directional recoil and unique vibrations that requires additional durability measures to handle.
Even though it boasts 50,000 hours of battery life on lowest settings and 5,000 hours on normal use. My experience is that the battery lasts about 500-600 hour, which isn't too bad as long as you don't leave it turned on.
Quality control is a problem for this optic as blurry red dots and battery cover issue are not rare issues. Durability is ok for its price as long as you received a non defective product. Great things to mention is that AT3 provides Lifetime Warranty and has good reputation on it. Their nice customer service is also a plus.
| Pros | Cons |
| --- | --- |
| ✓ Hold zero well | ✗ Quality control issue |
| ✓ Airgun rated | ✗ Battery life not as long as quoted |
| ✓ Clear glass and dot | |
| ✓ Lifetime Warranty | |
Price : $$
3. AT3 LEOS Red Dot Sight with Integrated Laser & Riser – 2 MOA Red Dot
This red dot is crisp with 6 brightness settings. It is bright enough to be used under sunlight. And it comes equipped with a built in laser, which is bright and can point out to at least 25 yards distance on dim light environment.
The optics is not night vision compatible and seems to have Quality Control problem. There are some reports on defectives since purchase. Some says that the battery cover is not tight and would results in the red dot occasionally turning off after shots.
Luckily, the AT3 offers Lifetime Warranty which is very satisfactory as they will repair or replace the product once it becomes unusable. From various reports, their customer service is very attentive and tries to really fix any issues with their products.
This red dot features 2 MOA dot size and boasts 50,000 hour of battery life which is rather an over exaggeration, but still lasts reasonably long. There is only one option for reticle shape. The optics is parallax free at 25 yards upward.
Flip up lens caps are spring loaded and works well. If you don't get a lemon (defect ones), the red dot is durable. It's also waterproof, fogproof and shockproof of up to 800 G of impact and would hold zero well enough. That said, the AT3 LEOS is a bit heavy at 8.3 oz.
| Pros | Cons |
| --- | --- |
| ✓ Bright and crisp red dot | ✗ QC problems as they are quite a number of defects |
| ✓ 2 MOA dot | ✗ Battery cover not tight |
| ✓ Reliable warranty with great customer service | ✗ A bit heavy (8.3 oz) |
| ✓ Durable and weather resistant | |
| ✓ Acceptable battery life | |
| ✓ Parallax free at 25 yards | |
| ✓ Comes with Laser and flip up caps | |
Price : $$
4. Sig Sauer Romeo 5 1x20mm Compact 2 MOA Red Dot Sight
This Sig Sauer Romeo 5 has 2 MOA dot reticle with 10 brightness level of settings. 2 of which are night vision compatible, meaning it will be invisible to the naked eye and can only be seen with a night vision device.
The dot itself is clear and crisp. It's bright enough that you can use in broad daylight. Furthermore it comes with Motion Activated Illumination, meaning that with enough motion the red dot will automatically turn on. And it can go standby when idle for a while. You can also manually turn it off, so no worries about depleting the battery when the red dot rides in your vehicle.
It comes with a low mount and an absolute co-witness mount for AR platform. This makes mounting process easier to do. Sighting in is also simple. Note that the adjustment knob covers can be turned into screws to dial in elevation and windage adjustments.
The optic can hold zero really well. It can even withstand magnum and shotgun recoil. That said, it's not air gun rated so don't use it on those as they have 2 directional recoil and unique vibrations which the Romeo 5 isn't built for.
Durable, waterproof, fogproof and shockproof, Sig Sauer also offers 5 years warranty on the electronics and lifetime warranty on the rest. The Romeo 5 boasts 40,000 hours of battery life. I haven't been able to verify this claim but it has good battery life. It's also not heavy at 5.1 oz.
With its price point, the optic still suffer from QC problem, albeit much less than lower end red dots. Not round, starburst, multiple dots can still be found. Another downside is that it's higher priced than the rest of the red dots recommended.
| Pros | Cons |
| --- | --- |
| ✓ Bright and crisp red dot | ✗ QC problems |
| ✓ Night vision compatible | ✗ Not airgun rated |
| ✓ Auto on-off feature | |
| ✓ Acceptable battery life | |
| ✓ Hold zero on magnum and shotgun rounds | |
| ✓ Durable and weather resistant | |
| ✓ 5 years warranty | |
Price : $$$
Conclusion
The Sig Sauer Romeo 5 is the best cheap red dots in my opinion. It is very durable and can hold recoil to even magnum and shotgun rounds. The dot is daylight bright, clear and has 2 night vision setting. The Auto On-Off feature prolonged your battery life and allows you to have one less thing to worry about in panicky situations, like home defense or military operations.
Warranty of 5 years on electronics is not too bad. The only real downside is its higher cost.