1-6x scopes has gained popularity a number of years back. Perhaps it's the trend that results from CQB and 3 gun action. People want scopes that can make fast target acquisition, have wide field of view and also the versatility to shoot at short to medium range. A high quality 1-6x can do all that and more.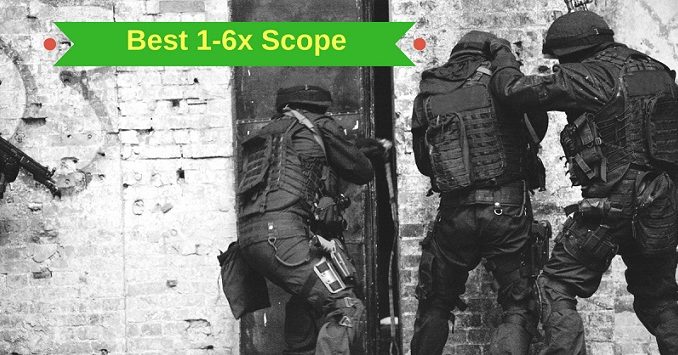 If you don't want to read the details, here are the best 1-6x scopes.
First, let's discuss what makes a good 1-6x scope
---
What one should look for in a 1-6x scope ?
Glass and Lens Coating
High quality glass is obviously one of the most important factor for crisp, clear image and good low light capabilities. For higher priced optics, look for ED (Extra Low Dispersion) glass to minimizes chromatic aberration and enhance image contrast and sharpness.
Another crucial feature for a 1-6x scope is whether it is truly 1x. This makes target acquisition in close quarter battle that much faster. However, the engineering work to make a 1x capable scope with magnification power is a very complex and costly thing. Lower priced optics touting 1x is mostly 1.1-1.5x magnification. Industrial standard even cited that "true 1x" means the scope can be used with both eyes open.
Lens coating makes the scope perform better with sun glare. It improves overall image quality and also has the effect of increasing the durability and useful life of a scope. Waterproof and harder to scratch is an example of this.
There are manufacturers who opt for multi layer of coatings to help make the scope seems better quality. However, the number of coatings done is less of a factor than how potent each coating is. That said, here are some of the words manufacturer's described their coatings
Coated – A single layer on at least one lens surface
Fully Coated – A single layer on all air to glass surfaces
Multicoated – Multiple layers on at least one lens surface
Fully Multi Coated – Multiple layers on all air to glass surfaces
Field of View (FOV)
Field of view is defined as how wide you can see through the scope. And is often measured at x feet @ 100 yards. For 1-6x scopes, higher FOV is needed to quickly spot threats in CQB.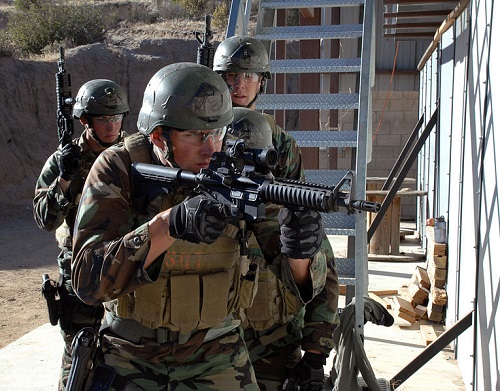 Objective Lens Diameter
This is a non-issue due to low magnification power. One should opt for smaller objective lens like 24mm for lightweight sake. Note that bigger objective lens improves light transmission for high magnification scopes.
Eye Relief
The max distance between the scope and your aiming eye that can see a full view image is called eye relief. It is there to prevent the scope from banging your eye with gun recoil.
Standard rifle scopes have 3" to 4" of eye relief. If you happen to use higher recoil rounds, such as .50 BMG, opt for scopes with generous eye relief. If lighter rounds are used, you can go for scope with small eye relief.
Eyebox is another thing one needs to check. It's the amount of wiggle room for eye placement. Strict eyebox can mean less than half an inch of optimal eye placement. If you need to shoot fast, there's just no time to perfectly align your sight. Opt for generous eyebox scope if possible.
Tube Size
Small (1 Inch) tubes are cheaper. But big (30mm) tubes is more durable and has higher internal adjustment range.
Reticle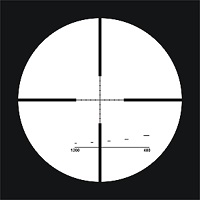 There are 3 groups of reticle pattern in the market.
This is a matter of preference. But if you intend to shoot out beyond 250 yards, don't pick simple reticle (Duplex, Vplex, Nikoplex, etc,) as it provides no holdovers.
Illumination helps identify your reticle faster. In general, a good illuminated reticle is easy to see in all environment, be it very dark, or a bright sunny day. It should also be night vision compatible with easy to acquire and long life batteries. And in case your battery fails, such as extreme cold weather, you should still the glass-etched or wired reticle.
Turrets
Precise and repeatable turrets are always welcome. This makes zeroing and taking a longer shot by adjusting turrets easier. Capped and low profile turrets are a plus for preventing unintentional adjustments. Features such as zero resettable, zero stops and finger adjustability is also a good thing to have, if you intend to shoot on more than 300 yards.
Another thing to mention is that turrets and reticles unit of measurement should match. MOA turrets with MOA reticle, for example. It makes longer range shooting easier as you don't have to do the conversions between units.
Durability
The reliability to hold zero for every shot and weather resistance properties, such as waterproof, fogproof and shockproof are essential for any worthwhile scope.
Warranty is also a thing to consider, as no scope manufacturer is without any defects. Transferable lifetime warranty that covers wear and tear from normal use is a great thing to have.
Note : Hunters/Shooters looking for scopes today are one of the luckiest people on earth. Optics technology has never been better. A mid priced scope ($300-$600) can easily beat the best scope money can buy 50 years ago.
---
Scope Recommendations
1. TRUGLO TRU-BRITE 30 Series 1-6 X 24mm Dual-Color
The TRUGLO is a budget option for 1-6x scopes. When tested, it certainly is not a true 1x but you can use it with both eyes open no problem. Overall image quality is ok up to 4x. Beyond that, image is less clear and has very small eyebox.
It features Mil-Dot reticle which is a little thicker than normal for easy spotting. Not that it is not too thick as to obscure targets and is clear enough given its price. Illumination comes in 2 color, red and green, you get both and don't have to choose. Illumination doesn't fare very well in bright sunlight but you can turn it off and still see the black reticle.
The elevation turret is a BDC type and is calibrated for both .223 (55 grain) and .308 (168 grain). Windage however, is marked in MOAs which doesn't match the reticle. Both the turrets are precise and repeatable, which is a pleasant surprise for optics at this price point.
This TRUGLO TRU-BRITE is a second focal plane scope. Which means the Mil-Dot reticle measurement will not work on magnification other than 6x. That said, the turrets work fine as long as you know the correct distance and use the same load.
Rugged and holds zero well, the scope is built on 30mm tube and is nitrogen filled. It is weather resistant to a point and should work for years to come. However it's rather heavy at 19.26 ounce. TRUGLO offers limited lifetime warranty, which is good. But there are reports that you're responsible for shipping costs.
| Pros | Cons |
| --- | --- |
| ✓ Lower priced | ✗ Reticle(Mil-Dot) and turrets(BDC) unit of measurement don't match |
| ✓ Not true 1x but works fine for both eyes shooting | ✗ Rather heavy (19.26oz) |
| ✓ Durable, waterproof, fogproof and shockproof + hang on to zero | ✗ Image quality beyond 4X is not very good |
| ✓ Able to see black reticle even if battery is out | ✗ Small sweet spot for magnification over 4x |
| ✓ Limited lifetime warranty, (Need to pay for shipping cost in some cases.) | ✗ Second Focal Plane scope, Reticle accurate at only 6x |
Price : $$
2. Vortex Optics Viper PST Gen II 1-6×24
Vortex Viper PST is a high quality optics. The extra low dispersion glass and fully multi coated lens are manufactured in Japan. This makes the scope a real true 1x with no fishbowl effect at all. Image quality is satisfying and very clear. Field of view is also very generous. This makes for a very good CQB scope.
Illuminated reticle has 10 brightness. The reticle with highest setting is easily distinguishable in bright sunny days. For reticle pattern, you get to choose between MOA and Mil-Dot (MRAD). Once chosen, you get matching turrets, which is totally the way it should be. The Vortex Viper 1-6×24 is a second focal plane scope. This means the Mil/MOA measurement is useful only on 6x magnification.
The turrets has wide range of internal adjustments (160 MOA / 46 MRAD). This ensures that you will have no issue like running out of adjustment range for longer range shooting. One complain is that the turrets are rather stiff and makes turning it rather slow and not on the fly.
Generous Eye relief of 3.8" enables the use of high recoil rounds. Eyebox is generous and is easy to use in CQB action.
Housed in a single piece aircraft grade aluminium 30mm tube, the Vortex Viper is heavy at 22.7 oz. What you gain is durability and reliability that will not fail you in the field. Plus Vortex VIP warranty is one of the most reliable warranty out there in the market.
| Pros | Cons |
| --- | --- |
| ✓ High quality ED glass and lens coating made in Japan | ✗ Heavy (22.7 oz) |
| ✓ No fisheye effect and true 1x, Perfect for CQB | ✗ Higher priced |
| ✓ Easy to use eye relief and eyebox | ✗ Stiff turrets |
| ✓ Daylight bright reticle | |
| ✓ Has options for both MOA and Mil-Dot | |
| ✓ Matching reticle and turrets adjustment unit | |
| ✓ Extremely durable optic with Vortex VIP warranty | |
Price : $$$$
3. Trijicon VCOG 1-6×24 Rifle scope
The Trijicon VCOG is literally the best 1-6x rifle scope money can buy. However, with its lofty price tag, only the most devoted shooter who intends to invest a ton in scopes will purchase it.
Housed in a 30mm tube, Trijicon VCOG glass gives superior high quality image. It even provides a clear picture for people with eye sight problems. This optics is a true 1x with no fishbowl effect and can be used with both eyes open.
You have many choice for reticle pattern. BDC for .223, .308 as horseshoe or segmented circle. You also can opt for Mil-dot or MOA reticle. Illumination is highly visible on any environment with its 6 brightness settings. 3 of these are night vision compatible.
The VCOG also boasts a long battery life of 700 hours for red and 1,400 hours for green at continuous use of level 4 brightness. In the case of battery failure, the non-illuminated reticle is crisp, clean and works perfectly.
The reticle is on First Focal Plane, which means the crosshairs will be precise at any magnification level.
Turrets are denoted in both MOA and Mil-Dot. A plus as you can match to the reticle in case long range shooting is in order. Precise, repeatable, finger adjustable and zero resettable as expected for scopes of this price. It also comes with the side parallax knob.
The optics is heavy (23.3 ounce) but is built like a tank and is nearly indestructible. Waterproof, fogproof, shockproof and resistant to all sorts of weather. The scope has only 5 years warranty from date of manufacturing on the electronics and limited (original owner only) full lifetime warranty on optical and structural system.
| Pros | Cons |
| --- | --- |
| ✓ Superb glass on all magnification, unmatched sight picture | ✗ Expensive |
| ✓ True 1x, can be used with both eyes open | ✗ Heavy (23.3 oz) |
| ✓ Nearly indestructible | ✗ 5 years warranty on electronics |
| ✓ First Focal Plane | ✗ Structural and optical lifetime warranty to the original owner only |
| ✓ Long battery life | |
| ✓ Many reticle choice : BDC, Mil, MOA | |
| ✓ Illuminated reticle clear on sunny day | |
| ✓ Mil and MOA turrets | |
| ✓ Matching reticle / turrets | |
| ✓ Original owner lifetime warranty on the optical system and structure | |
Price : $$$$$
4. Vortex Optics Strike Eagle 1-6×24 – AR-BDC Reticle
The Vortex Strike Eagle is one of the more affordable choice. It certainly isn't the cheapest, but may very well be the most value for the money 1-6x scope.
Its glass and lens coating is not on par with the Trijicon VCOG nor the Vortex Viper. But it works very well for its price and is satisfying for most users. The scope is not a true 1x, maybe 1.1x. That said it still works very well with both eyes open and has minimal fisheye effect.
Furthermore, the optics has generous field of view. A downside is that eyebox is rather small at high magnification.
The scope features the AR-BDC reticle. Which is calibrated to match the 5.56mm cartridge. However, the BDC doesn't extend very far as it probably isn't meant to shoot at very long range. Plus, this scope is a second focal plane scope, which means the reticle will only work on 6x.
Illuminated reticle has 11 brightness settings which works well in most situations. However, even on the highest settings the reticle washes out a bit on bright sunny days. Note that you can use the non-illuminated black reticle instead which is clear and visible even when battery runs out.
Turrets are accurate and repeatable. Each click stands for ½ MOA which is the norm for 1-6x scopes. One outstanding thing about the turrets is large internal adjustment range of 140 MOAs.
It weighs 17.6 ounce which is a bit heavy. Overall durability is good. The optics is rugged and well-made. It can withstand heavy recoil caliber and do well in field environments. Plus Vortex VIP warranty is one of the best out there in the market. It's fully transferable, hassle free and covers electronics.
| Pros | Cons |
| --- | --- |
| ✓ Nice glass for the price | ✗ Illuminated reticle washes out in bright daylight |
| ✓ Works nicely with both eyes open | ✗ Rather heavy (17.6 oz) |
| ✓ Wide FOV | ✗ Slight fisheye effect |
| ✓ Large internal turrets adjustment range | ✗ Small eyebox at high magnification |
| ✓ Able to see black reticle even if battery is out | ✗ Second Focal Plane |
| ✓ Durable, waterproof, fogproof and shockproof and handles recoil well | |
| ✓ Vortex lifetime unconditional warranty | |
Price : $$$
---
Conclusion
If money is not an issue, the Trijicon VCOG is totally the best possible 1-6x scope. Alas, that's never true with 99.5% of the people including me.
Thus the best scope, with cost considered, is the Vortex Optics Strike Eagle 1-6×24. It has great image quality for the price that enables fast target acquisition. Reticle illumination washes out a bit on bright sunny days but work well on other occasions. And the issue is easily fixed by using the non-illuminated reticle which is very clear on sunny day. The optics is also well-made and rugged enough for most uses. Final thing is that Vortex VIP warranty is reliable and transferable. A huge plus to second hand market price whenever you wish to upgrade.