First introduced in 1952, .308 Winchester is now one of the most popular big game hunting cartridge in North America. The advantage is attributed to the fact that .308 Win can stop almost any walking game in North America except maybe black bears. Plus it's such a wildly popular cartridge that you have ample supply almost anywhere around United States.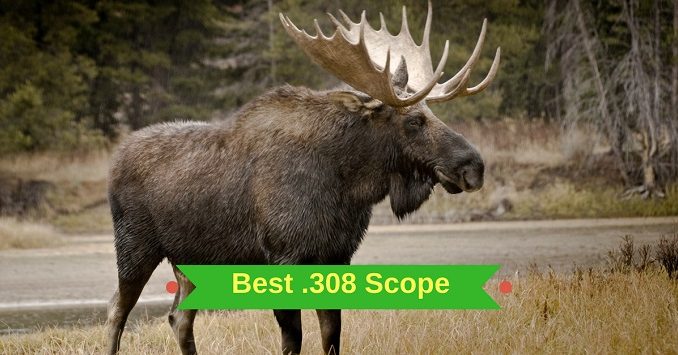 Furthermore .308 Win is the world standard long range sniper cartridge. Even though there are newer cartridges nowadays that have better long range capabilities than the .308, it is still a long range go to choice for many.
With these attributes in mind, it's time to seek a suitable optic to cope with these tasks.
To summarize, here's my list of the best .308 scope.
Before diving into the details of each, let's discuss what we're looking for in a .308 scope.
---
What makes a good scope ?
Magnification Power
The thing you should know about magnification is that, the higher the magnification, the better glass you need for same level of clarity. That's because light passing through curved glass gets distorted. It results in less clear sight and less light transmission. This translates to higher price tag for higher magnification
Plus field of view (FOV), or how wide you see through the lens, is also diminished. This is not a good thing for dangerous game hunting where you want to be aware of your surroundings. And this is why there are needs for 1-4x or 1-6x in CQB action.
Get enough magnification, but don't exceed your needs.
When choosing magnification power, consider your intended use and terrain.
Big game hunting in dense woods

: 1.5-5x, 2-7x

All round hunting

: 3-9x, 4-12x

Long range shooting

: 4-16x or more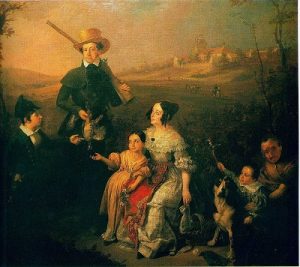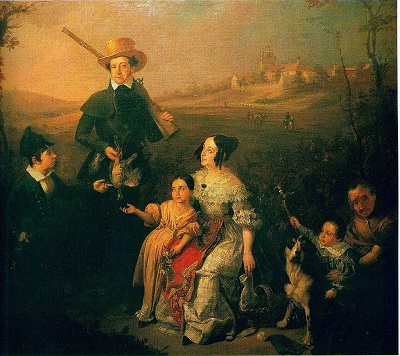 Objective Lens Diameter
Objective lens diameter, coupled with magnification power leads to exit pupil size. This is define by : Exit Pupil Size = Obj. Lens Diameter / Magnification Power
Too small exit pupil size leads to small sight picture through the lens. For an extreme case, imagine looking through a straw. Too large exit pupil size, meaning larger than your eye pupil by a wide margin, wasted some light as it doesn't enter your eye. Note that normal pupil size in adults varies from 2-4 mm diameter in bright light and 4-8 mm in the dark.
Larger objective lens also give better light transmission. However, the downside of too big objective lens are higher price and heavier weight. In some case, it's also higher mounts.
Pick larger objective lens if you use high magnification and smaller objective lens it you use low magnification.
Glass and Lens Coating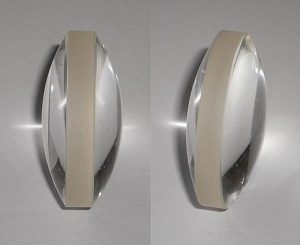 Every quality scope needs good glass and lens coating. This is especially true on high magnification scopes with wide range of zoom. Since these are the main factor contributing to image quality and light transmission. Durability is also enhanced due to waterproofing and scratch resistance coatings.
Look for things like ED glass (Extra Low Dispersion Glass), HD glass (High Density Glass) and Fully Multi Coated lens if you can afford it.
Here are some normally quoted jargons for lens coating.
Coated: A single layer on at least one lens surface
Fully Coated: A single layer on all air to glass surfaces
Multicoated: Multiple layers on at least one lens surface
Fully Multi Coated: Multiple layers on all air to glass surfaces
That said, these lens coating jargons don't mean much in determining quality. As high quality "coated lens" can beat low quality "Fully Multi Coated lens". Quantity doesn't beat quality for lens coating.
Eye Relief and Eyebox
Eye relief = Space between your aiming eye and the scope for optimal sight image
Generally, bigger eye relief means that your eye is safe from recoil. However, too much eye relief might lead to uncomfortable head and eye position.
Standard eye relief is 3"-4" and should do the job for .308 Win.
Eyebox = Amount of wiggle room for your aiming eye placement
A small eyebox scope can mean less than half an inch room for optimal eye placement. When people complain about "small sweet spot", it's the same thing as small eyebox. This results in much slower target acquisition and frustration during field use. This issue normally magnifies itself on higher magnification scopes.
Tube Size
Larger tube has the advantage of added durability and larger range of internal turrets adjustments. The downside is that it's more expensive and heavier than smaller tubes.
For long range shooting, one might need to adjust the elevation and windage a lot. So, if you intend to also shoot long range, larger tube scope is favored. For .308 scopes, a 30mm should be large enough. Don't go for 34mm or 35mm tube.
Some people think that bigger tube size equals better light transmission. But in my opinion, it's just the fact that manufacturer's often put larger objective lens, better glass and better lens coating into bigger tube scopes, due to their higher price.
Reticle
Reticle Pattern
There are 3 main groups of reticle pattern
Simple

– Duplex, NikoPlex, V-Plex, Dot, etc.

Mil-Dot, MOA

– Crosshairs

BDC

– Bullet Drop Compensation calibrated to particular rounds
This is a matter of preference. But if you intend to also shoot long range, Simple reticles are not good enough as they provide no holdover nor distance measurement tool.
Mil-Dot and MOA type are preferred for range beyond 800 yards as most BDC reticle don't reach beyond that range.
First Focal Plane or Second Focal Plane
First focal plane makes the reticle holdovers accurate on all magnification but is often not available no cheaper scopes. Second focal plane on the other hand, doesn't keep up with zoom level which means the holdovers are accurate only on one magnification, mostly the highest.
First focal plane reticle is the go to choice if you intend to also shoot long range. If not pick second focal plane to save costs.
Turrets and reticle matching
If you choose Mil-dot or MOA reticle, you would want to check whether turrets markings match the reticle. For example, a Mil-Dot reticle should go along with Mil-dot turrets. Or MOA reticle and MOA turrets. That way you don't have to do unit conversions in the field.
If you choose other reticle type or don't care about long range shooting, this isn't a thing to consider.
Turrets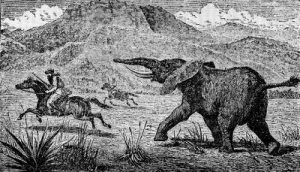 Desirable turrets are precise and repeatable. Each click must be tactile, audible and exact as shown on the markings. Turrets should be easy enough to adjust with your fingers as you will be doing that a lot if you're into long range shooting. But must not be too loose to prevent unintentional adjustments. Furthermore, Zero resettable and zero stops features are a plus.
Hunting style turrets often are low profile and come with caps to prevent unintentional adjustment especially when out hunting. Target (shooting) style turrets are high profile without caps. This makes adjusting on the fly easier.
Parallax
Parallax adjustment is necessary for long range shots. It help reduce the need to perfectly align your eye to the scope and raise the odds for precision shots. Preferred position is the side knob for ease of use.
That said, if you don't shoot beyond 250 yards, there's no need for parallax adjustment.
Durability
The ability to hold zero, precise turrets adjustment over time, lens and body durability are essential for any scopes. Furthermore, the scope must be able to endure the harsh field environment, such as extreme temperature, water submersion and a healthy amount of force.
In addition, reliable manufacturer's warranty goes a long way to ensure usability of a scope. This aspect also helps maintain reasonable price when selling the scope in second hand market.
---
Scope Recommendations
1. Vortex Optics Crossfire II 2-7×32
Now a major brand in rifle scopes industry, Vortex Optics has converted many big name fans to their own in just a period of less than 15 years. Most seasoned hunters cited Vortex as quality with affordable price scopes.
For budget-minded people, the Crossfire II 2-7×32 offers an affordable choice for big game hunting .308 scope. Even though glass quality and lens coating are not comparable to higher priced scopes, they're usable and especially clear on low magnification. On 6x-7x magnification however, it is noticeably less clear and more blurry on the edges. Light transmission during low light of dawn and dusk is admittedly not that great. On the upside, the scope offers a wide field of view which is good for observing surroundings and fast target acquisition.
The optic comes with a general BDC reticle which can be used for holdovers. It can be useful if you use the Strelok app or measure each drop mark yourself. For the turrets, they are not that precise, but as is the norm with scopes on this price range. They are also finger adjustable and zero resettable which is pleasant to have.
Eye relief is generous. But eyebox is rather small as the sweet spot is particularly hard to find. It's also durable enough to hold zero on the .308 Win. The optic is covered by reliable Vortex Lifetime warranty.
| Pros | Cons |
| --- | --- |
| ✓ budget and value scope | ✗ Not good in low light |
| ✓ Clear on lower magnification | ✗ 6x-7x edges not clear and gets more blurry |
| ✓ Nice FOV | ✗ narrow eye box on high magnification |
| ✓ Reliable Vortex warranty | |
Price : $$
2. Nikon P-308 4-12×40 Riflescope, BDC 800
This Nikon P-308 has a BDC reticle which is calibrated out to 850 yards range for .308 Win and 7.62 NATO rounds with 168-grain HPBT match bullet at 2,680 fps. For people who uses different loads, they can try Nikon Spot On App to apply the BDC to appropriate bullet trajectories.
Image quality is clear during the day but there's a slight blur on the edges on the highest magnification. Sight picture and reticle are harder to see in low light conditions.
The turrets are finger adjustable, with positive click adjustments. Plus you can reset the turrets back to zero easily by pulling the cap up, turn it to zero and put the cap down. But for this model there's no parallax adjustment, which is crucial if you want to shoot at longer ranges. Parallax is factory set to be free at 100 yards.
The optics is not super durable but should do okay in field conditions. It is waterproof, fogproof and shockproof to a degree and is covered by Nikon's Lifetime Warranty.
Pros
| Pros | Cons |
| --- | --- |
| ✓ Decent image | ✗ Not great in low light |
| ✓ Affordable scope | ✗ Not great for +600 yards range |
| ✓ BDC 800 reticle | ✗ Fixed parallax |
| ✓ Easy to adjust turrets | |
| ✓ Nikon's Lifetime Warranty | |
| ✓ Nikon Spot On app support | |
Price : $$$
3. Primary Arms 4-14X44 FFP Scope ACSS HUD .308 BDC Reticle
The Primary Arms 4-14×44 is designed for affordable tactical and long range shooting. The ACSS HUD BDC reticle is a combination of BDC and Mil-Dots. Plus it has an illuminated reticle which is still visible in black when battery runs out.
Magnification power of 4-14x is enough for long range shooting. And 44mm objective makes low light shooting on high magnification possible. Image quality is clear and crisp on all power.
At this price, it is very challenging to make a First Focal Plane scope. But Primary Arms does it. This optics is built on a 30mm tube, which makes it more durable. The turrets are precise and repeatable. Each click is just 0.1 Mil and have internal adjustments of 30 Mil which is quite generous. However, the clicks feel a bit mushy and could use some improvements. The turrets are also zero resettable with an Allen wrench but no zero stop function. The scope also features side parallax adjustment.
The downside are that the Primary Arms is heavy (24 ounce) and has only 3 year warranty. Furthermore, Eye relief is a bit small at 3.14″ – 3.22″.This Primary Arms hold zero up to .308 caliber and is waterproof, fogproof and shockproof.
| Pros | Cons |
| --- | --- |
| ✓ Very nice reticle with illumination | ✗ A bit small eye relief |
| ✓ Good image quality on all magnification | ✗ Heavy |
| ✓ First Focal Plane | ✗ Slightly mushy turrets |
| ✓ Precise, repeatable and zero resettable turrets | ✗ 3 years warranty |
| ✓ Wide range of 0.1 Mil turrets adjustment | |
| ✓ Has parallax adjustment | |
| ✓ Durable | |
Price : $$$
4. Mueller APV AO Rifle Scope, Black, 4.5-14 x 40mm
The Mueller APV AO 4.5-14x is a compromise between affordability and quality. A budget option who wants to go long range with .308. It has suitable magnification range and good entry level glass quality. There are some distortion and wash out on high magnification, but the scope is still usable. Low light capability is decent especially on lower magnification.
It can be used on any caliber up to the .300 Win Mag and can handle the .308 Win's recoil.
Adjustable objective, the parallax adjustment, is also available with this scope, which is rarely seen for scopes in this price range. That said, the scope is a second focal plane scope and has simple reticle, which makes it not suitable for serious long range applications.
Turrets are finger adjustable with audible clicks. However it's not that precise, as is with every scope at this price point. Eye relief is rather small (3.25-3.5″) and eyebox, which is also a bit tight.
This Mueller APV AO is not that durable in field conditions. But it should withstand rain and fog well enough. Plus it's offered along with a transferable Lifetime Warranty from Mueller Optics.
| Pros | Cons |
| --- | --- |
| ✓ Good entry level glass | ✗ Distortion and washing out on higher magnification |
| ✓ Holds zero on .300 Win Mag | ✗ Simple reticle |
| ✓ Budget scope | ✗ Small eye relief and tight eyebox |
| ✓ Has parallax adjustment | ✗ Second Focal Plane |
| ✓ Transferable Limited Lifetime Warranty | ✗ Not very durable |
Price : $$
5. Leupold VX-2 3-9x40mm Riflescope, Duplex Reticle
Leupold has been in the scope business for a very long time and is a reputable American business. Somewhat higher priced, the scope is compensated with reliable quality and fully transferable lifetime warranty.

The Leupold VX-2 is lightweight (9.9 ounces), no frill hunting scopes with suitable magnification range for all round and big game hunting. It comes with generous eye relief (3.7"-4.2"), wide field of view and nice eyebox (room for eye placement) making target acquisition that much faster in the field.
Image quality is good. Lens coating is commendable such that it allows 15-30 minutes more hunting time during dawn and dusk when game are most active. And the scope is highly weather resistant. It has water and fog resistant technology that it will work fine after submersion in water or exposure in cold weather. It also can handle a lot of abuse and recoil from .308 Win.
I recommend the standard duplex reticle for this scope. There are other reticle options, but they cost more and wouldn't be necessary for big game and whitetail hunting with the .308 Winchester.
What this scope does not do is that it's not a long range scope. The turrets are finger adjustable and precise enough for general hunting but not for long range. They are not zero resettable, no zero stop feature and no parallax adjustments. It's more of a set and forget turrets.
| Pros | Cons |
| --- | --- |
| ✓ Good image quality | ✗ Higher priced |
| ✓ Nice low light capabilities | ✗ Not precise turrets |
| ✓ Lightweight | ✗ Turrets not zero resettable |
| ✓ Durable with Reliable and transferable Lifetime Warranty | ✗ Turrets no zero stop |
Price : $$$
---
Conclusion
For big game hunting purpose, the Leupold VX-2 3-9×40 is the best option. It is very lightweight and compact. Making long hikes much more pleasant. Image quality is also good both in normal light and low light. Generous eye relief, along with uncluttered reticle lead to very fast target acquisition. Plus FOV is good enough for dense wood hunting.
For aspired long range shooter, the Primary Arms 4-14×44, FFP, ACSS HUD reticle gives you all you need to shoot out to 1,000 yards. Being First Focal Plane, its patented ACSS HUD .308 BDC reticle is accurate on all magnification. This reticle provides easy and accurate holdovers for .308 Win. Furthermore its reticle is also a Mil Dot which matches its 0.1 Mil Dot adjustment. Glass quality is also crisp and clear on all magnification.