Air rifles are known to be the mass murderer of scopes. Due to the multi-directional recoil which is not seen in normal firearms, air rifles can even break scopes that withstand .300 Win Mag rounds. To fix this, make sure the scope is "airgun rated" or "air rifle rated" prior to purchasing an air rifle scope.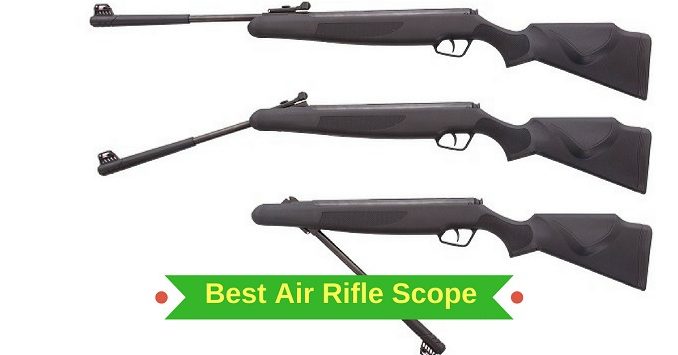 Another thing to consider is its effective range of air rifles. It's around 5-70 yards, and the focus and parallax features must be designed for this range.
To be frank, choices for air rifle scopes are much less than rifle scopes. But I've found some good ones that I can recommend to you.
To summarize, here's my list of the Best Air Rifle Scope.
Before we proceed to recommended optics, let's explore characteristics that make a good air rifle scope
---
What makes a good air rifle scope ?
Recoil
As stated earlier that the recoil from air rifles are unique. It has 2 directions, forward and backward. Plus there are also the aftershock vibrations. To cope with this, know that air rifles generally have 3 power source types
Spring piston
PreCharged Pneumatic (PCP)
CO2
The spring piston has the highest and most damaging recoil of the three. PCP and CO2 use similar mechanism regarding recoil and are significantly less than the spring piston variant.
A scope for spring piston air rifles must be able to stand up to heavy recoil. Less durable scopes can work on PCP and CO2 air rifles. However it is advised not to put any firearm scope on an air rifle.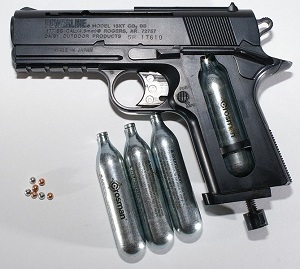 Parallax
Most air rifles shot are between 5-50 yards. When you're firing at close range like this, you want scopes with either fixed parallax settings at 50 or less, or a scope with adjustable parallax with minimum limit of at least 15 yards.
Magnification Power
Even though most air rifle shots are taken within 50 yards, further distance like 50-100 yards are possible, albeit with not the same accuracy. Furthermore, varmint shooting is one of the preferred application for air rifles. And many varmints are rather small creatures, if you want to see its reaction or the hit of the bullet, some magnification is needed.
For me, a 2-7x or a 3-9x is adequate for air rifles. Too high magnification like 6-24x lessens your field of view and has worse image quality. And, the most important thing is high magnification scopes will break my bank.
Objective Lens Diameter
Objective lens diameter, coupled with magnification power leads to exit pupil size. This is define by : Exit Pupil Size = Obj. Lens Diameter / Magnification Power
Too small exit pupil size leads to small sight picture through the lens. For an extreme case, imagine looking through a straw. Too large exit pupil size, meaning larger than your eye pupil by a wide margin, wasted some light as it doesn't enter your eye.
For 3-9x magnification a 40mm objective would do. And smaller magnification like 2-7x can go for 33mm objective lens.
Glass and Lens Coating
Every quality scope needs good glass and lens coating. This is especially true on high magnification scopes with wide range of zoom. Since these are the main factor contributing to image quality and light transmission. Durability is also enhanced due to waterproofing and scratch resistance coatings.
Here are some normally quoted jargons for lens coating.
Coated: A single layer on at least one lens surface
Fully Coated: A single layer on all air to glass surfaces
Multicoated: Multiple layers on at least one lens surface
Fully Multi Coated: Multiple layers on all air to glass surfaces
That said, do not be fooled by these lens coating jargons. As high quality "coated lens" can beat low quality "Fully Multi Coated lens". Quantity doesn't beat quality for lens coating.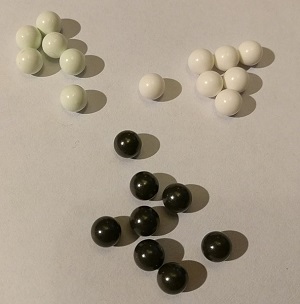 Reticle
Reticle Pattern
There are 2 main groups of reticle pattern to choose from
Simple

– Duplex, NikoPlex, V-Plex, Dot, etc.

Mil-Dot, MOA

– Crosshairs
This is a matter of preference. But since air pellets trajectory are quite steep, and if you do intend to shoot long range, reticles with crosshairs can help you by providing holdovers and distance measurement tool.
First Focal Plane or Second Focal Plane
First focal plane makes the reticle holdovers accurate on all magnification but is often not available no cheaper scopes. Second focal plane on the other hand, doesn't keep up with zoom level which means the holdovers are accurate only on one magnification, mostly the highest.
Second focal plane is cheaper and is recommended for this purpose.
Reticle illumination
The point of illuminating the reticle is to make target acquisition faster. Because the reticle becomes easier to spot. It's nice to have but is not a necessity.
Turrets and reticle matching
If you choose Mil-dot or MOA reticle, you would want to check whether turrets markings match the reticle. For example, a Mil-Dot reticle should go along with Mil-dot turrets. Or MOA reticle and MOA turrets. That way you don't have to do unit conversions in the field.
Turrets
Desirable turrets are precise and repeatable. Each click must be tactile, audible and exact as shown on the markings. Turrets should be easy enough to adjust with your fingers as you will be doing that a lot if you're into long range shooting. But must not be too loose to prevent unintentional adjustments. Furthermore, zero reset and zero stops features are a plus.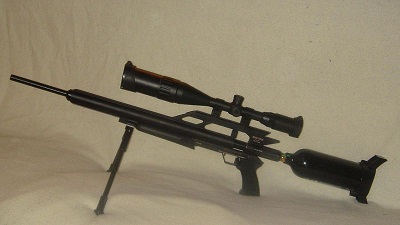 Eyebox
Eyebox = Amount of wiggle room for your aiming eye placement
A small eyebox scope can mean less than half an inch room for optimal eye placement. When people complain about "small sweet spot", it's the same thing as small eyebox. This results in much slower target acquisition and frustration during field use.
Durability
The ability to hold zero, precise turrets adjustment over time, lens and body durability are essential for any scopes.
In addition, reliable manufacturer's warranty goes a long way to ensure usability of a scope. This aspect also helps maintain reasonable price when selling the scope in second hand market.
---
Scope Recommendations
1. UTG 3-9X40 1″ Hunter Scope, AO, 36-color Mil-dot
This airgun rated Leapers UTG 3-9×40 Hunter Scope comes with many features. Its glass is clear in normal lighting with no chromatic aberrations. In low light condition, if you dial down magnification to 3x-4x, light transmission is good for dawn/dusk hunting. That said, the magnification ring is a bit difficult to turn especially if you're wearing gloves.
The scope has adjustable objective (same thing as parallax) from 5 yards to infinity. The reticle pattern is Mil-Dot and has 36-colors illumination feature. This is a little gimmicky, as no one will ever need to use 36 colors, but then I guess it's the same as clothing. As long as it doesn't jack up the price too much, I say why not. One thing I need to admit though, I didn't use the illumination feature much except to show off to my friends.
Turrets has all the features you can think of finger adjustability, zero stop, zero reset and turrets locking. But one thing to complain is that the reticle has Mil-Dot pattern while the turrets are ¼ MOA per click.
Field of view is decent at 35.6′ – 12′ @ 100 yards. And eye relief is adequate at 3.9″ – 3.2″. One thing to complain is that the scope is heavy at 24.8 oz. The optic is durable enough for magnum air rifles. I personally tested it on my Hatsan 95 and it worked fine. This scope comes with Leapers Lifetime Warranty but I haven't personally tested their reliability.
| Pros | Cons |
| --- | --- |
| ✓ Clear glass | ✗ MOA turrets / Mil Reticle |
| ✓ OK light transmission | ✗ Focus, zoom & diopter adjustments are very tight. |
| ✓ Various illuminated reticle choice | |
| ✓ Has parallax adjustment | |
| ✓ Zero stop, zero reset and turrets locking | |
Price : $$
2. Weaver Rimfire 2.5-7X28 Riflescope
Weaver Rimfire 2.5-7×28 is a safe choice for airgun scopes. You can count more on its reliable durability and Limited Lifetime Warranty (not transferable). However, it comes with higher price tag.
2.5-7×28 magnification is low power enough for air rifles. This makes close range shot easier. The optic comes with Fully multi-coated lenses. Image is clear and bright with no distortion on the edges. Colors are also well corrected.
Now, to the downside, the scope has fixed parallax at 50 yards. And your eye placement needs to be a bit exact or you'll get rather small and/or displaced view.
It features a simple Dual-X reticle which provides no holdovers but are good for quick target acquisition. The turrets are ok to work with. Each click is ¼ MOA. Plus, the scope is rather lightweight at 12 oz.
The scope is durable and comes with Limited Lifetime Warranty from Weaver Optics.
| Pros | Cons |
| --- | --- |
| ✓ Durable with reliable Limited Lifetime Warranty | ✗ Parallax fixed at 50 yards |
| ✓ Good quality glass | ✗ Simple reticle |
| | ✗ Slightly tight eyebox |
Price : $$$
3. AT3 Tactical RD-50 Red Dot Sight – 2 MOA Compact Red Dot Scope
This is an option for red dot sight with zero magnification. It gives fastest target acquisition and you can use it with both eyes open, retaining peripheral vision. This means unlimited FOV, eye relief and eyebox.
The AT3 RD-50 is a tube structure reflex sight with built in mount for standard picatinny or weaver rail. It is lightweight (3.6 oz) and compact.
Glass is clear edge to edge. The 2 MOA red dot is easily seen and slightly less crisp than higher end red dot sights. It has 11 brightness settings, none of which are night vision compatible, but this makes adjustment gradual enough for various lighting environment. It's also daylight bright for sunny day uses.
The AT3 RD-50 can hold zero up to 500g and can be used on shotguns and springer airguns.
Even though it boasts 50,000 hours of battery life on lowest settings and 5,000 hours on normal use. My experience is that the battery lasts about 500-600 hour, which isn't too bad as long as you don't leave it turned on.
Quality control is a problem for this optic as blurry red dots and battery cover issue are not rare issues. Durability is ok for its price as long as you received a non defective product. Great things to mention is that AT3 provides Lifetime Warranty and has good reputation on it. Their nice customer service is also a plus.
| Pros | Cons |
| --- | --- |
| ✓ Hold zero well | ✗ Quality control issue |
| ✓ Airgun rated | ✗ Battery life not as long as quoted |
| ✓ Clear glass and dot | |
| ✓ Lifetime Warranty | |
Price : $
---
Conclusion
The Best Air Rifle Scope in my opinion is the UTG 3-9X40 Hunter Scope. It has decent magnification range. Glass and lens quality are good. Plus, it's such a feature rich scope.
Adjustable objectives
36-color illuminated reticle
Zero stop, zero reset and turret locks
It's true that not all of these features are vital for a great scope, but considering the price it's not expensive at all.
Durability is also good as it should hold zero on magnum spring air rifle. Leapers also offers Lifetime Warranty, but rather not rely on this in my opinion.