Air rifles are known to be the mass murderer of scopes. Due to the multi-directional recoil which is not seen in normal firearms, air rifles can even break scopes that withstand .300 Win Mag rounds. To fix this, make sure the scope is "airgun rated" or "air rifle rated" prior to purchasing an air rifle scope.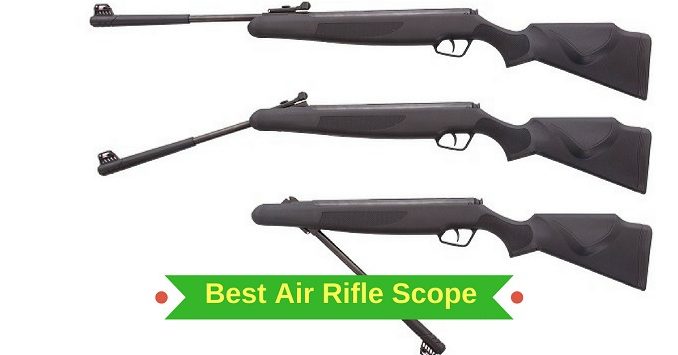 Another thing to consider is its effective range of air rifles. It's around 5-70 yards, and the focus and parallax features must be designed for this range.
To be frank, choices for air rifle scopes are much less than rifle scopes. But I've found some good ones that I can recommend to you.
To summarize, here's my list of the Best Air Rifle Scope.
Before we proceed to recommended optics, let's explore characteristics that make a good air rifle scope
---
What makes a good air rifle scope ?
Recoil
As stated earlier that the recoil from air rifles are unique. It has 2 directions, forward and backward. Plus there are also the aftershock vibrations. To cope with this, know that air rifles generally have 3 power source types
Spring piston
PreCharged Pneumatic (PCP)
CO2
The spring piston has the highest and most damaging recoil of the three. PCP and CO2 use similar mechanism regarding recoil and are significantly less than the spring piston variant.
A scope for spring piston air rifles must be able to stand up to heavy recoil. Less durable scopes can work on PCP and CO2 air rifles. However it is advised not to put any firearm scope on an air rifle.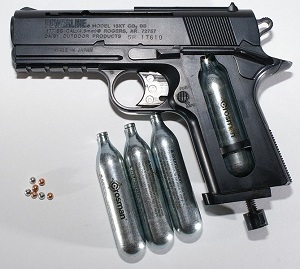 Parallax
Most air rifles shot are between 5-50 yards. When you're firing at close range like this, you want scopes with either fixed parallax settings at 50 or less, or a scope with adjustable parallax with minimum limit of at least 15 yards.
Magnification Power
Even though most air rifle shots are taken within 50 yards, further distance like 50-100 yards are possible, albeit with not the same accuracy. Furthermore, varmint shooting is one of the preferred application for air rifles. And many varmints are rather small creatures, if you want to see its reaction or the hit of the bullet, some magnification is needed.
For me, a 2-7x or a 3-9x is adequate for air rifles. Too high magnification like 6-24x lessens your field of view and has worse image quality. And, the most important thing is high magnification scopes will break my bank.
Objective Lens Diameter
Objective lens diameter, coupled with magnification power leads to exit pupil size. This is define by : Exit Pupil Size = Obj. Lens Diameter / Magnification Power
Too small exit pupil size leads to small sight picture through the lens. For an extreme case, imagine looking through a straw. Too large exit pupil size, meaning larger than your eye pupil by a wide margin, wasted some light as it doesn't enter your eye.
For 3-9x magnification a 40mm objective would do. And smaller magnification like 2-7x can go for 33mm objective lens.
Glass and Lens Coating
Every quality scope needs good glass and lens coating. This is especially true on high magnification scopes with wide range of zoom. Since these are the main factor contributing to image quality and light transmission. Durability is also enhanced due to waterproofing and scratch resistance coatings.
Here are some normally quoted jargons for lens coating.
Coated: A single layer on at least one lens surface
Fully Coated: A single layer on all air to glass surfaces
Multicoated: Multiple layers on at least one lens surface
Fully Multi Coated: Multiple layers on all air to glass surfaces
That said, do not be fooled by these lens coating jargons. As high quality "coated lens" can beat low quality "Fully Multi Coated lens". Quantity doesn't beat quality for lens coating.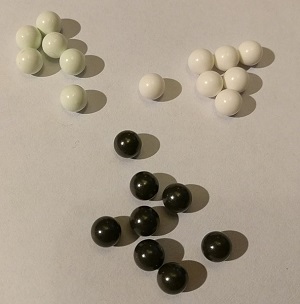 Reticle
Reticle Pattern
There are 2 main groups of reticle pattern to choose from
Simple

– Duplex, NikoPlex, V-Plex, Dot, etc.

Mil-Dot, MOA

– Crosshairs
This is a matter of preference. But since air pellets trajectory are quite steep, and if you do intend to shoot long range, reticles with crosshairs can help you by providing holdovers and distance measurement tool.
First Focal Plane or Second Focal Plane
First focal plane makes the reticle holdovers accurate on all magnification but is often not available no cheaper scopes. Second focal plane on the other hand, doesn't keep up with zoom level which means the holdovers are accurate only on one magnification, mostly the highest.
Second focal plane is cheaper and is recommended for this purpose.
Reticle illumination
The point of illuminating the reticle is to make target acquisition faster. Because the reticle becomes easier to spot. It's nice to have but is not a necessity.
Turrets and reticle matching
If you choose Mil-dot or MOA reticle, you would want to check whether turrets markings match the reticle. For example, a Mil-Dot reticle should go along with Mil-dot turrets. Or MOA reticle and MOA turrets. That way you don't have to do unit conversions in the field.
Turrets
Desirable turrets are precise and repeatable. Each click must be tactile, audible and exact as shown on the markings. Turrets should be easy enough to adjust with your fingers as you will be doing that a lot if you're into long range shooting. But must not be too loose to prevent unintentional adjustments. Furthermore, zero reset and zero stops features are a plus.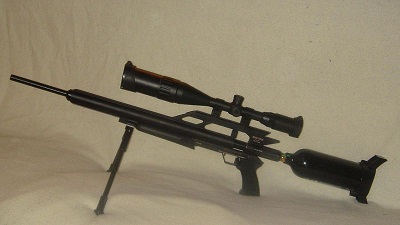 Eyebox
Eyebox = Amount of wiggle room for your aiming eye placement
A small eyebox scope can mean less than half an inch room for optimal eye placement. When people complain about "small sweet spot", it's the same thing as small eyebox. This results in much slower target acquisition and frustration during field use.
Durability
The ability to hold zero, precise turrets adjustment over time, lens and body durability are essential for any scopes.
In addition, reliable manufacturer's warranty goes a long way to ensure usability of a scope. This aspect also helps maintain reasonable price when selling the scope in second hand market.
---
Scope Recommendations
1. UTG 3-9X32 1″ BugBuster Scope, AO, RGB Mil-dot
Best for : Airgun rated scope under $100
This feature rich, affordable, springer airgun rated scope can withstand the recoil of all types of airguns, you can rest assured that even the recoil of magnum airguns won't break this scope.
Mil-Dot with red/green illumination reticle allows for standard holdovers, which you can easily adapt to every airguns ballistics you're using. Black reticle is shown when battery is out or illumination turned off.
Turrets are cool as they have finger adjustability, zero stop, zero reset. One funny thing is that the turrets are ¼ MOA per click while reticle is in MIL. But this mismatching isn't a serious issue if you don't shoot long range.
Parallax is adjustable from 3 yards to infinity with the Adjustable objective, allowing you to shoot both very short range and longer range with accuracy. Glass is clear in normal lighting but low power (3x-4x) is recommended during low light.
Lastly, the scope comes with Leapers Lifetime Warranty.
| Pros | Cons |
| --- | --- |
| ✓ Airgun rated | ✗ MOA turrets / Mil Reticle |
| ✓ Affordable | |
| ✓ Mil-dot illuminated reticle | |
| ✓ Has parallax adjustment | |
| ✓ Flip-over lens caps and QD Mounts included | |
Price : $$
2. UTG 3-9X40 1″ Hunter Scope, AO, 36-color Mil-dot
Best for : People who feels the UTG BugBuster is too high priced
Another UTG Leapers springer airgun rated scope, but is cheaper, has bigger objective lens and fancy 36-color reticle.
Turrets are finger adjustable, have zero stops, zero reset and turrets lock. Parallax is adjustable from 5 yards to infinity (Above UTG BugBuster is 3 yards to infinity).
| Pros | Cons |
| --- | --- |
| ✓ Similar to UTG BugBuster but cheaper | ✗ MOA turrets / Mil Reticle |
| ✓ 36 color reticle | ✗ Focus, zoom & diopter adjustments are tight. |
| ✓ Turrets lock feature | |
Price : $
3. Leupold VX-Freedom EFR 3-9×33, Duplex reticle
Best for : People who want hassle-free, high quality scope and can afford higher price
This is the scope if you're looking for an airgun rated, American manufacturer with No-Question-Asked Lifetime warranty.
Glass is clear and light transmission beats both the UTGs by a wide margin even though this scope has only 33mm objective lens.
Very compact (11.4") and lightweight (12.1 oz), as these are signature characteristics of Leupold scopes.
Parallax is adjustable from 5 yards to infinity with the Adjustable objective.
The only downside is that the scope is sold at a higher price than the previous mentioned ones.
| Pros | Cons |
| --- | --- |
| ✓ Outstanding glass and light transmission | ✗ Higher priced |
| ✓ Super durable | ✗ No zero reset nor zero lock turrets |
| ✓ Compact and lightweight | |
| ✓ Lifetime Warranty | |
Price : $$$$
4. Nikon Prostaff P3 Target EFR 3-9×40 AO Matte,Precision Target Reticle
Best forr : $100-$200 air rifle scope
Springer airgun rated with reliable warranty, the Nikon EFR is another scope that will stand the recoil of magnum springer airguns.
Light transmission is not as good as the Leupold VX-Freedom EFR, but is much better than UTG BugBuster and should suffice for most people.
Parallax is adjustable from 10 yards to infinity with the Adjustable objective.
| Pros | Cons |
| --- | --- |
| ✓ Better glass and light transmission than UTG BugBuster | ✗ Glass inferior to Leupold VX-Freedom EFR |
| ✓ Springer airgun rated | |
| ✓ Mid-priced | |
Price : $$$
---
Conclusion
The Best Air Rifle Scope, when considering budget, is the UTG BugBuster Scope.
If you're not constrained by budget, the Leupold VX-Freedom EFR is the way to go.