Many gun owners avoid Chinese scopes like the plague. But if you stop and think about it, many top brands including Apple, Nike and Rayban manufacture their products from China.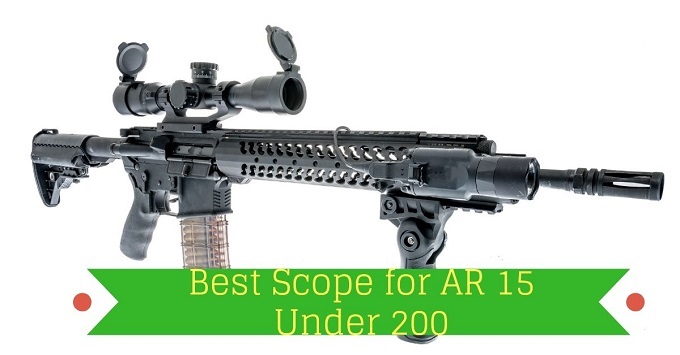 The truth is, if you look hard enough, you're bound to find usable Chinese scopes. To give you a great lead, I'll tell you all about my personal best AR 15 scope under 200.
Here's my list of the best AR 15 scope under 200.
Best AR 15 Scope Under 200
Before delving deeper into the details of each scope, let's familiarize ourselves with what makes a good AR 15 scope.
---
What makes a good AR 15 scope under 200?
Magnification : Fast Target Acquisition or Long Range Shots
To determine your scope's magnification range, first you need to know what kind of target will you be engaging.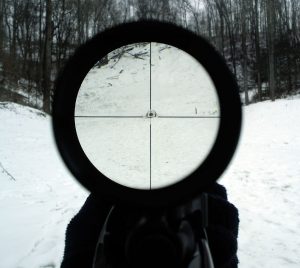 For tactical, CQB (Close Quarters Battle), fast target acquisition purpose, you'll want an optic with low or even zero magnification, wide field of view (lower magnification means higher field of view and vice versa) to maintain peripheral vision.
1-4x, 1-6x or even a red dot sight will serve you well.
On the other hand, if you're in for sniper and long range shooting, a higher magnification scope, be it 3-9x, 4-16x or even 6-24x are viable options.
However, we're limited by our budget.
Since higher magnification scopes naturally come with higher price tags (scopes under $200 with high magnification often perform poorly), I'd recommend you to limit your scope to 4-16x.

Objective lens : No need for big objective
Big objective lens is critical for hunting during dawn and dusk where you don't have enough lighting.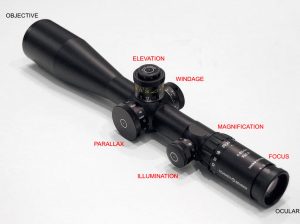 But since you're unlikely to hunt with your AR 15, a big objective lens of more than 44mm is not needed for your AR scope.
Furthermore, adequate objective lens size is partly determined by how much magnification you use. The higher magnification, the bigger objective lens you need.
For my preference, 40mm objective lens would do for 3-9x and 4-16x non-hunting scopes. If it's a 2-7x or a 1-4x, you can go with 33mm and 24mm respectively.

Glass and Lens Coating
Every quality scope needs good glass and lens coatings as they are some of the biggest factors affecting performance.
What we look for is a scope with clear, crisp glass with minimal distortion when you set your scope at its optical center. Chromatic aberrations, such as purple hue around the edges can be present, but try to keep them at minimal level.
High quality lens coating helps prevent glares and flares when the sun is directly in front or behind you. Furthermore, it will improve the durability of your scope.
With our budget, even though we would not be getting an HD or a low dispersion glass, acceptable glass and lens coatings can be had in $200 price range.

Eye Relief and Eyebox
Eye relief = Space between your aiming eye and the scope for optimal sight image
Generally, bigger eye relief means that your eye is safe from recoil. However, too much eye relief might lead to uncomfortable head and eye position.
Standard eye relief is around 3"-4".
Eyebox = Amount of wiggle room for your aiming eye placement
A small eyebox scope can mean less than half an inch room for optimal eye placement. When people complain about "small sweet spot", it's the same thing as small eyebox. This results in much slower target acquisition and frustration during field use. This issue normally magnifies itself on higher magnification scopes.

Tube Size : 1 Inch or 30mm?
Larger tube scopes have the advantage of added durability and larger range of internal turrets adjustments. The downside is that they're higher priced and heavier.
Popular scope tube size nowadays are 1 inch and 30mm diameter. 34mm or 35mm scopes are not recommended as scope rings would be much more expensive, hence raising your overall scope cost.

Reticle
Reticle Pattern
There are 3 main groups of reticle pattern.
Simple – Duplex, NikoPlex, V-Plex, Dot, etc
Mil-Dot, MOA – Crosshairs
BDC – Bullet Drop Compensation calibrated to particular rounds
This is a matter of preference.
Simple reticle provides clutter-free, fastest target acquisition speed.
But if you intend to also shoot at longer range, Simple reticles are not good enough as they provide no holdover nor distance measurement tool. I personally prefer Mil or MOA reticle over BDC reticle due to versatility. But again, this is mostly preference.
Reticle illumination
The point of illuminating the reticle is to make target acquisition faster. Because the reticle becomes easier to spot. It's nice to have especially in low light situations.
Turrets and reticle matching
If you choose Mil-dot or MOA reticle, you would want to check whether turrets markings match the reticle. For example, a Mil-Dot reticle should go along with Mil-dot turrets. Or MOA reticle and MOA turrets. That way you don't have to do unit conversions in the field.
If you choose other reticle type or don't care about long range shooting, this isn't a thing to consider.

Turrets
For scopes in this price range, you should not expect your turrets to be precise or repeatable.
What you should expect are rather tactile, audible, finger-adjustable turrets that holds zero over serious use and are not too difficult to sight in.
Zero reset and zero stop are a plus.

Parallax Adjustment
Parallax adjustment is useful for long range and very close range shots as It helps reduce the need to perfectly align your eye to the scope.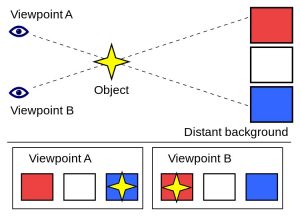 Short range parallax adjustment is useful for your CQB action.
Side knob parallax is easier to use, but is more costly than adjustable objective parallax.

Durability
Firstly, you want your scope to be able to hold zero, not failing you in the time of need or requiring you to re-zero it often.
Next you want your scope to be weatherproof, that is it doesn't fog up or leak when it starts to rain. Water submersion feature is generally not needed as you shouldn't be dunking your scope into water.
Sturdy aluminium housing to prevent damage from external force is desirable.
Lastly, reliable manufacturer's warranty goes a long way to ensure the scope's usability. This aspect also helps maintain reasonable price when selling the scope in the second hand market.

Price
Since this article focuses on AR 15 scopes under $200, all scopes recommended below are under the $100 threshold at the time of this writing.
However, price fluctuates with season, supply, demand and promotions. This may result in some scopes below exceeding $200 some time in the future.
But rest assured that I regularly update this article and will try to keep those errors to a minimum.


Scope Recommendations
1. Leupold VX-Freedom
Lightweight and compact, the VX-Freedom performance is somewhere between the discontinued VX-1 and VX-2.
VX-Freedom's glass is crisp and bright with very little distortion, compared to scopes under $200.
I'd get either the 1.5-4×20 for CQB or 3-9×40 for long range.
Simple, clutter-free reticle is great for target acquisition. Plus, the scope's big eyebox makes the scope very pleasant to work with.
However it's a bit lacking for long range shooting.
The VX-Freedom is ruggedly built, can hold zero and battlefield ready that you don't have to worry about its durability. Furthermore, Leupold's warranty is among the best in the market.
| Pros | Cons |
| --- | --- |
| ✓ Crisp, bright glass | ✗ Limited reticle option |
| ✓ Lightweight and compact | ✗ Not good for long range shooting |
| ✓ Big eyebox | ✗ No parallax adjustment |
| ✓ Rugged with superb warranty | |
Price : $$
2. Vortex Diamondback
Vortex Diamondback is a huge upgrade from its low end Crossfire II line.
Diamondback glass is vivid with little chromatic aberration. Light transmission is considered pretty good.
My preferred magnifications are 1.75-5×32 (CQB) and 4-12×40 (Long Range)
It's BDC reticle also provide much more adequate holdovers for long range shooting, unlike the Leupold VX-Freedom mentioned above. That said, the Diamondback is markedly heavier than Leupold's.
Turrets are capped low, tactile and audible.
Two complaints are heavier weight and rather small eyebox.
Vortex warranty is also top-notch and can counted upon even if you're the one abusing the scope.
| Pros | Cons |
| --- | --- |
| ✓ Crisp, bright glass | ✗ Heavier |
| ✓ BDC reticle for longer range | ✗ Rather small eyebox |
| ✓ Superb warranty | |
Price : $$
3. Primary Arms 1-4×24 | (budget option)
This 1-4×24 Primary Arms is a budget option as it costs just slightly over $120 at the time of this writing.
Glass has slightly more distortion and less bright than both Leupold VX-Freedom and Vortex Diamondback.
The scope is also heavier and larger than the Vortex Diamondback. Plus, eyebox is much smaller than the other mentioned scopes.
But you get an illuminated duplex reticle, which makes you spot your reticle faster especially in low light and dark environment.
Primary Arms warranty is comparable to Vortex's.
| Pros | Cons |
| --- | --- |
| ✓ Low price | ✗ Worse glass |
| ✓ Illuminated reticle | ✗ Small eyebox |
| ✓ Superb warranty | ✗ Heavier and bulkier |
Price : $
4. Burris Fullfield E1 2-7×35
Burris Fullfield E1 is an upgrade from the Burris Fullfield 2 and is a strong contender for AR 15 scope under $200.
Glass performance is clear, bright and works well in low light. FOV is wide but peripheral vision is less than scopes with 1x or 1.5x magnification.
Reticle is a thin, sharp BDC style with bullet drop and wind holdovers. In dark and low light environment, the reticle is a bit difficult to see.
Burris warranty is considered reliable.
| Pros | Cons |
| --- | --- |
| ✓ Bright, clear glass | ✗ Slightly too fine reticle |
| ✓ Reticle with BDC holdovers | |
Price : $$
5. Vortex Strikefire II Red Dot Sight | (Red dot option)
Vortex Strikefire II, a 4 MOA red/green reflex sight is another solid choice for your CQB fast target acquisition AR 15.
Its 4 MOA red/green dot doesn't get washed out and is easy to see in broad daylight.
Parallax error at close range is much less than magnified optics.
The Strikefire II is powered by a single CR2 battery with 6,000-7,000 hours or approximately 250-290 days of battery life.
Vortex lifetime warranty on the Strikefire 2 is another big selling point, since most red dot sights in the same price range often have limited warranty of 2 to 5 years.
| Pros | Cons |
| --- | --- |
| ✓ Bright 4 MOA dot for fast target acquisition | ✗ No magnification |
| ✓ Can alternate between red and green dot | ✗ Not home defense, military grade optic |
| ✓ Less parallax error | |
| ✓ Superb lifetime warranty | |
Price : $$
Conclusion
Leupold VX-Freedom 1.5-4×20 is a great choice for those wanting a compact, lightweight scope. For those who want to shoot at longer range, Vortex Diamondback 1.75-5×32 is the way to go. If you want the fastest pocket acquisition speed without the need of magnified optics, Vortex Strikefire II is one suitable option.