The AR15 or ArmaLite Rifle 15 (Named after the designer company) is undisputedly the world's most popular modern sporting rifle. Since its inception in the 1950s, the AR15 has gone through many major improvements. Every manufacturer seems to have their own version of the AR15. Additionally, the amount of modification you can do to the AR15 is mind blowing and you can find about any chamberings you want, including .22, .223 (5.56 x 45mm), 6.8 SPC, .308, .450 Bushmaster, even shotgun variants and pistol calibers are also viable.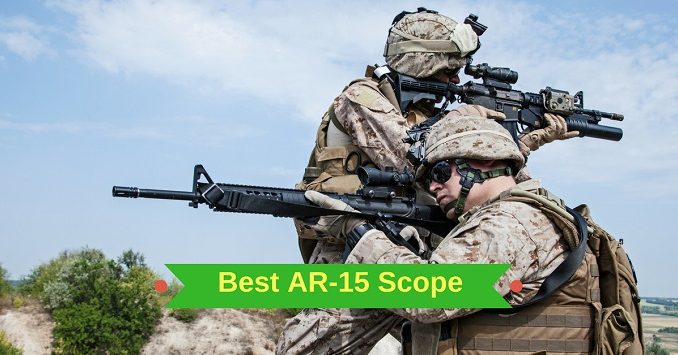 State of the art rifle with affordable price are the allures of the AR15. Furthermore, its design is simple enough that many people just buy parts then assemble it from their garage. Needless to say, the versatility of the AR15 is unmatched and is suitable for tactical applications, CQB and long range shooting.
Thus when looking for an AR15 scope, you should have some idea as to what you're going to do with your AR15. That way, startling number of choices get whittled down to the selected few. I've personally picked AR15 scopes for various applications and thought that you might enjoy a look.
To summarize, here's my list of the Best AR15 Scope.
Let's discuss the qualities we look for in a good AR-15 scope.
---
What makes a good AR-15 scope ?
Magnification Power
Picking a suitable magnification range depends heavily on your intended tasks. Magnification allows you to see things farther away in greater details. It helps improve your shots placement accuracy.
However, too much magnification becomes a liability as it makes :
More distorted sight picture
Less light transmission
Smaller Exit Pupil Diameter
Mirage issue on hot days
Higher costs
The key is to get appropriate magnification for your uses. To determine that, it boils down to 2 factors, the range and the size of your target. As for my preference, here's a list of magnification for each applications.
CQB : 1x, 1-4x or 1-6x
All round shooting/hunting : 3-9x, 4-12x
Long range shooting / Varmint hunting : 3-15x, 4-16x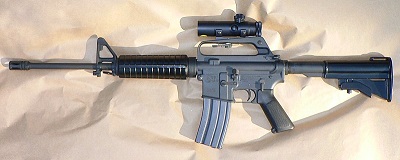 Objective Lens Diameter
This number sits alongside with magnification and is denoted in Millimeters. It determines 2 things.
Light transmission – Larger objective lens let more light passes through. This results in brighter image. Note that glass quality and lens coating are also a factor to brightness of a scope.
Exit pupil diameter – Too small exit pupil diameter leads to small sight picture, like a straw, through the lens.Too large exit pupil size relative to your pupil size leads to wasted light as some doesn't enter your eye. Note that normal pupil size in adults varies from 2-4 mm in diameter in bright light to 4 to 8 mm in the dark.
Optimal exit pupil diameter should be slightly larger than you pupil size as it helps improve eyebox (More on that later).
The downside of too big objective lens are higher price and heavier weight. In some case, it also means higher mounts.
Glass and Lens Coating
Glass and lens coating are the main factor determining the quality of the sight picture. You might want to invest in these things especially if you use high magnification scopes with wide range of zoom. A caveat is that high quality glass don't come cheap.
Lens coating also enhance a scope's durability as it helps with waterproofing and scratch resistance.
Look for things like ED glass (Extra Low Dispersion Glass) and HD glass (High Density Glass) if you can afford it.
Here are some normally quoted jargons for lens coating.
Coated: A single layer on at least one lens surface
Fully Coated: A single layer on all air to glass surfaces
Multicoated: Multiple layers on at least one lens surface
Fully Multi Coated: Multiple layers on all air to glass surfaces
That said, these lens coating jargons don't mean much in determining quality. As high quality "coated lens" can beat low quality "Fully Multi Coated lens". Quantity doesn't beat quality for lens coating.
Eye Relief and Eyebox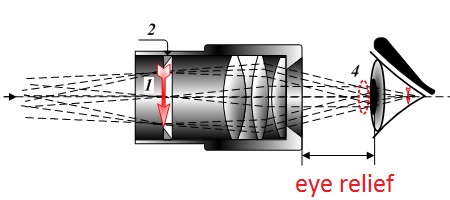 Eye relief = Space between your aiming eye and the scope for optimal sight image
Generally, bigger eye relief means that your eye is safe from recoil. However, too much eye relief might lead to uncomfortable head and eye position.
Standard eye relief is 3"-4". When choosing, it is highly dependant on your cartridge's recoil. 5.56×45mm NATO and .223 , the original rounds AR-15 is designed for, has relatively low recoil and you can afford to have small eye relief scopes like 2.5"-3". Just choose an eye relief level that is comfortable to you.
Eyebox = Amount of wiggle room for your aiming eye placement
A small eyebox scope can mean less than half an inch room for optimal eye placement. When people complain about "small sweet spot", it's the same thing as small eyebox. This results in much slower target acquisition and frustration during field use. This issue normally magnifies itself on higher magnification scopes.
Tube Size
Pros of larger tubes (30, 34 ,35 mm) :
Better durability
Wider range of internal adjustments
More range of internal adjustments are good for long range shooting. It ensures that you have enough elevation adjustments for your shot and prevents the optical vignetting problem which is distortion on the edges of the glass that usually happens when you max out your internal adjustments.
Cons of larger tubes
Reticle
Reticle Pattern
There are literally thousands of reticle patterns to choose from. But we can generally categorize them into 3 main groups :
Simple – This type of reticle provided uncluttered, fastest target acquisition reticle. It is suitable if you're shooting short to medium range as the reticle provides no holdovers or distance measurement tools. Example of this type are Duplex, NikoPlex, V-Plex, Dot, etc.
Mil-Dot, MOA – These reticle comes with crosshairs in minutes of angle or milliradian unit. It is the go-to for long range shooting as it has both holdovers and distance measurement tools. Downside is that it's a bit difficult to learn and use perfectly.
BDC – "Bullet Drop Compensation" reticle is calibrated to particular rounds of bullet trajectory. It provides holdovers and is generally easier to use than the Mil/MOA reticle type. Note that it's unlikely to be exactly accurate as the BDC is calibrated to an exact cartridge with exact grain and exact temperature, muzzle velocity and air pressure. Note that you can use online app like "Strelok" to adjust it to your particular rounds. However, Mil-Dot and MOA reticle are preferred for range beyond 800 yards as most BDC reticle don't reach beyond that point.
First Focal Plane or Second Focal Plane
First focal plane makes the reticle holdovers accurate on all magnification but is often not available no cheaper scopes. Second focal plane on the other hand, doesn't keep up with zoom level which means the holdovers are accurate only on one magnification, mostly the highest.
First focal plane reticle is the go to choice if you intend to also shoot long range. If not pick second focal plane to save costs.
Reticle illumination
The point of illuminating the reticle is to make target acquisition faster. Because the reticle becomes easier to spot. It's nice to have but is not a necessity.
Turrets and reticle matching
If you choose Mil-dot or MOA reticle, you would want to check whether turrets markings match the reticle. For example, a Mil-Dot reticle should go along with Mil-dot turrets. Or MOA reticle and MOA turrets. That way you don't have to do unit conversions in the field.
If you choose other reticle type or don't care about long range shooting, this isn't a thing to consider.
Turrets
Desirable turrets are precise and repeatable. Each click must be tactile, audible and exact as shown on the markings. Turrets should be easy enough to adjust with your fingers as you will be doing that a lot if you're into long range shooting. But must not be too loose to prevent unintentional adjustments. Furthermore, zero resettable and zero stops features are a plus as they help keeping track of how much adjustments to make or have made especially for long range shooting.
Hunting style turrets often are low profile and come with caps to prevent unintentional adjustment especially when out hunting. Target (shooting) style turrets are high profile without caps. This makes adjusting on the fly easier.
Parallax
Parallax adjustment is necessary for long range and very short range shots. It help reduce the need to perfectly align your eye to the scope and raise the odds for precision shots. Preferred position is the side knob for ease of use.
That said, if you don't shoot under 25 yards or beyond 250 yards, there's no need for parallax adjustment.
Durability
The ability to hold zero, precise turrets adjustment over time, lens and body durability are essential for any scopes. Furthermore, the scope must be able to endure the harsh field environment, such as extreme temperature, water submersion and a healthy amount of force.
In addition, reliable manufacturer's warranty goes a long way to ensure usability of a scope. This aspect also helps maintain reasonable price when selling the scope in second hand market.
Mounting
Due to AR-15 muzzle-to-butt straight-line design to deal with recoil, medium to high mount is usually appropriate for your natural shooting pose. It relieves you the need to crane your neck over and improves accuracy. Furthermore, it can help clear your rifle's charging handle.
Look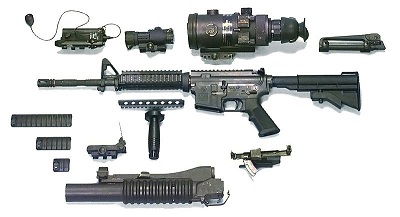 For most people, a tactical looking scope would fit to the AR-15 much better than non-tactical ones. Note that tactical style scopes are usually priced higher.
Digital rifle scopes
We're living in the digital age, and yes the digital rifle scopes have arrived. They come with new features like, built-in ballistic calculator, built-in video recorder and one-shot zero (with no turrets required). I personally believe that these digital rifle scopes will one day become the mainstream
They certainly are not the cheapest scopes out there. But similar to all digital products, they're quickly becoming affordable for people like you and me. If you're a tech geek, you might want to try that out.
Accessories
A quick mention on the things you might add to your scope to improve performance.
Lens cap – This helps protect your scope lenses while not in use.
Bikini caps – Front and back caps are joined by elastic bands to protect you scope. Might get lost though.
Flip up caps – The caps are pivot up and down instead. This way they don't get lost.
Bubble level – This is used to measure your angle and cant. Useful if you shoot long range.
Sun shade – Reduces sun glares and prevent your enemy (if any) from spotting your scope lens reflection. Note that the sight image will get a bit darker though.
Mounts, Rails and Rings – Don't skimp on these as they are vital for any scope to work. You might even damage your scope if these are of low quality.
---
Scope Recommendations
1. Vortex Optics Strike Eagle 1-6×24 – AR-BDC Reticle
The Vortex Strike Eagle is one of the more affordable choice for tactical CQB on an AR-15. It certainly isn't the cheapest, but you will get high value for each dollar spent on this scope.
Its glass and lens coating is not on par with higher priced CQB scope out there. But it works very well for its price and is satisfying for most users. The scope is not a true 1x, maybe 1.1x. But still works smoothly with both eyes open and has minimal fisheye effect. Furthermore, the optics has generous field of view. A downside is that eyebox is rather small at high magnification.
The scope features the AR-BDC reticle which is calibrated to match the 5.56mm cartridge, a natural choice for AR-15. However for 1-6x scope, it isn't meant to shoot at very long range and the BDC won't matter much. Plus, this scope is a second focal plane scope, which means the reticle holdovers will only work on 6x.
Illuminated reticle has 11 brightness settings which works well in most situations. However, even on the highest settings the reticle washes out a bit on bright sunny days. Note that you can use the non-illuminated black reticle instead which is clear and visible even when battery runs out.
Turrets are accurate and repeatable. Each click stands for ½ MOA which is the norm for 1-6x scopes. One outstanding thing about the turrets is large internal adjustment range of 140 MOAs.
It weighs 17.6 ounce which is a bit heavy. Overall durability is good. The optics is rugged and well-made. It can withstand heavy recoil caliber and do well in field environments. Plus Vortex VIP warranty is one of the best out there in the market. It's fully transferable, hassle free and covers electronics.
| Pros | Cons |
| --- | --- |
| ✓ Nice glass for the price | ✗ Illuminated reticle washes out in bright daylight |
| ✓ Works nicely with both eyes open | ✗ Rather heavy (17.6 oz) |
| ✓ Wide FOV | ✗ Slight fisheye effect |
| ✓ Large internal turrets adjustment range | ✗ Small eyebox at high magnification |
| ✓ Able to see black reticle even if battery is out | ✗ Second Focal Plane |
| ✓ Durable, waterproof, fogproof and shockproof and handles recoil well | |
| ✓ Vortex lifetime unconditional warranty | |
Price : $$$
2. Nikon P-223 3-9×40, BDC 600
This is a budget option for those who just want to slap a usable scope on their AR-15. Magnification 3-9x is a classic, versatile, all-rounder short to medium range usage. For this scope, glass and lens coating quality is not that great, but works ok in daylight situation especially on low magnification. During low light however, the scope doesn't perform very well.
Nikon P-223 BDC 600 reticle is calibrated to the trajectory of the .223 Rem /5.56 NATO round with 55-grain polymer tip bullet. If you happen to use either of these 2 rounds, you can easily shoot out from 100 to 600 yards with this reticle. Furthermore, you can use Nikon Spot On App to find the bullet drop for other grains, loads or whatever cartridges you intend to use.
Unfortunately, the turrets are not that precise nor repeatable. But you kind of expect it for scopes in this price range. Furthermore, you need to tap it often after adjustments as the springs inside are that strong. Note that it has 80 MOA range of adjustment and has zero reset feature.
The scope is not super durable but should be good for a few years if you take good care of it. Plus, it comes with Nikon's Lifetime Warranty
| Pros | Cons |
| --- | --- |
| ✓ Low price | ✗ Not great in low light |
| ✓ Clear glass | ✗ Not precise turrets |
| ✓ BDC reticle for .223 Rem /5.56 NATO | ✗ Not very durable |
| ✓ Lifetime Warranty | |
Price : $$
3. SWFA SS 3-15×42 Tactical Rifle Scope
The SWFA SS 3-15×42 offers highest versatility magnification range. It can be used in dense woods to long range target shooting beyond 1,000 yards. That said, with 5 zoom ratio like this, the scope ain't cheap.
The scope has all the desired features mentioned above. Glass and lens quality is very good. Image provided are clear and crisp on all magnification. There are slight chromatic and spherical aberrations on highest magnification but nothing crazy.
Eye relief and eyebox are positive and easy to use. The SWFA SS is housed in a 30mm tube with 123 MOA range of adjustments which is plenty. The turrets are very exact and repeatable. There are no zero stop but has the zero reset and side parallax adjustment. One thing to mention is that the markings on parallax distance aren't very exact. You need to adjust while looking through the scope instead.
The reticle is clear and very fine to not obscure long range targets. Plus, reticle pattern is in Mil-dot which matches turrets 0.1 mil per click adjustment.
Furthermore, it's a very durable scope and will hold zero on even .50 caliber with ease. Waterproof, fogproof and shockproof, the scope is built like a tank. Last but not least, SWFA offers a reliable and transferable Lifetime Warranty that few people had the occasion to use due to the scope's high durability.
| Pros | Cons |
| --- | --- |
| ✓ High quality glass | ✗ Not accurate parallax adjustment markings |
| ✓ Precise tracking turrets | ✗ Rather heavy (24 ounce) |
| ✓ Matching reticle and turrets units | ✗ HIgher priced |
| ✓ FFP | |
| ✓ Very durable with reliable Lifetime Warranty | |
Price : $$$$$
4. Primary Arms 4-14X44 Tactical Scope, First Focal Plane
The Primary Arms 4-14×44 is designed for affordable tactical and long range shooting. It has matching Mil-Dot reticle and Mil-Dot turrets. This is a very good thing as you don't have to do conversions during your shots.
Magnification power of 4-14x is enough for long range shooting. And 44mm objective makes low light shooting on high magnification possible. Image quality is clear and crisp on all power.
At this price, it is very challenging to make a First Focal Plane scope. But Primary Arms does it. This optics is built on a 30mm tube, which makes it more durable. The turrets are precise and repeatable. Each click is just 0.1 Mil and have internal adjustments of 30 Mil which is quite generous. However, the clicks feel a bit mushy and could use some improvements. The turrets are also zero resettable with an Allen wrench but no zero stop function. The scope also features side parallax adjustment.
Eye relief is a bit small at 3.14″ – 3.22″. But it's not a big deal as long as heavy recoil rounds are not used.
The downside are that the Primary Arms is heavy (24 ounce) and has only 3 year warranty. This Primary Arms should hold zero up to .308 caliber and is waterproof, fogproof and shockproof.
| Pros | Cons |
| --- | --- |
| ✓ Matching Mil/Mil reticle and turrets | ✗ A bit small eye relief |
| ✓ Good image quality on all magnification | ✗ Heavy |
| ✓ First Focal Plane | ✗ Slightly mushy turrets |
| ✓ Precise, repeatable and zero resettable turrets | ✗ 3 years warranty |
| ✓ Wide range of 0.1 Mil turrets adjustment | ✗ Not expensive but not so cheap |
| ✓ Has parallax adjustment | |
| ✓ Durable | |
Price : $$$
5. ATN X-Sight II 3-14x/50mm Smart Day & Night Rifle Scope
We're living in the digital age and I think digital rifle scopes are going to get better and cheaper by the day. Today I recommend ATN X-Sight, an affordable but still a bit expensive digital rifle scope.
The ATN X-Sight II is a feature rich scope with night vision feature. With an IR illuminator, you can shoot accurately out to 600 yards in the middle of the night. Image quality is very good. Plus it has easy-to-use built in ballistic calculator and rangefinder which calculates holdovers point for you automatically. Furthermore, you has various reticle sizes and colors to choose from.
The ability to take videos and video streaming during your shots are great to have. This makes sharing memory with your friends a simpler thing to do. The Recoil Activated Video could use some improvements as smaller rounds might not activate the recording video camera. Note that the video looks better on lower magnification.
Things to complain are that it consumes huge amount of batteries. With 4 AA batteries using every function, bluetooth, wifi, video, gps, geotagging, etc., you get only 10 minutes. You can fix this with a battery pack, but that will increase to its already bulging weight of 34.4 ounce.
Durability is good with this scope and it will hold zero on .308 rounds. There are some defect cases but ATN fix this by offering 2 years warranty for this digital optic. Not great warranty but acceptable for digital products.
| Pros | Cons |
| --- | --- |
| ✓ Good image quality | ✗ Heavy (34.4 oz) |
| ✓ Digital rifle scope | ✗ Battery intensive |
| ✓ Night vision optics | ✗ 2 years warranty |
| ✓ Built-in ballistic calculator and rangefinder | |
| ✓ Built-in Video Recorder and streaming | |
Price : $$$$$
6. Aimpoint PRO Patrol Rifle Optic
This is a choice for tactical CQB no magnification optic, namely the Aimpoint PRO red dot.
Aimpoint Pro is one of the high quality red dot sight in the market. It offers the best possible experience with both eyes open optics as there is no magnification. Fast target acquisition with unlimited field of view, the Aimpoint Pro is rather a no-frill-but-excel-at what-it-does kind of optics. It has 2 MOA dot and 10 brightness settings. On higher power, the dot is easily seen under sunlight. There are 4 levels of night vision compatible brightness. Furthermore, it weighs only 7.8 ounce.
The real selling point for any Aimpoint product is the reliability in real world situation. This red dot is designed to take some serious beatings and is favoured by the military. It can withstand a lot of shock (40 +/- 4 g in y and z axis, 500 g in x axis) and is waterproof up to 150 ft. The warranty is 2 years for professional or competition use and 10 years for personal use which is very acceptable in my opinion.
Battery life is dependable to 30,000 hours on power setting level 7. A reliable number as Aimpoint Pro is known to work for more than 3 years under a single battery. You can leave the optics always on, knowing that you do not have to fumble on on/off switch during an emergency, and be ready from the get go.
The downside is that, even though it's a cheaper model in Aimpoint's arsenal, it's still high price and not a budget optics.
| Pros | Cons |
| --- | --- |
| ✓ Very reliable and durable | ✗ Not much additional features |
| ✓ True 1x, can be used with both eyes open | ✗ Higher priced |
| ✓ Unlimited field of view and eye relief | |
| ✓ Long life battery | |
| ✓ lightweight | |
| ✓ Clear and daylight bright red dot with night vision compatibility | |
| ✓ Decent warranty | |
Price : $$$$$
---
Conclusion
Hopefully, one of the scopes recommended would fit your needs. In my opinion, if your AR15 intended use is CQB, the Aimpoint Pro red dot would do the perfect job as you can use both eyes shooting effectively. Plus it's reliability is unquestioned as it is used in military operations.
For people who wants to go long range, the Primary Arms 4-14×44 offers an affordable First focal plane scope with decent quality glass.
If you're looking for something fun and interesting, the ATN X-Sight II 3-14x/50mm could do wonders as it is a digital rifle scope with no elevation nor windage turrets. Furthermore it has digital night vision technology with ballistic calculator and streaming videos.