Hunting is one of the more popular sports for gun owners. Depending on location and game in the area, you could be doing big game hunting, like bear hunting or a hunting trip in Africa. Deer, coyote, hogs, prairie dogs and other animals in various terrains represent various popular hunting choice.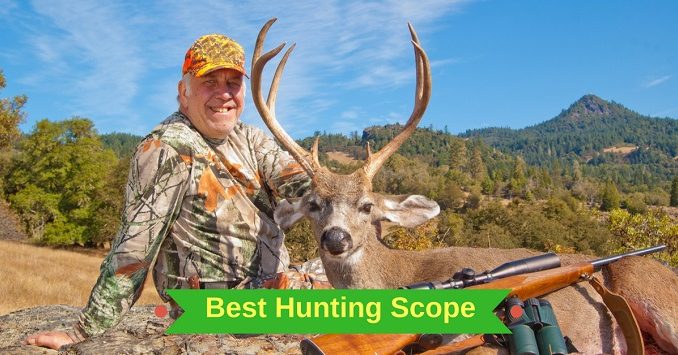 Hunting rifle scopes differ from tactical and target shooting scopes in many aspects. These include, but not limited to, turret types, reticle types, weight and magnification. Knowing what kind of game in what terrain you hunt is another essential factor for choosing the best hunting scope.
To summarize, here's my list of the Best Hunting Scope.
Before we proceed to recommended optics, let's explore characteristics that make a good hunting scope
---
What makes a good hunting scope ?
Magnification Power
How much magnification is needed for each applications? Here's my rule of thumb :
Big game

or whitetail hunting in dense wood, 1.5-5x or 2-7x
Antelopes, mule deer and

all-round

hunting, 3-9x or 4-12x
Prairie dogs,

varmint

or long range hunting, 4-16x or more
Note that with higher magnification, you get lower clarity, less light transmission, less field of view and mirage effect on hot days.
Fixed magnification scopes are cheaper, but variable power scopes are recommended as they offer more flexibility. That said, if you want to save money, pick a fixed magnification scope.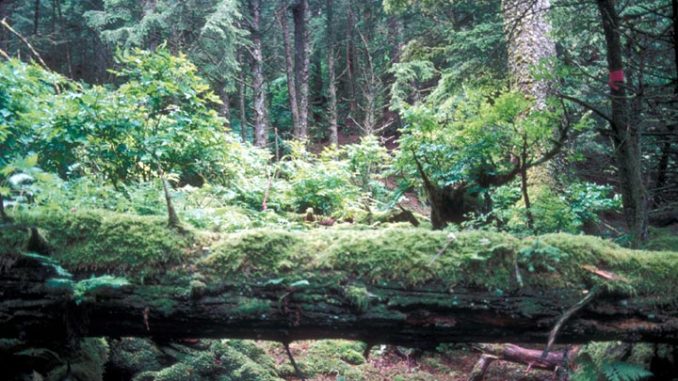 Objective Lens Diameter
Objective lens diameter, coupled with magnification power leads to exit pupil size. This is define by : Exit Pupil Size = Obj. Lens Diameter / Magnification Power
Too small exit pupil size leads to small sight picture through the lens. For an extreme case, imagine looking through a straw. Too large exit pupil size, meaning larger than your eye pupil by a wide margin, wasted some light as it doesn't enter your eye.
As a general rule from the above statement, pick larger objective lens if you use high magnification and smaller objective lens it you use low magnification.
The downside of too big objective lens are higher price and heavier weight. In some case, it's also higher mounts.
Glass and Lens Coating
Every quality scope needs good glass and lens coating. This is especially true on high magnification scopes with wide range of zoom. Since these are the main factor contributing to image quality and light transmission. Durability is also enhanced due to waterproofing and scratch resistance coatings.
Look for things like ED glass (Extra Low Dispersion Glass), HD glass (High Density Glass) and Fully Multi Coated lens if you can afford it.
Here are some normally quoted jargons for lens coating.
Coated: A single layer on at least one lens surface
Fully Coated: A single layer on all air to glass surfaces
Multicoated: Multiple layers on at least one lens surface
Fully Multi Coated: Multiple layers on all air to glass surfaces
That said, these lens coating jargons don't mean much for determining quality. As high quality "coated lens" can beat low quality "Fully Multi Coated lens". Quantity doesn't beat quality for lens coating.
Eye Relief and Eyebox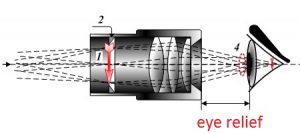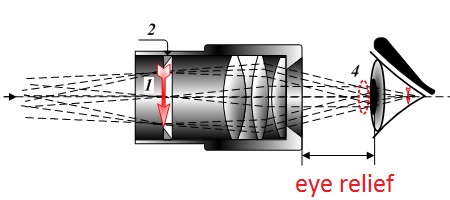 Eye relief = Space between your aiming eye and the scope for optimal sight image
Generally, bigger eye relief means that your eye is safe from recoil. However, too much eye relief might lead to uncomfortable head and eye position. Standard eye relief for a rifle scope is 3"-4".
For higher recoil rounds such as .30-06, you should pick a scope with generous eye relief. That may be 3.7" – 4.2" depending on your preference. While lighter rounds, .17 HMR for example, eye relief shouldn't be much of an issue.
Eyebox = Amount of wiggle room for your aiming eye placement
A small eyebox scope can mean less than half an inch room for optimal eye placement. When people complain about "small sweet spot", it's the same thing as small eyebox. This results in much slower target acquisition and frustration during field use. This issue normally magnifies itself on higher magnification scopes.
Tube Size
Larger tube has the advantage of added durability and larger range of internal turrets adjustments. The downside is that it's more expensive and heavier than smaller tubes.
Another added benefit for bigger tube is that it normally also comes with larger objective lens, thus improving light transmission.
Reticle
There are 3 main groups of reticle pattern
Simple

– Duplex, NikoPlex, V-Plex, Dot, etc.

Mil-Dot, MOA

– Crosshairs

BDC

– Bullet Drop Compensation calibrated to particular rounds
This is a matter of preference. But simple reticles are not very good for ethical long range shots, as they provide no holdover nor distance measurement tool.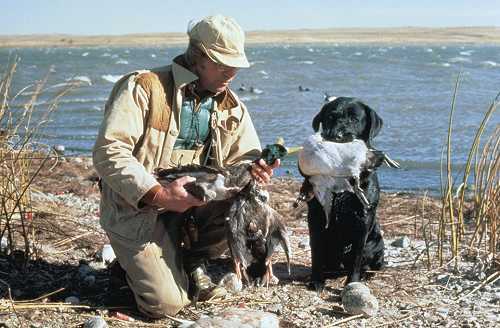 Turrets
Hunting style turrets are often low profile and come with caps to prevent unintentional adjustment when out hunting. Finger adjustable turrets are nice to have, as it makes the scope easier to use. And the turrets should be easy enough to zero.
Other functions such as zero resettability and zero stops are not needed.
Durability
The ability to hold zero, lens and body durability are essential for any scopes. Furthermore, the scope must be able to endure the harsh field environment, such as extreme temperature, water submersion and healthy amount of force.
In addition, reliable manufacturer's warranty goes a long way to ensure usability of a scope. This aspect also helps maintain reasonable price when selling the scope in second hand market.
Weight
When out hunting on a trip with lots of hiking or high altitude environment, you don't want to be carrying lots of heavy equipments. The scope should be lightweight and not shift the balance of the rifle in an uncomfortable way. This also improves your accuracy.
---
Scope Recommendations
1. Tasco World Class 3-9×40
This Tasco World class is a budget option for a 3-9x. Its price is very low but has acceptable quality. For people with tight budget, this will be a happy option
Image quality and light transmission are not that great but it's certainly usable for general hunting applications. On higher magnification like 9x, there's some image distortion.
This scope features a simple reticle with no holdovers whatsoever. So you can't use it for longer range. Note that the reticle is rather thick too.
The turrets are in simple hunter style. They are not finger adjustable, as you need to use a flathead to adjust them. Furthermore, they don't have features such as zero resettable or zero stop feature. That said, this Tasco can hold zero to .308 rounds and is good enough for a set and forget type of turrets.
Durability is not that great for this scope but it comes with Limited Lifetime Warranty which will cover defects in materials and workmanship for the lifetime of the original owner.
| Pros | Cons |
| --- | --- |
| ✓ Very low price | ✗ Image quality is just usable |
| ✓ OK image for the price | ✗ Less clear on high magnification |
| ✓ Holds zero to .308 | ✗ Thick reticle |
| ✓ Limited Lifetime Warranty | ✗ Turrets not finger adjustable |
| | ✗ Not very durable |
Price : $
2. Vortex Optics Crossfire II 2-7×32 Second Focal Plane Riflescopes
The Vortex Crossfire II is a 2-7x scope which is suitable for big game hunting and other dense wood hunting.
Glass quality and lens coating is better than the Tasco World Class recommended above but not as good as higher priced scopes. On 6x-7x magnification, it is noticeably less clear and more blurry. Low light image is not that great either. That said, image quality is usable on lower zoom. Eyebox is rather small as the sweet spot for optimal image is hard to find.
The turrets are finger adjustable and zero resettable. For the reticle, you an the option to choose between a BDC or a V-Plex reticle. BDC is more for longer range while the V-Plex gives an uncluttered view.
The good thing about the scope is its wide field of view and its ability to hold zero. This optic is made in China and is backed by Vortex Lifetime warranty, which is very reliable.
| Pros | Cons |
| --- | --- |
| ✓ Can handle high recoil rounds | ✗ Not good in low light |
| ✓ budget scope | ✗ 6x-7x edges not clear and gets more blurry |
| ✓ Clear on lower magnification | ✗ Narrow eye box on high magnification |
| ✓ Nice FOV | ✗ Made in china |
| ✓ Reliable warranty | |
Price : $$
3. Leupold VX-2 3-9x40mm Riflescope, Duplex Reticle
Leupold has been in the scope business for a very long time and is a reputable American business. Somewhat higher priced, the scope is compensated with reliable quality and fully transferable lifetime warranty.

The Leupold VX-2 is lightweight (9.9 ounces), no frill hunting scopes with suitable magnification range for all round hunting. It comes with generous eye relief (3.7"-4.2"), wide field of view and nice eyebox (room for eye placement) making target acquisition that much faster in the field.
Image quality is good. Lens coating is commendable such that it allows 15-30 minutes more hunting time during dawn and dusk when game are most active. And the scope is highly weather resistant. It has water and fog resistant technology that it will work fine after submersion in water or exposure in cold weather. It also can handle a lot of abuse and recoil from .270.
I recommend the standard duplex reticle for this scope. There are other reticle options, but they cost more and wouldn't be necessary for hunting within 200 yards.
What this scope does not do is that it's not a long range scope. The turrets are finger adjustable and precise enough for general hunting but not for long range. They are not zero resettable, no zero stop feature and no parallax adjustments. It's more of a set and forget turrets.
| Pros | Cons |
| --- | --- |
| ✓ Good image quality | ✗ Higher priced |
| ✓ Nice low light capabilities | ✗ Not precise turrets |
| ✓ Lightweight | ✗ Turrets not zero resettable |
| ✓ Durable | ✗ Turrets no zero stop |
| ✓ Reliable warranty | |
Price : $$$
4. Bushnell Trophy Xtreme X30 4-16×44 Scope with DOA LR600 Reticle
The Bushnell Trophy Xtreme is a good hunting scope with wide magnification range suitable for open plain hunting and long range needs. Image quality is crisp and clear. No noticeable blurry edge even on highest magnification. With its fully multi-coated lens, light transmission is high and if you dial its power down a bit and will allow 30 minutes of extra hunting time after sundown.
The scope is well built that it can hold zero from the recoil of .30-06. Elevation and windage turrets adjustment are 1 inch at 100 yards per click and they are repeatable. Turret caps are also provided as the model is made for hunting purpose. It is also zero resettable with a jeweler screw.
This model features the DOA LR600 reticle which is a kind of BDC reticle with windage marks. Note that the reticle is in second focal plane, meaning that the it will not resize according to magnification and is accurate only on the highest magnification. My advice is to use it along with the Strelok App, then the holdovers should be easy to master.
One complain is that it's a bit heavy at 20 ounce but that makes it quite durable and can be used in the fields without worries. It is waterproof, fogproof and shockproof. The scope also comes with transferable No Question Asked Warranty from Bushnell, which is considered reliable.
| Pros | Cons |
| --- | --- |
| ✓ Good for hunting and long range shooting | ✗ Heavy |
| ✓ Good glass that can see well in low light | ✗ Second Focal Plane |
| ✓ Durable, weather resistant and holds zero | |
| ✓ Turrets are finger adjustable, repeatable and zero resettable | |
| ✓ No Questions Asked Lifetime Warranty | |
Price : $$$
5. Nikon Buckmasters II 3-9×40 BDC
Nikon is a well-known optics manufacturer from Japan. They are very famous for cameras. Using their knowledge of lens, they also manufacture quality rifle scopes. This Nikon Buckmasters II is a budget option for 3-9x all round hunting scopes.
The glass and lens coating is not too shabby. Image produced during broad daylight is decent. On high magnification image quality deteriorates but is still acceptable. However in low light conditions, the buckmasters II doesn't fare very well, but that's to be expected from scopes in this price range.
BDC reticle coupled with Nikon Spot On App, an application which features bullet trajectory of many calibers on it's BDC reticle, makes quite a useful combo for mid to long range shots. But most scopes on this price range doesn't do well with high magnification power so I opt for a 3-9×40 instead.
Eye relief is good at 3.6". Turrets are finger adjustable and have max internal adjustments of 80 MOA which is quite nice. However the clicks doesn't track well and is not repeatable.
This rifle scope would hold zero for a .30-06 caliber but it's not very durable in field conditions. Fortunately, Nikon offers transferable lifetime warranty which they normally honor it.
| Pros | Cons |
| --- | --- |
| ✓ A budget option | ✗ Not very durable |
| ✓ BDC reticle and Nikon Spot On App (Ballistic app) | ✗ Not good in low light |
| ✓ Decent image quality | ✗ High magnification image is not great |
| ✓ Generous eye relief | ✗ Turrets are not precise nor repeatable |
| ✓ Nikon transferable Lifetime Warranty | |
Price : $$
---
Conclusion
Choosing the best hunting scope depends a lot on what and where you hunt. But if you have to pick only just one scope to fit most hunting situation, pick the Leupold VX-2 3-9×40. On 3x, even though a bit too high magnification, will be adequate for big game hunting. And with 3-9x, it will cover most hunting applications.
Every hunting function is covered by the Leupold VX-2. Be it image quality in normal light and low light, clear and crisp reticle, lightweight and very durable with highly reliable and transferable Lifetime Warranty from Leupold.
That said, if you want to hunt prairie dogs on open plains, take a look at the Bushnell Trophy Xtreme 4-16×44 as it should fit the job better.