.17 WSM (Winchester Super Magnum) is one of the most fun plinking and varmint hunting rimfire cartridges I've ever had. It packs a heavier punch and a flatter bullet trajectory compared to .22 cartridge. With a good scope, some people even claim to reach 400 yards target with .17 WSM.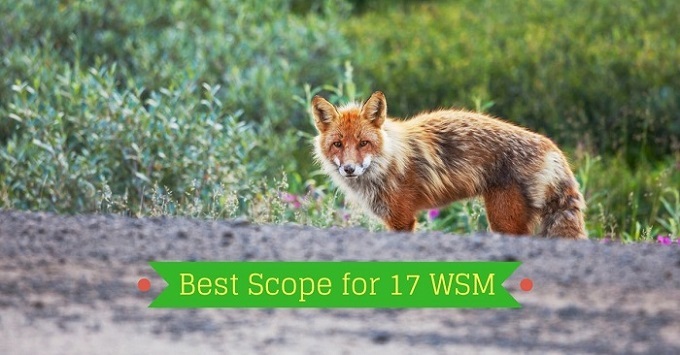 Here's my list of the best scope for 17 WSM.
Before we proceed to recommended optics, let's explore characteristics that make a good scope for 17 WSM.
---
What makes a good 17 WSM scope ?
Magnification Power
Regarding scope magnification, basically there are 2 important factors, distance and target size. Intuitively, the farther and the smaller your target is, the higher magnification power you need and vice versa.
Even though the effective range for 17 WSM is much shorter than centerfire long range cartridges, your targets tend to be small varmints. Thus you'd be better off with medium to high powered scopes such as 4-16x, 6-24x or even 8-32x.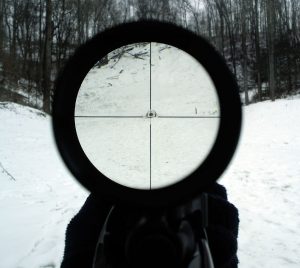 Ok, in most cases, you don't really need 32x, but some people enjoy seeing bullet hole on paper or game's close-up reaction at the time of impact. If you enjoy these moments, high powered scopes could be ideal for you.
A caveat : High powered scope is not "all good". The downsides are higher price (or same price at lower quality glass), smaller field of view and slower target acquisition speed especially at close range targets.

Objective Lens Diameter
Note : Objective lens refers to the glass at the far side of your scope.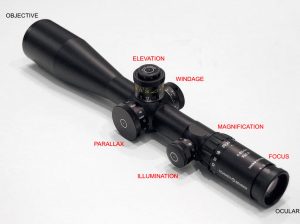 Bigger objective lens means more light can pass through your scope and hence to your eye. This translates to brighter sight picture and is very useful for low light hunts where game are most active.
This is especially the case for high power optics, as explained by the following equation..
Exit Pupil = Objective lens diameter ➗ Magnification Power
If Exit pupil is larger than your eye pupil, part of the light cannot enter your eye, forming a bigger eye wiggle room (eyebox), but doesn't translate to brighter picture.
If Exit pupil is smaller than your eye pupil, then you'll get a darker sight picture.
*average pupil size in adults varies from 2-4 mm in diameter in bright light to 4-8 mm in the dark.
Putting this in simple terms, the higher magnification you use, the bigger objective lens you'll need.

Glass and Lens Coating
Glass and lens coating are, in fact, bread and butter of any scopes. Even if a scope has relatively smaller objective lens than others, if its glass and lens coating are superior, the scope's sight picture can easily appear brighter and crisper than peers. That's why a 24mm objective lens NightForce will always beat a 50mm BSA.
However, high quality glass often comes with high price. And since most people don't want to invest in a scope more than in their rifle, my recommended scopes have bigger objective lens with acceptable glass, rather than high-end.

Reticle
Reticle Pattern
There are 3 main groups of reticle pattern.
Simple – Duplex, NikoPlex, V-Plex, Dot, etc
Mil-Dot, MOA – Crosshairs
BDC – Bullet Drop Compensation calibrated to particular rounds
This is a matter of preference. But if you intend to also shoot at longer range, Simple reticles are not good enough as they provide no holdover nor distance measurement tool. And I prefer Mil or MOA reticle over BDC reticle due to versatility. But again, this is mostly preference.
First Focal Plane or Second Focal Plane
First focal plane makes the reticle holdovers accurate on all magnification but is often not available no cheaper scopes. Second focal plane on the other hand, doesn't keep up with zoom level which means the holdovers are accurate only on one magnification, mostly the highest.
Since 32x and 24x might be overpowered in some situations, First Focal Plane is a better choice if you can afford the increased price.

Turrets
Turrets are another major factor when picking a scope.
Desirable turrets are precise and repeatable. Each click must be tactile, audible and exact as shown on the markings. Turrets should be easy enough to adjust with your fingers as you will be doing that a lot if you're into long range shooting. But must not be too loose to prevent unintentional adjustments.

Parallax Adjustment
Parallax adjustment is useful for long range and very close range shots as It helps reduce the need to perfectly align your eye to the scope.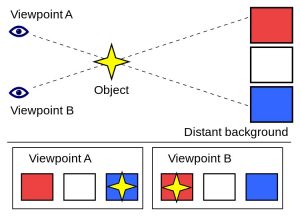 This feature is useful for your 17 WSM. It's best if minimum parallax adjustment is 10 or 15 yards to infinity.
Side knob parallax is easier to use, but is also more costly than adjustable objective parallax.

Durability
The ability to hold zero, precise turrets adjustment over time, lens and body durability are essential for any scopes. The ability to endure harsh field environment, such as extreme temperature, water submersion, external force is a plus.
In addition, reliable manufacturer's warranty goes a long way to ensure usability of a scope. This aspect also helps maintain reasonable price when selling the scope in the second hand market.
---
Scope Recommendations
1. Vortex Crossfire II 6-18×44, AO, Dead-Hold BDC | (Budget Option)
Vortex, a major riflescope brand well-known for quality and superior warranty. Its low to mid priced products are deemed affordable.
For people who are tight on budget, the Vortex Crossfire II is a viable option. Even though glass and lens coatings are not on par with higher end scopes, it will get you through varmint hunting scenario where light is adequate. Note that high magnification renders this scope not very useful in low light conditions.
On the plus side, the scope comes with an adjustable objective which can adjust for parallax error from 10 yards to infinity, a useful feature for close range shooting.
The optic comes with a general BDC reticle not calibrated to .17 WSM. You can roughly calibrate by using the Strelok App, then measure each drop mark yourself at the range.
Also, being a second focal plane scope, your BDC will not keep its ratio with magnification adjustments, and you may have to calibrate to many magnification power to utilize its BDC reticle.
Turrets adjustments are not that precise, but this the norm with scopes at this price range. I zeroed the scope within 30 shots, and the scope holds zero afterwards. Also the turrets are a bit mushy.
Durability is something you don't have to worry about, since the scope is covered by Vortex VIP warranty. Furthermore, when you decide to upgrade, and perhaps sell this scope, Vortex warranty will help a bit with your selling price.
| Pros | Cons |
| --- | --- |
| ✓ Affordable | ✗ Not great glass |
| ✓ Adjustable objective 10 yards to infinity | ✗ Not good light transmission at high magnification |
| ✓ High magnification | ✗ Second Focal Plane |
| ✓ Vortex warranty | ✗ Slightly mushy turrets |
Price : $$
2. Primary Arms 4-16×44 SFP – Illuminated MIL-DOT Reticle | (Promotion Deal)
This Primary Arms 4-16×44 SFP is listed on Amazon at a price less than $200 (price at the time of this writing). A very sweet deal in my opinion.
Magnification for this scope is not very high, but I think 4-16x is adequate as long as you don't really enjoy seeing your prey close up.
Sight picture is crisp and bright, thanks to its relatively low magnification. You'll be happy with the low light performance from this Primary Arms.
MIL reticle is one of my favorites, as it can be used for any kind of holdovers. Plus you get reticle illumination which will help you locate the reticle faster in low light environment. It takes a CR2032 battery to illuminate and black reticle can be seen when battery is down.
Turrets are finger adjustable, tactile and repeatable to a degree. Plus, it comes with zero reset and locking feature. However, each click is 1/4 MOA instead of MILs, complicating the processes of zeroing and dialing in your shots. That said, there will be no problem once zeroing is done and you mostly use your reticle holdovers instead of dialing distances.
Side knob parallax adjustment is 10 yards to infinity, which is another plus.
Being a second focal plane scope, the MIL reticle is unfortunately accurate only at 16x.
Primary Arms warranty and customer service is comparable to Vortex's, so this is a very safe bet.
| Pros | Cons |
| --- | --- |
| ✓ Great deal (at the time of this writing) | ✗ Reticle and turrets units do not match (MIL/MOA) |
| ✓ Good glass | ✗ Second focal plane |
| ✓ Good light transmission | |
| ✓ Illuminated MIL reticle | |
| ✓ Zero reset and turrets lock | |
| ✓ Side knob parallax 10 yards to infinity | |
Price : $$
3. Nikon Prostaff 5 3.5-14×50
This Nikon option is an alternative to the Primary Arms in case the promotion ends. In case the promotion still stands, Primary Arms above is the better choice.
This Nikon has medium magnification range of 3.5-14x, which should be adequate as long as you don't need to see your game up-close.
Thanks to its 50mm objective, light transmission is very good. You'll get bright sight picture better than what you can see with naked eyes and can see well past legal hunting hours.
Reticle is BDC, which useful for your bullet drop compensation. But it is not calibrated specifically to 17 WSM, and you'll have to do so at the range.
Side knob parallax adjustment is present, but it is 50 yards to infinity, which is a bit too high.
Turrets are repeatable to a degree and is considered good for scopes at this price range. Zero reset feature is available.
This optic has lifetime warranty from Nikon. However, Nikon warranty is not as reliable as Vortex's nor Primary Arms'.
| Pros | Cons |
| --- | --- |
| ✓ Clear, bright glass | ✗ Higher priced |
| ✓ Acceptable turrets | ✗ 50 yards to infinity parallax adjustment |
| ✓ BDC reticle | |
Price : $$$$
4. Mueller AO Eraticator 8.5-25 x 50, Illuminated Dot | (Budget Option)
The Mueller AO Eraticator is a high powered budget option with a simple style illuminated reticle.
Glass on this scope is rather good, and I rate it better than the Vortex Crossfire II mentioned above.
However, crossfire reticle is a clutter-free simple style. The bad part is that you have no holdover to adjust for your bullet drop at varying ranges. Thus you either are limited at closer range or need to rely on turrets which aren't very precise and repeatable to dial in your shots.
The reticle has illumination feature which help when shooting in low light situation.
Adjustable objective can adjust for parallax error from 20 yards to infinity. Not bad, but some scopes can do better.
Mueller Limited Lifetime warranty is transferable, but not as reliable as those from Vortex and Primary Arms.
| Pros | Cons |
| --- | --- |
| ✓ Good glass | ✗ Reticle has no holdovers |
| ✓ Good in low light | |
| ✓ Illuminated reticle | |
Price : $$
5. Athlon Argos BTR , 6-24 x 50, FFP, Illuminated APMR MIL | (High End Option)
This option is for people who wants the best scope for his/her 17 WSM and can afford to pay a higher price. It is one of the best deals in the market for affordable variable high powered scopes.
Glass and lens quality are the best among the scopes mentioned in this article. Apart from  very slight chromatic aberration (small purple fringe on edges of light colored objects) sight picture is clear and crisp. The scope's light transmission is unmatched. Its vivid sight picture can be easily used well past legal hunting hours.
There is an option between Mil/Mil or MOA/MOA reticle and turrets. A plus as they are the same unit of measurement. Turrets are precise and repeatable but has rather small adjustment range of 60MOA / 18Mil. The clicks are not very tactile nor crisp. Parallax adjustment is present as the side focus knob with 10 yards to infinity adjustment range. That said, the parallax markings aren't exact to the yardage.
Reticle is clear and comes with 11 brightness illumination settings. However, illumination gets a bit washed out on bright sunny days. But not a big negative as the non-illuminated reticle is easy to spot. Mil Reticle features the "Christmas Tree" pattern making windage adjustments even more accurate. Another positive thing, this is a First Focal Plane scope, meaning that the Christmas reticle works on any magnification.
Housed on a 30mm tube, the optic is durable and can hold zero on high recoil rounds. It's also good in harsh environments. Additionally, the Argos BTR comes with reliable and transferable Lifetime Warranty. Customer service is also excellent.
| Pros | Cons |
| --- | --- |
| ✓ FFP | ✗ Not tactile turret clicks |
| ✓ Good image quality with low light capabilities | ✗ Not accurate parallax markings |
| ✓ Has Mil/Mil and MOA/MOA options | ✗ Reticle illumination gets washed out on bright sunny days |
| ✓ Has side focus knob for parallax adjustment | ✗ Slight Chromatic aberration |
| ✓ Precise and repeatable turrets | ✗ Small internal range of turrets adjustment |
| ✓ Illuminated reticle with 11 brightness settings | |
| ✓ Reliable Lifetime Warranty | |
Price : $$$$$
Conclusion
Primary Arms 4-16×44, Illuminated MIL-DOT is currently the best deal in my opinion. Glass is plenty good and is even better than some higher priced scopes. Reticle pattern is illuminated MIL-Dot reticle. Parallax adjustment for close range shot is also present.
That said, if money is not an issue for you, the Athlon Argos BTR is the better choice due to better glass performance and more reliable turrets for dialing in your shots.