.270 caliber is one of the most prominent all-round cartridge in the world of hunting. First introduced by Winchester Repeating Arms Company in 1925, This .270 Winchester is deadly reliable with relatively mild recoil. With a 140-150 grain premium bullet, it can handle most North american big game.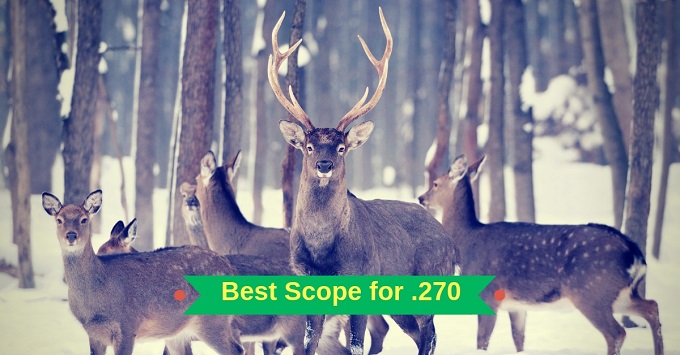 Another exceptional trait for the .270 is that it has a very flat bullet trajectory. This is made possible with high muzzle velocity coupled with very good Ballistic Coefficient. End result? For medium to big game under 200 yards, little to none bullet drop compensation is required. Making the .270 a pleasure to hunt with.
.270 is mostly used for medium to big game hunting. With it's flat trajectory, it's also suitable for hunts on open plains.
Here are my best scopes for 270.
Before diving into the details of each, let's first discuss what we're looking for in a .270 scope.
---
What makes a good .270 scope ?
Magnification Power
Regarding scope magnification, there are 2 numbers for you to look at, the max and min power (unless it's a fixed power). Between the two, can you guess which number is the more important one?
For medium to big game hunting rig, low power is the one you're going to use more (and thus more important), because you want to be able to aim fast. Especially if you hunt in thick woods, there are plenty of times when a deer appear up close. And because of deer's movement, it's going to get away fast. If you're running your scope at 8x, you're never going to bag those game upclose. My recommendation is to never pick anything above 4x at low power for .270.
As for high power, rest assured that 10x is more than enough for you to shoot out to 600 yards. But since higher magnification is often paired up with higher costs, you can do well at much lower than 10x, since most hunting occur at 25-200 yards anyway.
To sum up, 3-9x is okay for .270. 1.5-5x or 2-7x are even better especially if you hunt in dense wood areas.
Another mention is fixed power scope. Many new hunters scoff at the notion of fixed power scopes, however you'll see many hunting experts love them. Why? Because variable power scopes are generally harder for manufacturers to produce. At similar price range, fixed power scopes are going to outperform their variable cousins in significant ways, be it glass, light transmission and turrets tracking. So a fixed 4x or 2.5x are legitimate choices.
A 59 minutes video explanation on how to choose your scope's magnification power
Objective Lens Diameter
Note : Objective lens refers to the glass at the far side of your scope.
Bigger objective lens does mean more light and brighter image. However you compensate that with more weight, bulkiness and the need of high mounts.
Many "Chinese junk" employ gigantic objective lens to hide their poor manufacturing skills. I used to see a ridiculous 4-16x60mm scope that looks very similar to a spotlight.
No, never fall for those tricks. For medium to big game hunting keep your objective lens at 40mm or less. Why? Because on a hunt you'd be walking and hiking around all the time. And excessive weight is never good. If you want brighter image, go for better glass and coatings instead.
Glass and Lens Coating
Good glass and lens coating are a must for high quality scopes as they help reduce glare, improve light transmission and provide clear contrasting images through the lens.
Tube size
Standard tube size diameter are 1 inch and 30mm.
Even though experience tells us that 30mm tube provides better qualitty scopes than 1 inch tube, the real factor is not tube size according to Ron from Swarovski Optics.
It's just that manufacturers charge more and produce higher quality scopes for bigger tubes. What bigger tube really does for you are increased durability and more internal turrets adjustment. However they weight and cost more.
So know that 30mm scopes are generally good, but you can find quality 1 inch scopes too, which are lighter.
Weight
No one wants to carry an extra weight for nothing. This is especially true when you're out hunting in places with lots of hills or high altitude. So go for light and compact scopes.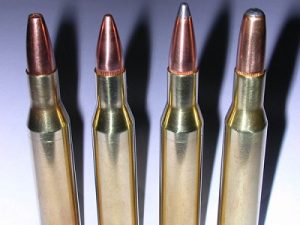 Reticle
There are countless of reticle types in the market. Reticle pattern can be categorized into 3 groups which are Simple reticles, MOA or Mil-Dot reticles, and BDC reticles.
The "Keep it simple" principle works well in this regard because you generally don't need any holdovers for shots under 200 yards if you zero your scope 1-2 inch high. Some small holdovers like the Boone & Crockett reticle would work fine, but you don't need the full fledge holdovers reticle of a long range scope.
Focal planes, be it first or second is also irrelevant for .270 scopes.
Eye relief
Standard rifle scopes have 3" to 4" of eye relief. It helps prevent the scope hitting your eye due to recoil.
Another topic closely related to eye relief is how much room the scope allows for eye and head movement.
This number is not shown on manufacturer's specifications. Instead, one needs to find out from users' experiences. As a general rule, high magnification scopes tend to have smaller sweet spot to place your eye.
Turrets
For hunting purpose, turrets often come with caps or are not finger adjustable to prevent accidental movements. They must hold zero well so that you don't end up frustrated wasting your hunting trip. Repeatability is also desirable.
Durability
As with every equipment for shooting/hunting, you want high quality scopes that function properly even in harsh field conditions. That means weather resistant, waterproof, fogproof and the ability to withstand external force such as a fall to the ground.
As a safeguard, good warranty is also nice to have. Luckily, scopes industry is in such a competition that many companies offer tranferable lifetime warranties. Note that this is also favorable when you want to sell and upgrade to a better scope.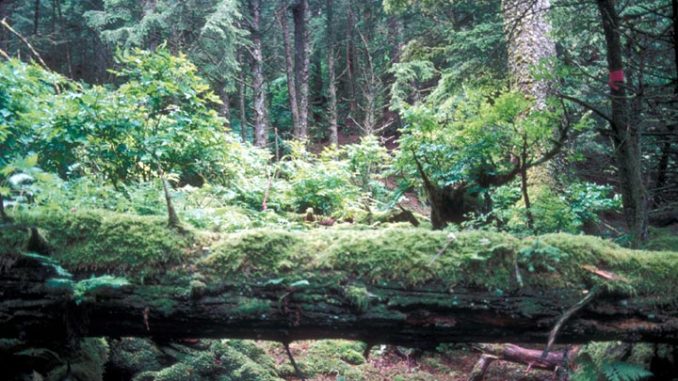 Price
Hunters/Shooters looking for scopes today are one of the luckiest people on earth. Optics technology has never been better. A mid priced scope ($300-$600) can easily beat the best scope money can buy 50 years ago.
If plinking is the objective, most scopes would do fine. But if you intend to hunt or do some serious shooting, investing in a too cheap (under $100) scope is ill advised as you normally get what you pay for in the world of optics.
---
Scope Recommendation
1. Leupold VX-3i 3.5-10×40, Duplex Reticle
Best for : People looking for high performance low light scope
There are 2 reasons why Leupold VX-3i is the best scope for .270.
First, the scope offers very good glass, with excellent light transmission. This is beneficial for your hunt, as game are often most active during dawn and dusk. With the VX-3i, you'd wish legal hunting hours are longer, as deers under those shadowy trees cannot escape your sight, while most other scopes would have failed.
Second, the scope is lightweight (12.6 Oz) and compact, perfect for hunting. Imagine yourself on a hunt in the hills where you have to hike a lot. Do you want to carry a lot of weight? No, no one does.
Clutter-free reticle is more than enough, since with .270 you can easily shoot point blank out to 200 yards and will still hit vital areas of a deer and similar sized game.
Perhaps the only complain is its slightly small field of view at high magnification, but as long as you use low power, this won't be an issue.
| Pros | Cons |
| --- | --- |
| ✓ Very good in low light | ✗ Not so cheap |
| ✓ Lightweight & Compact | ✗ Slightly small field of view at high magnification |
| ✓ High quality glass | |
| ✓ Very Durable | |
| ✓ Reliable warranty | |
Price : $$$
2. Leupold VX-2 2-7x33mm, Duplex Reticle
Best for : People who want high performance but feels the VX-3i is too expensive
If the Leupold VX-3i is a bit pricey, you can go for the VX-2 2-7×33 instead.
With less magnification, it is much more affordable, Quality wise, it's less light transmission, but you'll only notice this in low light situation. Note that the VX-2 light transmission is not at all bad. It's just not as great as the VX-3i.
| Pros | Cons |
| --- | --- |
| ✓ Good image quality | ✗ Not as good glass as the VX-3i |
| ✓ Nice low light capabilities | ✗ Not as good light transmission as the VX-3i |
| ✓ Lightweight | |
| ✓ Durable | |
| ✓ Reliable warranty | |
Price : $$
3. Nikon Buckmasters II 3-9×40 BDC
Best for : $100-ish scope
If you're looking for a scope in $100-$150 range, the Nikon Buckmaster II is a good fit.
Glass and lens coating is good for the price. You'll be able to see clearly especially on bright sunny days. Low light is when you'll notice some of its shortcomings.
It's reticle, Nikon BDC, coupled with Nikon Spot on app makes the perfect synergy as you can find perfect synergy as you can find for every distance imaginable. That means you can also give long range shooting a try with this scope.
Turrets have zero reset feature, making it easy for you to dial for different distance, then come back to original zero without having to mark numbers down in the field.
The biggest downside is that the Nikon Buckmaster II is not very durable in field conditions. Fortunately, Nikon offers transferable lifetime warranty for the scope.
| Pros | Cons |
| --- | --- |
| ✓ A budget option | ✗ Not very durable |
| ✓ BDC reticle and Nikon Spot On App (Ballistic app) | ✗ Not good in low light |
| ✓ Decent image quality | ✗ High magnification image is not great |
| ✓ Nikon transferable Lifetime Warranty | ✗ Turrets are not precise nor repeatable |
Price : $
4. Swarovski Z3 3-10x42mm, 4A Reticle
Best for : People who want to buy a high quality, long lasting scope with no need to further upgrade
If you're going to invest in a scope just once, go with this high end Swarovski scope.
Supreme glass with exceptional light transmission. Similar to HD movies, after you try using this, you'll never go back to mid priced scopes again.
Swarovski Z3 is lightweight (12.7 Oz) and compact (Length 12.64″), made specifically for hunting applications. Field of view is wide and you can see much better than the Leupold VX-3i, a solid upgrade if you ask me.
Precise tracking turrets with tactile clicks. The box test is a piece of cake with this scope. Caps to prevent accidental adjustment is provided and you can zero reset the turrets. One complain is that the turrets are made of plastic, but is not a deal breaker.
Smooth operations on both magnification ring and turrets make handling the scope during hunts a breeze.
And with such a reputable brand, you don't have to worry about warranty. Swarovski stands behind all their products.
| Pros | Cons |
| --- | --- |
| ✓ Superb glass and light transmission such that you'll never look back | ✗ High priced |
| ✓ Precise turrets with zero reset feature | ✗ Plastic turrets |
| ✓ Very durable | |
| ✓ Reliable warranty | |
Price : $$$$$
Conclusion
The best scope for most people is the Leupold VX-3i 3.5-10x which combines both high quality and affordability in one optics. Choose this, and you'll enjoy your hunt more than ever before!