The .300 Blackout is a cartridge designed to use in a M4 carbine by Advanced Armament Company (AAC). It is a popular round for tactical purpose as both supersonic and subsonic grains are available. This means users can easily switch between more energy, louder rounds and less energy, suppressed rounds. Some supersonic .300 Blackout are used for big game hunting as well.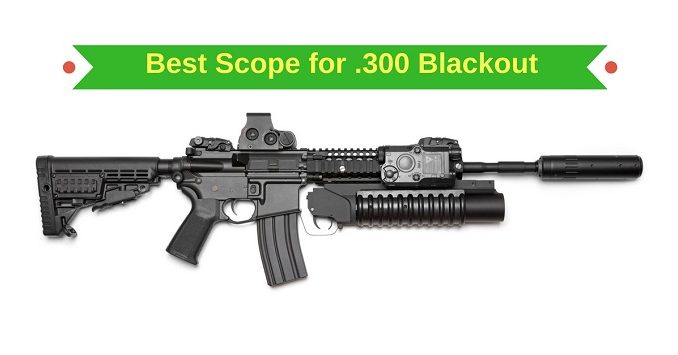 The maximum effective range for .300 Blackout is between 300-500 yards depending on the type of grain. But majority of shots would likely be under 300 yards. With these facts in mind, it's time to equip the right optic to maximize this cartridge's potential.
As a summary, here's my list of the best scope for 300 blackout.
Best Scope for 300 Blackout
Prior to picking an optic, one must know what to look for.
---
What makes a good .300 Blackout scope ?
Magnification Power
Since most applications for the cartridge are medium to big size (human torso or big game) within 300 yards, low to no magnification optics would be a better pick.
Advantages of low magnification optics :
Better field of view as you can still observe most your surroundings
Fast target acquisition
Lightweight
2-7x is the highest magnification I would recommend. Other tactical range such as 1-4x or a red dot would also be a nice choice.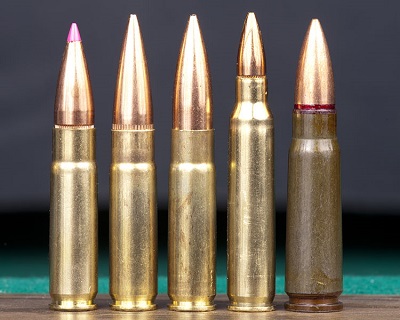 A special mention to red dots and 1x scopes : These optics has the fastest target acquisition possible as they allow for use with both eyes open and provide unlimited field of view. In my opinion, they're the best choice for CQB.
Objective Lens Diameter
Objective lens diameter coupled with magnification defines exit pupil diameter, which is the size of sight picture you see through the scope.
As a general rule, higher magnification optic needs bigger objective lens diameter. In this case, magnification is low and smaller objective lens diameter such as 24mm or 32mm is enough.
Glass and Lens Coating
Glass and lens coating quality are what define a scope. However, they don't come cheap. Quality such as ED (Extra Low Dispersion Glass) and Fully Multi Coated lenses are a plus if you can afford it. These features minimize abnormal colors, improve image quality and make your scope more durable (Waterproof and Scratch-proof).
Reticle
Reticle Pattern
There are 3 main groups of reticle pattern
Simple

– Duplex, NikoPlex, V-Plex, Dot, etc.

Mil-Dot, MOA

– Crosshairs

BDC

– Bullet Drop Compensation calibrated to particular rounds
This is more a matter of preference as you can pick any for scopes of intended range under 300 yards. Simple reticle has the uncluttered appeal, while the BDC will give an approximate bullet drop for your loads. Note that BDC reticle will give "approximation" rather than exact bullet drop due to difference in grains, atmosphere, muzzle length and other external factors.
Mil and MOA aren't necessary for short range, but get it if you like.
Reticle illumination
The point of illuminating a reticle is to make target acquisition faster. This makes the reticle easier to spot especially in dark or low light background. Illumination should also be usable in broad daylight. And another thing to consider is the battery life.
Turrets
Elevation and windage turrets for .300 Blackout is more of a set and forget type. The important thing for it are that they're easy to enough to zero, holds zero and don't adjust unintentionally.
Zero resettable, tactile and audible clicks features are nice to have features.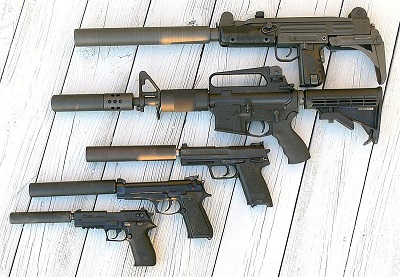 Eye Relief and Eyebox
Eye Relief – Standard rifle scopes have 3" to 4" of eye relief. This helps prevent the scope hitting your eye due to recoil.
Fortunately, the .300 blackout kick is not that strong and scopes with 2.5" – 3" eye relief is acceptable.
Eye Box – The more important factor is the eyebox. This is the amount of eye placement wiggle room for full sight picture from the scope. It leads to faster target acquisition.
Parallax
Parallax is mostly non-issue for 50-200 yards as most manufacturers will factory set parallax at about 100 or 150 yards. Under 50 yards however, parallax becomes more of an issue. Look for scopes with parallax adjustment if most shots are taken under 50 yards.
Durability
The ability to hold zero, fogproof, waterproof and long battery life are desired feature to look for. Furthermore, the scope must be tolerable to harsh field conditions, such as extreme temperature and external force.
Reliable manufacturer's warranty goes a long way to ensure usability of a scope. Transferable warranty also helps maintain reasonable price when selling the scope in second hand market.
---
Scope Recommendations
1. Vortex Optics Crossfire II 2-7×32
Now a major brand in rifle scopes industry, Vortex Optics has converted many big name fans to their own in just a period of less than 15 years. Most seasoned hunters cited Vortex as quality with affordable price scopes.
For budget-minded people, the Crossfire II 2-7×32 is a nice choice to look at. Even though glass quality and lens coating are not comparable to higher priced scopes, they're usable and especially clear on low magnification. On 6x-7x magnification however, it is noticeably less clear and more blurry on the edges. Light transmission during low light of dawn and dusk is admittedly not that great.
On the upside, the scope offers a wide field of view which is good for observing surroundings and fast target acquisition.
The optic comes with a general BDC reticle not calibrated to .300 Blackout. It can be useful if you use the Strelok App or measure each drop mark yourself. For the turrets, they are not that precise, but as is the norm with scopes on this price range. They are also finger adjustable and zero resettable which is pleasant to have.
Eye relief is generous. But eyebox is rather small as the sweet spot is particularly hard to find. It's also durable enough to hold zero on the .300 Blackout. The optic is covered by reliable Vortex Lifetime warranty.
| Pros | Cons |
| --- | --- |
| ✓ budget and value scope | ✗ Not good in low light |
| ✓ Clear on lower magnification | ✗ 6x-7x edges not clear and gets more blurry |
| ✓ Nice FOV | ✗ Narrow eye box on high magnification |
| ✓ Reliable Vortex warranty | |
Price : $$
2. Steiner P4Xi 1x-4x24mm Riflescope
The American made Steiner P4Xi glass and image quality is top notch. It's crisp and clear on all magnification. Plus, it works very well with both eyes open on 1x much like a red dot. This means unlimited field of view and eye relief.
The P3TR reticle functions well at drawing your eyes. It's thicker on the outside and becomes thinner once closer to the center. Furthermore this reticle can be illuminated with 11 power settings. It's daylight bright and has 2 power level being night vision compatible. Between each power settings are off positions, making it very easy to turn on and off at the predetermined brightness level. And in the event that the battery dies, you can still see the black reticle.
There are Civilians and Law Enforcement version. The difference is just the built in throw lever on the magnification ring in Law Enforcement version. For me, the zoom ring is smooth enough to adjust with your fingers but a throw lever really makes it easy to adjust on the fly.
Turrets are accurate and repeatable. However, the clicks are mushy and could use some improvements. Furthermore, they are not zero resettable and have no zero stop features.
This optic is very well made and is durable for all field conditions. It also comes with reliable and transferable warranty from Steiner Optics
| Pros | Cons |
| --- | --- |
| ✓ High quality glass | ✗ Slightly mushy turrets |
| ✓ True 1x, Can be used with both eyes open | ✗ Not zero resettable |
| ✓ Easy to use daylight bright illuminated reticle | ✗ No zero stops |
| ✓ Night vision compatible | ✗ High price |
| ✓ Precise and repeatable turrets | |
| ✓ Made in USA | |
| ✓ Reliable Transferable Lifetime Warranty | |
Price : $$$$$
3. Aimpoint PRO Patrol Rifle Optic
Aimpoint Pro is one of the high quality red dot sight in the market. It offers the best possible experience with both eyes open optics as there are no magnification.
Fast target acquisition with unlimited field of view, the Aimpoint Pro is rather a no-frill-but-excel-at what-it-does kind of optics. It has 2 MOA dot and 10 brightness settings. On higher power, the dot is easily seen under sunlight. There are 4 levels of night vision compatible brightness. Furthermore, it weighs only 7.8 ounce.
The real selling point for any Aimpoint product is the reliability in real world situation. This red dot is designed to take some serious beatings and is favoured by the military. It can withstand a lot of shock (40 +/- 4 g in y and z axis, 500 g in x axis) and is waterproof up to 150 ft. The warranty is 2 years for professional or competition use and 10 years for personal use which is very acceptable in my opinion.
Battery life is dependable to 30,000 hours on power setting level 7. A reliable number as Aimpoint Pro is known to work for more than 3 years under a single battery. You can leave the optics always on, knowing that you do not have to fumble on on/off switch during an emergency, and be ready from the get go.
The downside is that, even though it's a cheaper model in Aimpoint's arsenal, it's still high price and not a budget optics.
| Pros | Cons |
| --- | --- |
| ✓ Very reliable and durable | ✗ Not much additional features |
| ✓ True 1x, can be used with both eyes open | ✗ Higher priced |
| ✓ Unlimited field of view and eye relief | |
| ✓ Long life battery | |
| ✓ lightweight | |
| ✓ Clear and daylight bright red dot with night vision compatibility | |
| ✓ Decent warranty | |
Price : $$$$$
4. Vortex Optics Strike Eagle 1-6×24
The Vortex Strike Eagle is one of the more affordable 1-6x choice. It certainly isn't the cheapest, but may very well be the most value for the money.
Its glass and lens coating is not on par with the Steiner PX4i. But it works very well for its price and is satisfying for most users. The scope is not a true 1x, maybe 1.1x. That said it still works very well with both eyes open and has minimal fisheye effect. Furthermore, the optics has generous field of view. A downside is that eyebox is rather small at high magnification.
The scope features the AR-BDC reticle. However, the BDC doesn't extend very far as it probably isn't meant to shoot at very long range. Plus, this scope is a second focal plane scope, which means the reticle will only work on 6x.
Illuminated reticle has 11 brightness settings. Even on the highest settings the reticle washes out a bit on bright sunny days but is still workable. The non-illuminated black reticle is clear and visible when battery runs out.
Turrets are accurate and repeatable. Each click ½ MOA which is the norm for 1-6x scopes. One outstanding thing about the turrets is large internal adjustment range of 140 MOAs.
It weighs 17.6 ounce which is a bit heavy. Overall durability is good. The optics is rugged and well-made. It can withstand heavy recoil caliber and do well in field environments. Plus Vortex VIP warranty is the best out there in the market. It's fully transferable, hassle free and covers electronics.
| Pros | Cons |
| --- | --- |
| ✓ Nice glass for the price | ✗ Illuminated reticle washes out in bright daylight |
| ✓ Works nicely with both eyes open | ✗ Rather heavy (17.6 oz) |
| ✓ Wide FOV | ✗ Slight fisheye effect |
| ✓ Able to see black reticle even if battery is out | ✗ Small eyebox at high magnification |
| ✓ Durable, waterproof, fogproof and shockproof and handles recoil well | |
| ✓ Vortex lifetime unconditional warranty | |
Price : $$$
5. Nikon P-300 BDC 2-7×32
Another budget choice with 2-7x magnification is the Nikon P-300 BDC 2-7×32. The thing that sets it apart from the Vortex Crossfire II is that the BDC reticle is calibrated to 300 AAC Blackout 115gr projectiles traveling at 2280 feet per second. This should make it easier to use if you happen to use similar grain.
That said, the reticle is hard to see in dark and low light background. Plus, Nikon advertise the BDC reticle as "SuperSub" which is pretty misleading as it's calibrated to only the stated above grain and has nothing to do with Subsonic .300 Blackout.
Another thing to note is that the BDC won't be truly exact due to difference in loads, temperatures, muzzle length and air pressure. The point of BDC is to get approximates rather than exact bullet drop. If you want more exact drop, go to Nikon Spot On App. The application lets you input other data which will improve the accuracy of the bullet drop reticle by a wide margin. Other brands reticle can use the Strelok App instead.
The image quality is on par with Vortex crossfire II. During dawn and dusk, lower magnification is advised. Turrets are accurate with positive clicks and are zero resettable. Durability is ok and has Nikon's Lifetime Warranty which isn't as good as Vortex's.
Other things to complain are that eye relief at 7x is a bit small. And the turrets are too easy to turn making accidental adjustments much more probable.
| Pros | Cons |
| --- | --- |
| ✓ Clear glass for the price especially on low magnification | ✗ Eye relief at 7x is a bit small |
| ✓ BDC reticle for .300 blackout | ✗ Misleading advertisement of supersub reticle |
| ✓ Accurate turrets with positive clicks | ✗ BDC reticle will not be exactly accurate for every load |
| ✓ Zero reset turrets | ✗ Hard to see reticle on dark targets and low light condition |
| ✓ Nice light transmission on low power | ✗ Turrets a bit too easy to adjust |
| ✓ Nikon Spot On App | |
| ✓ Nikon's Lifetime Warranty | |
Price : $$
Conclusion
The Aimpoint Pro offers the best choice if you are ok for red dots with no magnification. It has unmatched reliability, fast target acquisition and unlimited FOV.
If you want to shoot at longer range or think magnification is a good thing to have, the Vortex Optics Strike Eagle 1-6×24 is probably the best way to go, as it offers high quality in combination with affordable price. This optics features minimum fisheye effect with totally usable 1x along with good glass and lens coating. The BDC reticle offers some holdovers and has illumination settings that will aid you to easily spot the reticle in low light and dark backgrounds. Last but not least, it's reliable in times of need and comes with Vortex warranty.