.300 Win Mag, introduced by Winchester Repeating Arms Company in 1963, is one of the most versatile rifle cartridge available. The .300 Win Mag has high energy and muzzle velocity, to the point that it is capable of taking down any walking game in Northern America. It is even considered as a favored ammunition in Africa hunting.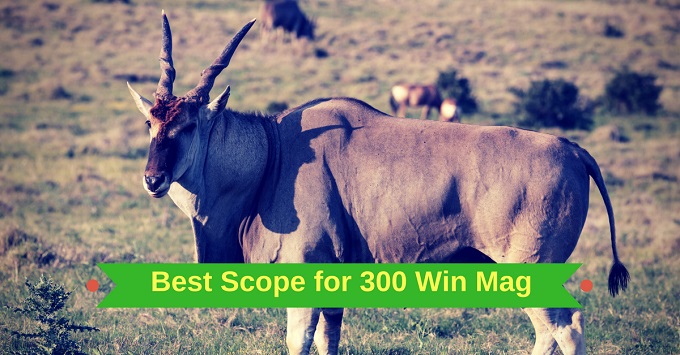 Apart from hunting, the .300 Win Mag (300WM) is seen as a perfect long range round for military and target shooting competition. High muzzle velocity and good ballistic coefficient make relatively flat bullet trajectory possible.
A good scope to go with the 300 Win Mag should enable shooter to fire at both short range big game hunting and long range shooting, say 50 to 1000 yards effectively. Furthermore, it must be able to hold zero against the high recoil rounds of .300 Winchester Magnum.
Now, here's a summary to my list of the Best Scope for 300 Win Mag.
Before we proceed to recommended optics, let's explore characteristics that make a good scope for 300 Win Mag.
---
What makes a good scope for 300 Win Mag ?
Magnification Power
.300 Win Mag is such a versatile round that it can be used effectively in both long range shooting and big game hunting. Thus a magnification scope with wide range of variable power seems to be a suitable choice.
Standard magnification for big game hunting is 1.5-5x or 2-7x. While magnification for long range depends on desired range and target size, I personally don't like optics with magnification over 16x as they tend to require much higher quality glass for similar image quality. Plus, normally there's rarely any need to go beyond 16x. Just for a point of reference, 10x is adequate to shoot a human torso target size at 1,000 yards.
To conclude, I think 3-15x is ideal for 300 Win Mag scopes. That said, one must know that scopes with wide range of zoom tend to be more difficult to construct, thus the higher price tag.
If you have no interest in shooting long range, picking a scope with 2-7x magnification might turns out to be a good idea. On the other hand, if you will solely use it for long range, a 4-16x should be a better buy.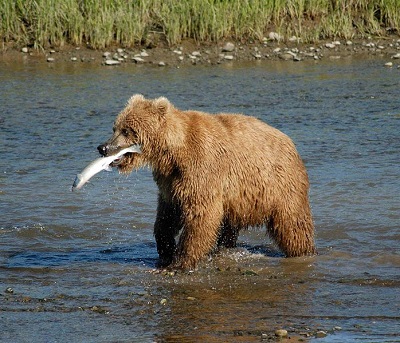 Objective Lens Diameter
Objective lens diameter, coupled with magnification power leads to exit pupil size. This is define by : Exit Pupil Size = Obj. Lens Diameter / Magnification Power
As a general rule from the above statement, pick larger objective lens if you use high magnification and smaller objective lens it you use low magnification.
The downside of too big objective lens are higher price and heavier weight. In some case, it's also higher mounts.
Glass and Lens Coating
Every quality scope needs good glass and lens coating. This is especially true on high magnification scopes with wide range of zoom. Since these are the main factor contributing to image quality and light transmission. Durability is also enhanced due to waterproofing and scratch resistance coatings.
Look for things like ED glass (Extra Low Dispersion Glass), HD glass (High Density Glass) and Fully Multi Coated lens if you can afford it.
Here are some normally quoted jargons for lens coating.
Coated: A single layer on at least one lens surface
Fully Coated: A single layer on all air to glass surfaces
Multicoated: Multiple layers on at least one lens surface
Fully Multi Coated: Multiple layers on all air to glass surfaces
Eye Relief and Eyebox
Eye relief = Space between your aiming eye and the scope for optimal sight image
Generally, bigger eye relief means that your eye is safe from recoil. However, too much eye relief might lead to uncomfortable head and eye position.
Standard eye relief is 3"-4". Since .300 Win Mag possess quite a kick, an eye relief of 3.5" – 4.2" is appropriate for your eyes safety.
Eyebox = Amount of wiggle room for your aiming eye placement
A small eyebox scope can mean less than half an inch room for optimal eye placement. When people complain about "small sweet spot", it's the same thing as small eyebox. This results in much slower target acquisition and frustration during field use. This issue normally magnifies itself on higher magnification scopes.
Tube Size
Larger tube has the advantage of added durability and larger range of internal turrets adjustments. The downside is that it's more expensive and heavier than smaller tubes.
For long range shooting, one might need to adjust the elevation and windage a lot. So, if you intend to also shoot long range, larger tube scope is favored. Larger tubes means 30mm, 34mm or even 35mm diameter tube.
Another added benefit for bigger tube is that it normally also comes with larger objective lens.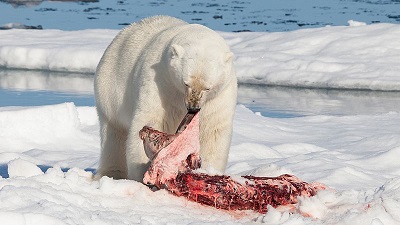 Reticle
Reticle Pattern
There are 3 main groups of reticle pattern
Simple

– Duplex, NikoPlex, V-Plex, Dot, etc.

Mil-Dot, MOA

– Crosshairs

BDC

– Bullet Drop Compensation calibrated to particular rounds
This is a matter of preference. But if you intend to also shoot long range, Simple reticles are not good enough as they provide no holdover nor distance measurement tool.
Mil-Dot and MOA type are preferred for range beyond 800 yards as most BDC reticle don't reach beyond that range.
First Focal Plane or Second Focal Plane
First focal plane makes the reticle holdovers accurate on all magnification but is often not available no cheaper scopes. Second focal plane on the other hand, doesn't keep up with zoom level which means the holdovers are accurate only on one magnification, mostly the highest.
First focal plane reticle is the go to choice if you intend to also shoot long range. If not pick second focal plane to save costs.
Reticle illumination
The point of illuminating the reticle is to make target acquisition faster. Because the reticle becomes easier to spot. It's nice to have but is not a necessity.
Turrets and reticle matching
If you choose Mil-dot or MOA reticle, you would want to check whether turrets markings match the reticle. For example, a Mil-Dot reticle should go along with Mil-dot turrets. Or MOA reticle and MOA turrets. That way you don't have to do unit conversions in the field.
If you choose other reticle type or don't care about long range shooting, this isn't a thing to consider.
Turrets
Desirable turrets are precise and repeatable. Each click must be tactile, audible and exact as shown on the markings. Turrets should be easy enough to adjust with your fingers as you will be doing that a lot if you're into long range shooting. But must not be too loose to prevent unintentional adjustments. Furthermore, zero reset and zero stops features are a plus.
Parallax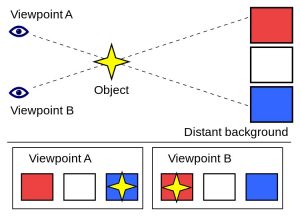 Parallax adjustment is necessary for long range shots. It help reduce the need to perfectly align your eye to the scope and raise the odds for precision shots. Preferred position is the side knob for ease of use.
That said, if you don't shoot beyond 250 yards, there's no need for parallax adjustment.
Durability
The ability to hold zero, precise turrets adjustment over time, lens and body durability are essential for any scopes. Furthermore, the scope must be able to endure the harsh field environment, such as extreme temperature, water submersion and a healthy amount of force.
In addition, reliable manufacturer's warranty goes a long way to ensure usability of a scope. This aspect also helps maintain reasonable price when selling the scope in second hand market.
---
Scope Recommendations
1. Vortex Optics Diamondback HP 4-16×42 Second Focal Plane – Dead-Hold BDC
Due to the .300 versatile use, 4-16x magnification should be suitable as long range shooting and open plain hunting can be done with it. Some might ask why just 4-16x? Why not more magnification? My answer is that higher magnification tends to result in lower image quality. Higher magnification along with high image quality is often accompanied with very high price. Thus Vortex Optics Diamondback HP 4-16x appears to be an affordable choice with high enough magnification.
Image quality is clear and crisp from 4x to 16x power. It works well in low light and offers generous eye relief of 4". Field of view is acceptable and it also has side parallax adjustment. This Vortex Optics Diamondback HP employs a BDC reticle which makes long range shooting and holdover much easier.
Turrets are precise, repeatable and finger adjustable with caps to prevent accidental adjustments. Furthermore, it can do a zero reset with a coin or a flat head. However, there's no zero stop feature as some higher end scopes do.
Single piece aircraft grade aluminium with Argon gas and O-rings makes this scope durable and weather tolerant. It can handle the recoil of .300 Win Mag. Plus Vortex Lifetime Warranty is very reliable and transferable.
Unfortunately, it's rather heavy (18 ounces) and has second focal plane reticle.
| Pros | Cons |
| --- | --- |
| ✓ Good image quality on all magnification | ✗ Higher priced |
| ✓ Good low light capabilities | ✗ Rather heavy |
| ✓ Durable with Reliable warranty | ✗ Second Focal Plane |
| ✓ Precise and repeatable turrets | |
| ✓ Turrets come with caps and is zero resettable | |
Price : $$$$
2. Leupold VX-2 2-7x33mm Riflescope, Duplex Reticle
Leupold is an established name in American scope business for a very long time. They are a 5 generations family business which has supplied many quality products to the U.S. military.
This VX-2 2-7×33 is a nice option for people who doesn't care for long range. It has more than enough magnification for dense wood hunting. Image quality is crisp and clear with no blurry edges on all power level. Field of view is wide and the optics also provided extra 15-30 minutes during low light period where game are most active.
Suitable for hunting, this scope weighs only 9.9 ounce, Making long hike a much more memorable experience.
Eye relief and eyebox are generous. Reticle pattern is a simple Duplex with no holdovers whatsoever. These attributes make target acquisition faster and is a good thing as long as you don't plan to shoot long range.
The turrets are finger adjustable and precise enough for general hunting purpose. However it's not made for long range.
The scope is solid, holds zero even with high recoil ammunition and is weather tolerant. No fogging and waterproof. Plus the scope is backed by Leupold Lifetime Warranty. In my opinion, Leupold VX-2 is a no frill hunting scope that does its job very well.
| Pros | Cons |
| --- | --- |
| ✓ Clear and crisp image quality with nice low light capabilities | ✗ Not for long range shooting |
| ✓ Durable, weather resistant and reliable Lifetime Warranty | ✗ Not a low price scope |
| ✓ Forgiving eye relief and eyebox | |
| ✓ Lightweight (9.9 oz) | |
| ✓ Made in USA | |
Price : $$$
3. SWFA SS 3-15×42 Tactical Rifle Scope
The SWFA SS 3-15×42 offers highest versatility magnification range. It can be used in dense woods to long range target shooting beyond 1,000 yards. That said, with 5 zoom ratio like this, the scope ain't cheap.
The scope has all the desired features mentioned above. Glass and lens quality is very good. Image provided are clear and crisp on all magnification. There are slight chromatic and spherical aberrations on highest magnification but nothing crazy.
Eye relief and eyebox are positive and easy to use. The SWFA SS is housed in a 30mm tube with 123 MOA range of adjustments which is plenty. The turrets are very exact and repeatable. There are zero reset and side parallax adjustment but no zero stop. One thing to mention is that the markings on parallax distance aren't very exact. You need to adjust while looking through the scope instead.
The reticle is clear and very fine to not obscure long range targets. Plus, reticle pattern is in Mil-dot which matches turrets 0.1 mil per click adjustment.
Furthermore, it's a very durable scope and will hold zero on even .50 caliber with ease. Waterproof, fogproof and shockproof, the scope is built like a tank. Last but not least, SWFA offers a reliable and transferable Lifetime Warranty that few people had the occasion to use due to the scope's high durability.
| Pros | Cons |
| --- | --- |
| ✓ High quality glass | ✗ Not accurate parallax adjustment markings |
| ✓ Precise tracking turrets | ✗ Rather heavy (24 ounce) |
| ✓ Matching reticle and turrets units | ✗ HIgher priced |
| ✓ FFP | |
| ✓ Very durable with reliable Lifetime Warranty | |
Price : $$$$$
4. Athlon Optics, Argos BTR, 6-24×50 First Focal Plane, 30mm Tube, Illuminated APMR MIL Reticle
This option is for people who focus on long range aspect of the .300 Win Mag. A relatively newcomer in this market, Athlon optics offer one of the best deal in the market for affordable variable high powered scopes.
Glass and lens quality is very clear but not as good as the SWFA SS. There are also some chromatic aberration present such as purple fringe on edges of light colored objects. Light transmission is good with the 50mm objective lens.
There is an option between Mil/Mil or MOA/MOA reticle and turrets. A plus as they are the same unit of measurement. Turrets are precise and repeatable but has rather small adjustment range of 60MOA / 18Mil. The clicks are not very tactile nor crisp. Parallax adjustment is present as the side focus knob. That said, the parallax markings aren't exact to the yardage.
Reticle is clear and comes with 11 brightness illumination settings. However, illumination gets a bit washed out on bright sunny days. But not a big negative as the non-illuminated reticle is easy to spot. Mil Reticle features the "Christmas Tree" pattern making windage adjustments even more accurate. Another positive thing, this is a First Focal Plane scope.
Housed on a 30mm tube, the optic is durable and can hold zero on high recoil rounds. It's also good in harsh environments. Additionally, the Argos BTR comes with reliable and transferable Lifetime Warranty. Customer service is also excellent.
| Pros | Cons |
| --- | --- |
| ✓ FFP | ✗ Not crisp and tactile turret clicks |
| ✓ Good image quality with low light capabilities | ✗ Not accurate parallax markings |
| ✓ Has Mil/Mil and MOA/MOA options | ✗ Reticle illumination gets washed out on bright sunny days |
| ✓ have side focus knob for parallax adjustment | ✗ Chromatic aberration |
| ✓ Precise and repeatable turrets | ✗ Small internal range of turrets adjustment |
| ✓ illuminated reticle with 11 brightness settings | |
| ✓ Fully Transferable Lifetime Warranty | |
Price : $$$$
5. Vortex Optics Viper HS 2.5-10×44 Second Focal Plane – Dead-Hold BDC
The Vortex Viper HS 2.5-10×44 offers a nice magnification range that is fitting from short to medium range shooting. Even though I mentioned that at 10x, one could shoot out to a thousand yards, but this scope is restricted by the BDC to only about 650 yards. One could set zero at further yardage to make the BDC work at longer range, but that would pose a problem to closer range shots instead.
The scope is an upgrade from the Leupold VX-2 recommended above. It is good for most hunting applications with it clear and crisp picture. There is very little to none chromatic aberration which is a positive thing. Light transmission at low magnification is very good, making the scope ideal for low light hunting. Unfortunately, magnification ring is a bit too stiff. Plus, it is a bit heavy at 16 ounce.
The turrets are precise and repeatable. Each clicks are tactile and audible. And the turrets are zero resettable.
One disappointment is that the Vortex Viper line are Second Focal Plane scopes. Luckily at 50 – 650 yards it won't be that much of a problem.
This scope is durable and will hold zero on .300 Win Mag rounds. The scope is also waterproof, fogproof, shockproof and suitable for field operations. In addition to that, Vortex offers a reliable transferable Lifetime Warranty which helps secure the scope further.
| Pros | Cons |
| --- | --- |
| ✓ Clear and crisp image | ✗ Rather heavy (16 ounce) |
| ✓ Good in low light | ✗ Not for very long range |
| ✓ Versatile magnification range | ✗ Small eye relief |
| ✓ Precise and repeatable turrets | ✗ Second Focal Plane |
| ✓ BDC reticle | |
| ✓ Durable with reliable & transferable Lifetime Warranty | |
Price : $$$$$
Conclusion
The SWFA SS 3-15×42 is truly the Best Scope for 300 Win Mag in my humble opinion. That's because the optics can extract full potential of the .300 Win Mag rounds. Making it deadly both at big game hunting and long range shooting.
Turrets and reticle are suited for long range shooting. Plus the scope is very durable that you should have no worries about it failing the field. And warranty from SWFA is also a reliable one.
The downside to it are that it's rather heavy and very expensive. But that's likely the case for any scopes with zoom ratio of 1:5 (3-15x).