Invest in your scope as much as your rifle or so the saying goes…
But in certain circumstances, the saying doesn't make much sense.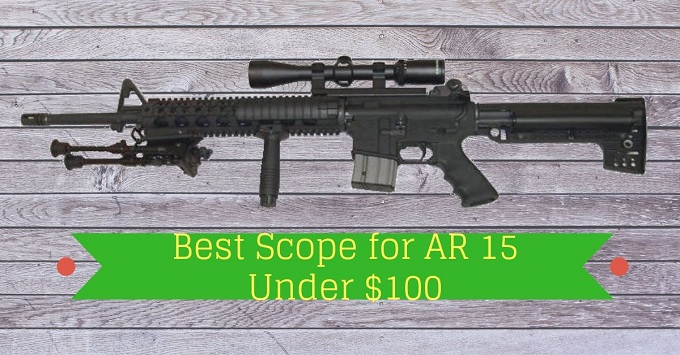 Do I really need a $600-$1,000 up scopes for casual plinking or fun time at the range?
Or I intend to buy a high end scope later, but I'm tight on budget at the moment.
If one of these scenarios fit you, you are in luck. Because in this article, I'll share with you my Best scope for AR 15 under $100, of which I believe you'll be very satisfied.
Best scope for AR 15 under $100
Before we dive into the details of each scope, let's look at what makes a good AR 15 scope.
---
What makes a good AR 15 scope under $100?
Magnification : Fast Target Acquisition or Long Range Shots
When picking your scope's magnification range, you have to first know what kind of target will you be engaging.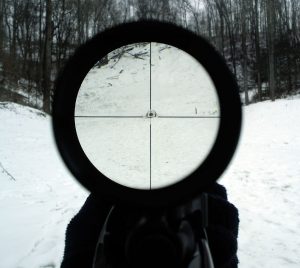 For tactical, CQB (Close Quarters Battle), fast target acquisition purpose, you'll want an optic with low or even zero magnification, wide field of view (lower magnification means higher field of view and vice versa) to maintain peripheral vision.
1-4x, 1-6x or even a red dot sight will serve you well.
On the other hand, if you're in for sniper and long range shooting, a higher magnification scope, be it 3-9x, 4-16x or even 6-24x are viable options.
However, we're limited by our budget.
Since higher magnification scopes naturally come with higher price tags (scopes under $100 with high magnification are often unusable), I'd recommend you to limit your scope to 3-9x.

Objective lens : Don't get the big one
Objective lens, magnification power and glass quality determine the brightness of a scope.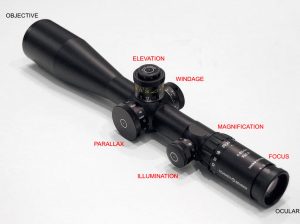 A scope's brightness is critical for hunting during dawn and dusk where you don't have enough lighting.
But is not a big concern for you.
You can get by with 1-4×24 and 3-9×40 no problem. (The higher magnification goes, the bigger objective lens you need.)

Glass and Lens Coating
Glass and lens coating are the biggest factors affecting your sight picture quality.
We are somewhat limited by our budget. Fancy features such as HD glass is a no-no.
Luckily, optics manufacturing technology has improved immensely over the past decade, such that we can get a decent, scope under $100.

Reticle Pattern
There are 3 main groups of reticle pattern.
Simple

– Duplex, NikoPlex, V-Plex, Dot, etc

Mil-Dot, MOA

– Crosshairs

BDC

– Bullet Drop Compensation calibrated to particular rounds
This is a matter of preference.
Simple reticle provides clutter-free, fastest target acquisition speed.
But if you intend to also shoot at longer range, Simple reticles are not good enough as they provide no holdover nor distance measurement tool. I personally prefer Mil or MOA reticle over BDC reticle due to versatility. But again, this is mostly preference.

Turrets : Holding zero is key
Turrets repeatability and precision are some of the most costly things to manufacture. And you basically don't get them for scopes in this price range.
Rather, what you look for is whether the turrets hold zero after you sighted in and used it for a few months.
Since your scope are not going to be repeatable, my tip is to not dial in your distance and use your reticle holdovers instead.
Finger adjustability, crispness and tactileness in adjustment are other desirable traits.
Note that finger adjustable turrets must not be too loose to prevent unintentional adjustments.

Price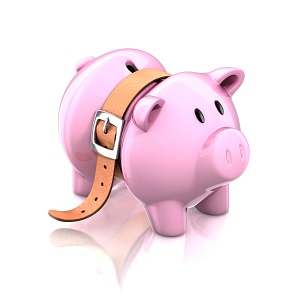 Since this article focuses on AR 15 scopes under $100, all scopes recommended below are under the $100 threshold at the time of this writing.
However, price fluctuates with season, supply, demand and promotions. This may result in some scopes below exceeding $100 some time in the future.
But rest assured that I regularly update this article and will try to keep those errors to minimum.
Scope Recommendations
1. Bushnell Banner Dusk & Dawn 3-9×40, Multi-X
The Bushnell Banner Dusk & Dawn are a series of affordable scopes models of which I have had many good things to say about.
Its sight picture is usable and clear. There are slight glares and blurs around the edges when using 8-9x magnification or when lighting is not ideal. But this is nothing serious as you can still hit your target well. It is much better than Simmons or NCStar scopes at the same price range.
Multi-X reticle is rather thick and easy to see for fast target acquisition and low light situations. However it is a bit thick for small targets at long range. Field of view is considered quite good.
This Bushnell Banner Dusk & Dawn is well built for its price and can even hold zero on a 12 gauge shotgun. Furthermore turrets are finger adjustable, come with caps to prevent unintentional adjustments and are easy to use.
| Pros | Cons |
| --- | --- |
| ✓ Good glass for the price | ✗ A bit thick reticle |
| ✓ Fast target acquisition reticle | ✗ Reticle has no holdovers |
| ✓ Can even hold zero from a shotgun | |
| ✓ Ok with light rain | |
| ✓ Lifetime warranty | |
Price : $$
2. Bushnell Red Dot Sight TRS -25 | (Red Dot Option)
The TRS-25 is a highly affordable red dot sight from Bushnell with just a $56 price tag at the time of this writing.
This red dot is able to hold zero on more than 800 rounds on my AK47, thus you can rest assured that it will not lose zero on your AR 15.
Bushnell claims 3,000 hours of battery life. But it also depends on how you actually use it, at what brightness settings, etc. For typical use it's more like 1,000 hours of battery life. Battery can also be changed without removing the red dot.
Warranty is only 1 year.
| Pros | Cons |
| --- | --- |
| ✓ Low price | ✗ Not very durable |
| ✓ Ok Glass | ✗ Short battery life |
| ✓ 3 MOA dot, fast target acquisition | ✗ 1 year warranty |
Price : $
3. UTG 3-9X32 1″ BugBuster Scope, AO, RGB Mil-dot, QD Rings
This UTG BugBuster scope has tons of features with very affordable price tags. Dual illuminated reticle of red and green can be used making it easier to spot the reticle especially in low light situations. However, low brightness settings are recommended because too bright reticle might make targets harder to see. In case its battery runs out, you can still see the black reticle.
Mil-Dot Reticle pattern is also a plus, as I personally prefer it over BDC type for long range and distance measurement.
The scope comes with parallax adjustment which you can adjust it for very close range shooting. The turrets are not that precise but is finger adjustable and comes with zero reset and zero stop features.
For AR 15, the UTG BugBuster can hold zero fine. However its durability is not something to boast about. Leapers UTG has Lifetime warranty for this product which I haven't tested it personally.
| Pros | Cons |
| --- | --- |
| ✓ Ok glass | ✗ Not very durable |
| ✓ Illuminated Mil-Dot reticle | ✗ Untested warranty |
| ✓ Has parallax adjustment | |
| ✓ Zero stop and zero resettable | |
Price : $$
4. Simmons 560520 Truplex Riflescope | (Budget Option)
This Simmons Truplex is under $50 at the time of this writing.
Glass quality is inferior to all optics mentioned in this article. But among sub $50 scopes, Simmons glass performs very well. Light transmission is not superb, but adequate for plinking and target shooting.
Truplex reticle is simple, no-clutter and thick enough for easy spotting. However it provides no holdovers.
Turrets are finger adjustable, hunting style turrets, meaning that they are low and capped to prevent unintentional adjustments.
Note that the turrets are not precise. Once you successfully zero the scope, you should leave your turrets in that position.
| Pros | Cons |
| --- | --- |
| ✓ Low price | ✗ Not durable |
| | ✗ Not great performance |
Price : $
5. Bushnell Banner Dusk & Dawn Multi-X 1.5-4×32 | (Low Power Variable Option)
Our options for low powered variable optics, such as 1-4x and 1-6x are rather limited under $100 and the Bushnell Banner Dusk & Dawn 1.5x-4×32 is one of the very few acceptable options.
This Bushnell Banner Dusk & Dawn scope is unfortunately not true 1x, but you can still use it with both eyes open after familiarising yourself with its slight fisheye effect.
Glass is clear with minimal distortion. Eye relief is very forgiving, along with wide field of view, making it perfect for CQB.
On holding zero aspect, the scope is rugged and can even hold zero on a 50 cal muzzleloader.
| Pros | Cons |
| --- | --- |
| ✓ Budget low powered variable options | ✗ Not true 1x |
| ✓ Good glass with minimal distortion | |
| ✓ Forgiving eye relief | |
| ✓ Wide field of view | |
Price : $$
Conclusion
The best AR 15 scope under $100 is, in my opinion, the Bushnell Banner Dusk & Dawn, which you can go with 3-9×40 for longer range or 1.5-4×32 for an LPVO option.
If you're okay with no magnification, the Bushnell TRS-25 is also a solid choice.