Ruger 10/22 was first introduced by Sturm, Ruger & Co. in 1964. Today, it has become one of the most successful rimfire rifle in history. Lightweight, easy to operate with lots of available modifications, the Ruger 10/22 is among one of the most favorite varmint rifle for the young and old alike. Furthermore, both the rifle and ammunition are affordable for non-serious plinking.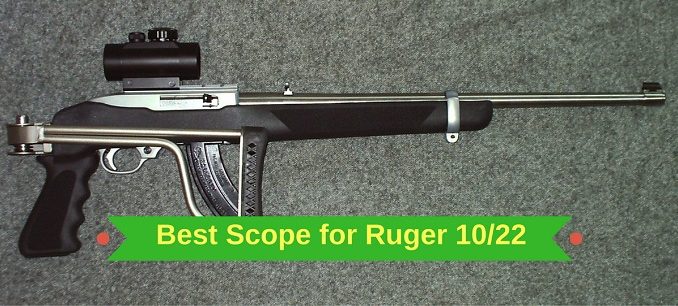 A good optics to go with Ruger 10/22 should enhance its ability to hunt varmints or make plinking even more fun. And the optic price should not exceed half of the rifle price, at least that's what I preferred. I've searched far and wide and have found good optics that would fit your Ruger 10/22. Depending on your situation, one of these scopes should match your needs.
To summarize, here's my list of the Best Scope for Ruger 10/22.
Best Scope for Ruger 10/22
Before diving into the details of each scope, let's discuss what we're looking for in a scope for Ruger 10/22.
---
What makes a good Ruger 10/22 scope ?
Magnification Power
Since the effective range for a vanilla Ruger 10/22 is between 20-75 yards. A scope with low magnification, of say 2-7x, is good for this application.
If you modify your Ruger 10/22 to shoot at longer range, a 3-9x should fit the bill. That said, note that a scope with higher magnification is often more expensive, doesn't do as well in low light and gives lower field of view (width area of what you see).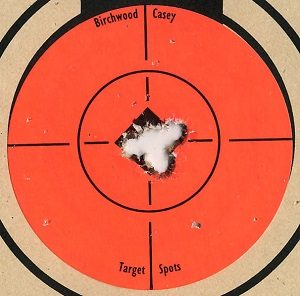 Objective Lens Diameter
Objective lens diameter, coupled with magnification power leads to exit pupil size. This is define by : Exit Pupil Size = Obj. Lens Diameter / Magnification Power
Too small exit pupil size leads to small sight picture through the lens. For an extreme case, imagine looking through a straw. Too large exit pupil size, meaning larger than your eye pupil by a wide margin, wasted some light as it doesn't enter your eye.
To simplify larger objective lens is needed for high magnification scope. And smaller objective lens can be used on low magnification scope. For 2-7x, a 32mm objective lens should be about right. While a 40mm objective lens should do for 3-9x scopes.
Glass and Lens Coating
Every quality scope needs good glass and lens coating. This is especially true on high magnification scopes with wide range of zoom. Since these are the main factor contributing to image quality and light transmission. Durability is also enhanced due to waterproofing and scratch resistance coatings.
Here are some normally quoted jargons for lens coating.
Coated: A single layer on at least one lens surface
Fully Coated: A single layer on all air to glass surfaces
Multicoated: Multiple layers on at least one lens surface
Fully Multi Coated: Multiple layers on all air to glass surfaces
That said, these lens coating jargons don't mean much for determining quality. As high quality "coated lens" can beat low quality "Fully Multi Coated lens". Quantity doesn't beat quality for lens coating.
Eye Relief and Eyebox
Eye relief = Space between your aiming eye and the scope for optimal sight image
Due to .22's low recoil, eye relief shouldn't be an issue. Low eye relief scopes of 2.5-3.5" is still acceptable.
Eyebox = Amount of wiggle room for your aiming eye placement
A small eyebox scope can mean less than half an inch room for optimal eye placement. When people complain about "small sweet spot", it's equivalent to small eyebox. This results in much slower target acquisition and frustration during field use. The issue normally magnifies itself on higher magnification scopes.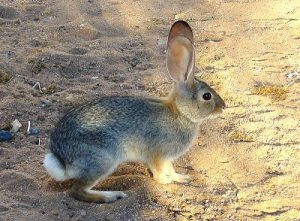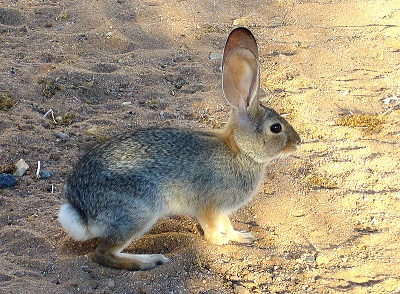 Tube Size
A larger scope tube grants higher overall durability. But this is generally not needed as .22 has very mild recoil. A 1 Inch tube would be more ideal as it has the advantage of lighter weight and cheaper price.
Reticle
There are 3 main groups of reticle pattern
Simple

– Duplex, NikoPlex, V-Plex, Dot, etc.

Mil-Dot, MOA

– Crosshairs

BDC

– Bullet Drop Compensation calibrated to particular rounds
This is a matter of preference. However if you plan on shooting beyond 100 yards, a BDC, Mil-dot or MOA reticle might come in handy.
Turrets
Desirable turrets are precise and repeatable. Each click must be tactile, audible and exact as shown on the markings. Hunting style turrets often are low profile and come with caps to prevent unintentional adjustment especially when out hunting. Target (shooting) style turrets are high profile without caps. This makes adjusting on the fly easier.
For your Ruger 10/22, it depends on what you're likely to use it for, hunting or target shooting.
Parallax
Parallax adjustment is useful for close range shots. It help reduce the need to perfectly align your eye to the scope and raise the odds for precision shots. Preferred position is the side knob for ease of use.
That said, if you don't shoot under 25 yards, there's no need for parallax adjustment.
Durability
The ability to hold zero is a must for any scopes. If you intend to also hunt with it, the scope should be able to endure the harsh field environment, such as extreme temperature, water submersion and a healthy amount of force.
That said, more durable scopes have higher price tag.
In addition, reliable manufacturer's warranty goes a long way to ensure usability of a scope. This aspect also helps maintain reasonable price when selling the scope in second hand market.
---
Scope Recommendations
1. Vortex Optics Crossfire II 2-7×32 Rimfire
Now a major brand in rifle scopes industry, Vortex Optics has converted many big name fans to their own in just a period of less than 15 years. Most seasoned hunters cited Vortex as quality with affordable price scopes.
2-7×32 magnification from this scope is adequate for plinking and varmint hunting within 75 yards. Magnification ring is smooth to turn. Glass quality and lens coating is clear and crisp especially on low magnification. Light transmission is also decent.
The optic's reticle pattern is V-Plex, which is a simple duplex reticle version from Vortex. This reticle doesn't support any holdovers but is more of a non-cluttered, fast target acquisition reticle. The crosshairs are fine and won't obscure your targets.
The turrets are finger adjustable with zero reset feature. They're easy to adjust, but not that precise. That's to be expected for scopes in this price range. Eye relief is 3.9".
Vortex scope's durability is generally good. It's the case with this Vortex Crossfire II rimfire. As long as you use it on rimfire rounds, the scope would hold zero well. Plus it's also waterproof, fogproof and shockproof. And the optic is backed by reliable and transferable Vortex's Lifetime Warranty. Lastly, customer service from Vortex is top notch.
| Pros | Cons |
| --- | --- |
| ✓ Good quality glass | ✗ Not for longer range |
| ✓ OK light transmission | |
| ✓ Easy to use | |
| ✓ Durable with reliable and transferable warranty | |
Price : $$
2. Bushnell AR-22, Drop Zone BDC Rimfire with Target Turrets, 2-7x32mm
The Bushnell AR-22 is made specifically for rimfire rifles with .22 ammunition. Its BDC (Bullet Drop Compensation) reticle is calibrated to 40g .22LR bullet trajectory. This way, you can extend your range farther with ease.
Image quality is clear and bright. But there's a slight distortion around the edges. It comes with target style turrets, which means high profile, no caps and finger adjustable and zero resettable. The clicks are audible but are rather stiff. That said, magnification ring is also stiff too.
The scope has side parallax knob, which normally is not that useful for range within 20-75 yards. But I suppose it's better to have it than not. One complain is that the parallax knob is also hard to turn.
On the bottom of the turrets, there is a protruding knob which will prevent you from using low mount with Ruger 10/22. So make sure to get medium or high mount to go with this scope.
The optics weighs 19.6 ounce which is considered heavy for a rimfire scope. But the good thing is that it is durable and will hold zero even with some minor bang on the scope. Furthermore, it has a reliable warranty from Bushnell.
| Pros | Cons |
| --- | --- |
| ✓ Clear and bright | ✗ Slight distortion around the edges |
| ✓ BDC for .22LR | ✗ Stiff magnification ring, turrets and parallax adjustment |
| ✓ Has parallax adjustment | ✗ Can't use low mount |
| | ✗ Heavy (19.6 Oz) |
Price : $$
3. Tasco World Class 40mm 3-9×40
This Tasco World class is a budget option for a 3-9x. Its price is very low but has acceptable quality. For people with tight budget, this will be a happy option
Image quality and light transmission are not that great but it's certainly usable for plinking and varmint hunting. On higher magnification like 9x, there's some image distortion.
This scope features a simple reticle with no holdovers whatsoever. So you can't use it for longer range. Note that the reticle is rather thick too.
The turrets are in simple hunter style. They are not finger adjustable, as you need to use a flathead to adjust them. Furthermore, they don't have features such as zero resettable or zero stop feature. That said, this Tasco can hold zero to .308 rounds and is good enough for a set and forget type of turrets.
Durability is not that great for this scope but it comes with Limited Lifetime Warranty which will cover defects in materials and workmanship for the lifetime of the original owner.
| Pros | Cons |
| --- | --- |
| ✓ Very low price | ✗ Image quality is just usable |
| ✓ OK image for the price | ✗ Less clear on high magnification |
| ✓ Holds zero to .308 | ✗ Thick reticle |
| ✓ Limited Lifetime Warranty | ✗ Turrets not finger adjustable |
| | ✗ Not very durable |
Price : $
4. Nikon P-RIMFIRE BDC 150 2-7×32
The Nikon P-Rimfire 2-7×32 is the most high end scope I recommend in this list. It has the best image quality which is very clear and crisp on all magnification. Light transmission could use some improvements but is good enough for most application.
This BDC 150 reticle is calibrated to .22LR with muzzle velocity of 1,600 fps which is a bit hard to find. You can fix this by using the Nikon Spot On App to get an accurate yardages for your exact load. The scope should be zeroed at 50 yards and have 25 yards for each increment markings.
Featuring target style turrets, they are finger adjustable and zero resettable. There are no parallax adjustment knob and is factory set at 50 yards. This wouldn't be much of a trouble considering the range of the Ruger 10/22.
Eye relief is 3.8" and is deemed plenty for low recoil rifle such as the Ruger 10/22. The scope is durable and has Nikon Lifetime Warranty, which is reliable in my experience.
| Pros | Cons |
| --- | --- |
| ✓ Good image quality | ✗ BDC reticle calibrated to hard to find load |
| ✓ BDC reticle | ✗ Not great in low light |
| ✓ Nikon Spot On App | ✗ A bit higher priced |
| ✓ Durable with reliable warranty | |
Price : $$$
5. UTG 3-9X32 BugBuster Scope, AO, RGB Mil-dot
Have you ever bought a product from China? If you have you probably know that they're very cheap, but often comes with questionable quality and durability. Luckily, this UTG 3-9×32 BugBuster scope seems to be a higher standard product from China.
The scope has tons of features with very affordable price tags. Dual illuminated reticle of red and green can be used. This makes it easier to spot the reticle especially in low light situation. However, low brightness settings are recommended because too bright reticle might make targets harder to see. Plus if the battery runs out, you can still see the black reticle. Mil-Dot Reticle pattern is usable for long range and distance measurement.
As with China products, defects are more often found and there seems to be some defect case of canted reticle of about 2 degree. I have not personally experienced this. If you do get canted reticles, ask for a new one or a refund as soon as you can.
The scope comes with parallax adjustment which you can adjust it for very close range shooting. The turrets are not that precise but is finger adjustable and comes with zero reset and zero stop features.
For Ruger 10/22 recoil, the scope will hold zero fine. Its durability is also ok but not that great, as you expect from Chinese products. Leapers UTG has Lifetime warranty for this product which I haven't tested it personally.
| Pros | Cons |
| --- | --- |
| ✓ OK glass | ✗ Chinese made |
| ✓ Illuminated Mil-Dot reticle | ✗ More % of defects than other brands |
| ✓ Has parallax adjustment | ✗ Not precise turrets |
| ✓ Zero stop and zero resettable | |
Price : $$
Conclusion
For my Ruger 10/22, I would put the Vortex Crossfire II 2-7×32 Rimfire on it. That's because it has all the quality I mentioned above. Image quality is good. Turrets and magnification ring is easy to turn. Furthermore it is durable with Lifetime Warranty, meaning it is unlikely to fail you in the field.
The only downside to it is that the V-Plex reticle has no holdovers, making long range use a bit difficult. That said, if you're like me and don't intend to shoot beyond 75 yards with the Ruger 10/22, the uncluttered reticle is in fact a good thing.
Regarding price, it's not the cheapest but it's not expensive either. Consider the fact that it's hassle-free and can be used for years to come, The Vortex Crossfire II 2-7×32 Rimfire is the best scope for Ruger 10/22 in my opinion.