Many people say "You get what you pay for" in the world of rifle scopes. Even though that is generally true, it's not always the case. People who strive for great deals can often find bargains at some corners of the world. At least that's my belief. Let's set out on a quest to find scopes that give most value per dollar spent.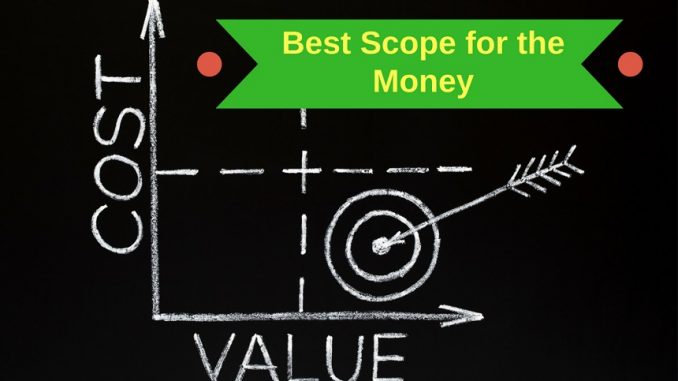 Now, a lot of "value" can be attributed to the fact that it fits your needs. If a scope has dizzying array of functions but none that meet your needs, those functions don't provide much value. Thus, a lot of cost savings can first be accomplished by knowing what features you need and don't really need for your applications.
For those who already know what they are looking for, here's my list of the Best Scope for the Money.
---
What features aren't need for your scope ?
Magnification
A lot of cost savings can be made by selecting the right magnification for your needs. Higher magnification and wider magnification range lead to higher price tag.
These magnification numbers can be easily found on any scope selling information. They are often quote as "3-9×40" which means the scope has 3x to 9x and a 40 millimeter objective lens diameter.
As a general rule of thumb, here's my take on what magnification you need for each task.
Big game, whitetail hunting in dense wood : 1.5-5x or 2-7x
Antelopes or mule deer : 4-12x
Long range shooting : 4-16x or more
Prairie dogs : 6-24x or 8-32x
CQB : 1-4x, 1-6x or red dots
For target shooting or plinking, try an easy rule of thumb, adds 3x per 100 yards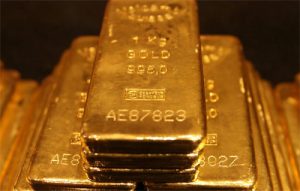 Fixed magnification scopes are cheaper than variable power scopes. But you tend to sacrifice versatility. If you are going to use the scope in a narrow specific range, say 50-100 yards, a fixed 4x scope could make your wallet happy.
Objective Lens Diameter
Larger objective lens diameter helps improve light transmission and is critical when using high magnification scope. That said, if your magnification does not exceed 10x, objective lens diameter can be less than or equal to 40mm. This is not for just saving costs but also to reduce weight.
Glass and Lens Coating
Quality glass and lens coating is needed for every scope. Since these are the main factor contributing to image quality and light transmission. This is especially true on high magnification scopes with wide range of zoom. Durability is also enhanced due to waterproofing and scratch resistance coatings.
However, things things like ED glass (Extra Low Dispersion Glass) and HD glass (High Density Glass) are generally too high priced for the cost conscious scope users.
Tube Size
Larger tube has the advantage of added durability and larger range of turrets internal adjustments. But they tend to cost more.
So if you don't fire heavy recoil rounds or shoot long range, refrain from buying 30mm, 34mm and 35mm scopes. 1 Inch tube should be the way to go.
Some people associate tube size with better light transmission, but that's not the case. It's just that larger tube is more expensive and manufacturers often put higher quality glass and coating into larger tube scopes.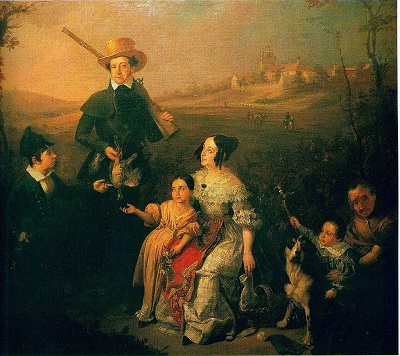 Reticle
Reticle Pattern
There are 3 main groups of reticle pattern
Simple

– Duplex, NikoPlex, V-Plex, Dot, etc.

Mil-Dot, MOA

– Crosshairs

BDC

– Bullet Drop Compensation calibrated to particular rounds
For most brands, simple reticle is often the cheapest. If you don't plan to fire long range shots, simple reticle is the way to go. On the other hand, if intended range is more than 200 yards or your ammo type has significant drop, go for Mil-Dot, MOA or BDC reticle. It's just a few bucks more and will be useful for your task.
First Focal Plane or Second Focal Plane
First focal plane makes the reticle holdovers accurate on all magnification but is often not available no cheaper scopes. Second focal plane on the other hand, doesn't keep up with zoom level which means the holdovers are accurate only on one magnification, mostly the highest.
First focal plane reticle is often quite costly compared to Second Focal plane reticle scope. If you intend to shoot long range, First focal plane is the way to go. If not pick second focal plane to save costs.
Reticle illumination
Reticle illumination is not an expensive add-ons. It sure looks cool but isn't very useful in most situation. Skip it, unless you have spare cash.
Turrets and reticle matching
For long range users, you would want to check whether turrets markings match the reticle. For example, a Mil-Dot reticle should go along with Mil-dot turrets. Or MOA reticle and MOA turrets. That way you don't have to do unit conversions in the field.
If you choose other reticle type or don't care about long range shooting, this isn't a thing to consider.
Turrets
For general hunting purpose, one doesn't need fancy turrets. They just need to be able to sight in and hold zero for years to come.
On the other hand, if you do target shooting at varying range, one shouldn't skimp on turrets Desirable traits to find are precision and repeatability. Each click must be tactile, audible and exact as shown on the markings. Turrets should be easy enough to adjust with your fingers as you will be doing that a lot. But must not be too loose to prevent unintentional adjustments. Zero resettable and zero stops features are a plus.
Parallax
Parallax adjustments are good for people who shoot beyond 300 yards or at very close range. If you happen to shoot between 50-300 yards, you have found another feature to skip.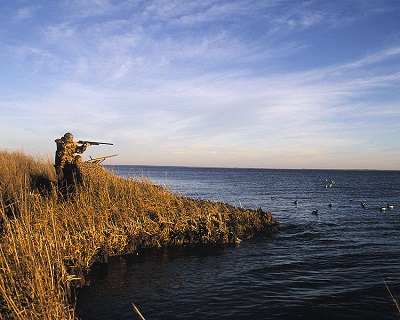 Durability
Durable scopes are associated with higher costs. Fixed scopes are generally more rugged due to less moving parts in the scope. Obviously, cartridges and loads with lower recoil, such as .223 Rem, will require less durable scopes.
There are very cheap scopes out there in the market that cost only a fraction of normal rifle scopes. But they tend to be of low durability and is not recommended in this article due to the fact that I don't know what cartridge you're using. However, if you use very low recoil rounds, those scopes might be a good choice for you too.
Features such as 1 piece aircraft grade aluminium tube, O-rings sealed, Nitrogen purged, waterproof, fogproof and shockproof are not to be skipped. In my opinion, buying a new scope every hunting season is not a good way to save money.
In addition, reliable manufacturer's warranty goes a long way to ensure usability of a scope. Transferable warranty also helps maintain reasonable price when selling the scope in second hand market.
---
Scope Recommendations
1. Tasco World Class 4-16x40mm Matte, Riflescope
The Tasco brand is not very well received by the public. They are related with lower end scopes made in China. But for the money, Tasco World Class 4-16×40 is a choice worth considering for people with tight budget.
4-16x magnification is good for open plain hunting and long range shooting. However since this is a lower end scope, image higher than 10x tend to be not very clear and blurry on the edges. On other magnification it's usable but not that great.
The good thing is that this scope will hold zero for the .270 and can serve its purpose. It comes with decent eye relief of 3" and side parallax adjustment.
The Tasco World Class features Vital Zone reticle which is essentially a BDC reticle from Tasco. This makes long range shootings and holdover possible. The crosshairs are a bit thick but would not obstruct your target too much, so that's ok to live with.
The biggest downfall for this scope is that the turrets are not finger adjustable. They are also not very precise and not repeatable. Zero reset and zero stops are not available with this scope.
The scope is heavy (16 ounce) and is not very durable (as expected from its price). However it comes with a Limited lifetime warranty. Which means that they'll fix the scope as long as you're the original owner if they honor their guarantee. Well, it's better than no warranty.
| Pros | Cons |
| --- | --- |
| ✓ Very low price | ✗ Image quality is just usable |
| ✓ Good magnification range | ✗ Less clear on high magnification |
| ✓ Has parallax adjustment | ✗ Made in China |
| ✓ BDC Reticle | ✗ Turrets not finger adjustable |
| ✓ Limited Lifetime Warranty | ✗ No zero resettable and no zero stop |
| | ✗ Not very durable |
Price : $
2. Tasco World Class 40mm 3-9x40WA 30/Matte Black
This Tasco is the same model as the above but with lower magnification range. With lower magnification, it's even cheaper than the 4-16×40. This scope is not for long range but it is suitable for most short to medium range.
Image quality and light transmission are not that great but it's better than the 4-16×40 due to lower magnification. There's also some image distortion on 9x.
This one has a simple reticle with no holdovers whatsoever. I don't miss the BDC because It probably will not be useful for 3-9x anyway. Note that the reticle is rather thick too.
The turrets are not finger adjustable and doesn't have zero resettable nor zero stop feature. That said, this Tasco can hold zero to .308 rounds.
Durability is not that great for this scope but it comes with Limited Lifetime Warranty which will cover defects in materials and workmanship for the lifetime of the original owner.
| Pros | Cons |
| --- | --- |
| ✓ Very low price | ✗ Image quality is just usable |
| ✓ OK image for the price | ✗ Less clear on high magnification |
| ✓ Holds zero to .308 | ✗ Thick reticle |
| ✓ Limited Lifetime Warranty | ✗ Turrets not finger adjustable |
| | ✗ No zero resettable and no zero stop |
| | ✗ Not very durable |
Price : $
3. Primary Arms 4-14X44 Tactical Scope, First Focal Plane
The Primary Arms 4-14×44 is designed for affordable tactical and long range shooting. It also has matching Mil-Dot reticle and Mil-Dot turrets. This is a very good thing as you don't have to do conversions during your shots.
Magnification power of 4-14x is enough for long range shooting. And 44mm objective makes low light shooting on high magnification possible. Image quality is clear and crisp on all power.
At this price, it is very challenging to make a First Focal Plane scope. But Primary Arms does it. This optics is built on a 30mm tube, which makes it more durable. The turrets are precise and repeatable. Each click is just 0.1 Mil and have internal adjustments of 30 Mil which is quite generous. However, the clicks feel a bit mushy and could use some improvements. The turrets are also zero resettable with an Allen wrench but no zero stop function. The scope also features side parallax adjustment.
Eye relief is a bit small at 3.14″ – 3.22″. But it's not a big deal as long as heavy recoil rounds are not used.
The downside are that the Primary Arms is heavy (24 ounce) and has only 3 year warranty. This Primary Arms should hold zero up to .308 caliber and is waterproof, fogproof and shockproof.
| Pros | Cons |
| --- | --- |
| ✓ Matching Mil/Mil reticle and turrets | ✗ A bit small eye relief |
| ✓ Good image quality on all magnification | ✗ Heavy (24 oz) |
| ✓ First Focal Plane | ✗ Slightly mushy turrets |
| ✓ Precise, repeatable and zero resettable turrets | ✗ 3 years warranty |
| ✓ Wide range of 0.1 Mil turrets adjustment | ✗ Not expensive but not so cheap |
| ✓ Has parallax adjustment | |
| ✓ Durable | |
Price : $$$
4. TRUGLO TRU-BRITE 30 Series 1-6 X 24mm Dual-Color
The TRUGLO is a budget option for 1-6x scopes. When tested, it certainly is not a true 1x but you can use it with both eyes open no problem. Overall image quality is ok up to 4x. Beyond that, image is less clear and has very small eyebox.
It features Mil-Dot reticle which is a little thicker than normal for easy spotting. Not that it is not too thick as to obscure targets and is clear enough given its price. Illumination comes in 2 color, red and green, you get both and don't have to choose. Illumination doesn't fare very well in bright sunlight but you can turn it off and still see the black reticle.
The elevation turret is a BDC type and is calibrated for both .223 (55 grain) and .308 (168 grain). Windage however, is marked in MOAs which doesn't match the reticle. Both the turrets are precise and repeatable, which is a pleasant surprise for optics at this price point.
This TRUGLO TRU-BRITE is a second plane scope. Which means the Mil-Dot reticle measurement will not work on magnification other than 6x. That said, the turrets work fine as long as you know the correct distance and use the same load.
Rugged and holds zero well, the scope is built on 30mm tube and is nitrogen filled. It is weather resistant to a point and should work for years to come. However it's rather heavy at 19.26 ounce.
The fact that it can be used with both eyes open and has reticle illumination make this scope quite a bargain for the price. TRUGLO offers limited lifetime warranty, which is good. But there are reports that you're responsible for shipping costs.
| Pros | Cons |
| --- | --- |
| ✓ Lower priced | ✗ Reticle(Mil-Dot) and turrets(BDC) unit of measurement don't match |
| ✓ Not true 1x but works fine for both eyes shooting | ✗ Rather heavy (19.26oz) |
| ✓ Durable, waterproof, fogproof and shockproof + hang on to zero | ✗ Image quality beyond 4X is not very good |
| ✓ Illuminated reticle | ✗ Small sweet spot for magnification over 4x |
| ✓ Able to see black reticle even if battery is out | ✗ Second Focal Plane scope, Reticle accurate at only 6x |
| ✓ Limited lifetime warranty, (Need to pay for shipping cost in some cases.) | |
Price : $$
Conclusion
For people with very tight budget, the Tasco World Class scopes could not be beaten.
For long range shooting, the Primary Arms 4-14×44 offers a First Focal Plane scope which you generally couldn't afford it at this low price. Plus overall quality is good.
The Truglo Trubrite has illuminated reticle and 1-6x magnification which can be used with both eyes open. These features normally comes at a much higher price tag.