Scout scope is an idea originated from Colonel Jeff Cooper. He envisioned mounted forward scopes which are faster, lighter, with longer eye relief and can be used while opening both eyes, retaining peripheral vision.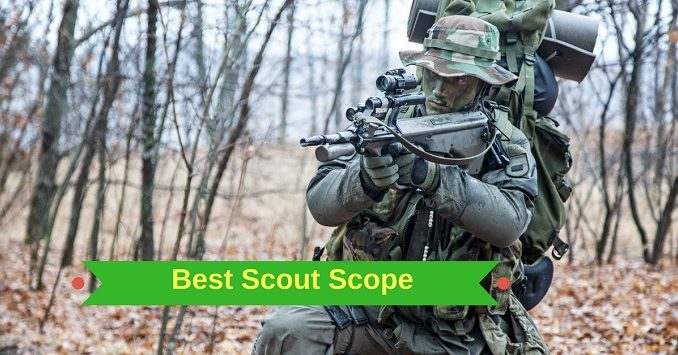 Scout rifles and scout scopes prove to be useful concepts and have been applied to home defense, tactical use and big game hunting. When looking for a scout scope, it must be able to fulfilled its listed purpose above and we'll get into details what a good scout scope should be like.
For people who just want to see the scope recommendation, here's my list of the best scout scopes.
Now let's go over to the criteria of a good scout scope.
---
What makes a good scout scope ?
Magnification Power
Scout scopes generally do not have high magnification, as higher magnification tends to make target acquisition slower and provide less field of view. That destroys the whole purpose of scout scopes.
Common magnification for scout scopes are 1.5x-5x, 2x-7x. Some might even go as high as 8x. These magnification range are also good for big game hunting. Furthermore, you need to make sure that the lower end magnification can be used with both eyes open, even though they're probably not as good as red dots or true 1x scopes.
Another option is the fixed magnification scopes These tend to also do well as they are easier to manufacture and often leads to substantial cost savings or improved quality for end users.
Objective Lens Diameter

Objective lens diameter, coupled with magnification power leads to exit pupil size. This is define by : Exit Pupil Size = Obj. Lens Diameter / Magnification Power
Since magnification is small for scout scopes, one can pick small objective lens and still have decent exit pupil which translates to good image size through the scope and also good light transmission.
Cheap optics manufacturers often mask their poor quality glass by using huge objective lens, such as 42mm, with low magnification scopes. It does improves image quality but makes the scope clunky and heavy. This is a no-no for scout scopes.
For our purpose, objective lens of 32mm should be the maximum threshold.
Glass and Lens Coating
Every quality scope needs good glass and lens coating. It's the main contributor to image quality. Durability is also enhanced due to waterproofing and scratch resistance coatings.
Look for things like ED glass (Extra Low Dispersion Glass) and Fully Multi Coated if you can afford it.
That said, here are some quoted jargons for lens coating
Coated: A single layer on at least one lens surface
Fully Coated: A single layer on all air to glass surfaces
Multicoated: Multiple layers on at least one lens surface
Fully Multi Coated: Multiple layers on all air to glass surfaces
Field of View (FOV)
A scopes field of view (FOV) is how wide one can see through the scope. It's normally measured at x feet at 100 yards. This attribute is mainly determined by the optics construction and magnification power.
At lower magnification, you should be able to use it with both eyes open as this will give you unlimited FOV. Also, look for scopes with high FOV on higher magnification so that you can also be aware of the surroundings when using higher power.
Tube Size
Since one should be able to carry a scout rifle with only one hand. Scout scopes should be as light and compact as possible. This means that the desired tube diameter is 1". A 30mm tube is still tolerable, but should never exceed that.
Reticle
There are 3 main groups of reticle pattern
Simple

– Duplex, NikoPlex, V-Plex, Dot, etc.

Mil-Dot, MOA

– Crosshairs

BDC

– Bullet Drop Compensation calibrated to particular rounds
This is mostly up to your preference.

Turrets
Precision and repeatability are the most important thing for turrets. Each clicks should also be crisp, tactile and audible. Low profile turrets and turret caps is also a plus as they can prevent accidental adjustments.
Features such as finger adjustability, zero reset and zero stops are nice to have but not a necessity.
Eye Relief and Eyebox
Scout scopes are intentionally built to have long eye relief. Standard rifle scopes have 3"-4" eye relief while Scout scopes have up to 9"-12" eye relief.
This difference allows for "both eyes open shooting" and the scope is forward mounted further away from the shooter. Due to this fact, large calibers with high recoil are popular with scout rifles.
Eyebox is the amount of wiggle room for your aiming eye placement. Bigger eyebox means more friendly and easy to use scopes. Target acquisition speed is also improved. Thus generous eyebox is essential for scout scopes.
Durability
Scout scopes are designed for run-and-gun or long hike use. So it must be able to withstand bumps and shocks along the way. And the fact that scout scopes feature long eye relief, people tend to pair it with high recoil rounds. Thus, durability and reliability are things one sought after in scout scopes.
It also must withstand other harsh field conditions such as extreme temperature, rain and water submersion.
Reliable warranty is another factor. Luckily, the scope industry is in an intense competition. Each business tries to outdo their rivals, so intensely that they offer very generous warranties. Easily, you can find Full Lifetime warranty that even covers for scope damage by your fault, such as dropping. Some warranties are even transferable if you ever need to sell the scope.
---
Scope Recommendations
1. Vortex Optics Crossfire II 2-7×32 Scout, V-Plex Reticle
Vortex Crossfire II 2-7×32 Scout is an affordable scout scope with reliable quality.
Glass is clear on lower magnification. Eye relief is 9.45" which makes the scope works well with both eyes open on 2x power. On power above 6x however, there are slight chromatic aberrations and a bit blurry on the edges. That said, it's totally usable. Additionally, brightness during low light is not that great either.
Now for the turrets, they are finger adjustable with screw on caps which are very helpful for preventing accidental adjustments. Each click is tactile and audible. And most importantly, the turrets are repeatable.
The featured reticle is the V-Plex, which is the duplex version from Vortex. It is a simple uncluttered scope with no crisscrossing holdovers to mess with your sight. Nice option if you're going to shoot within 200 yards.
The optic is built rugged as it can withstand recoils from a Mosin Nagant easily. It is also waterproof, fogproof and shockproof to a degree. Plus you get Vortex Lifetime Warranty which is transferable and considered one of the most reliable in the industry.
| Pros | Cons |
| --- | --- |
| ✓ Hold zero on high recoil rounds | ✗ Slight chromatic aberration |
| ✓ works well for both eyes open | ✗ Not good in low light |
| ✓ Vortex warranty | |
Price : $$
2. Burris Scopes 2.75x20mm Scout Riflescope
This very lightweight (7 ounce) and compact (Length : 9.2") scout scope from Burris has fixed magnification at 2.75x. You tradeoff versatility with clarity and durability. This is due to the fact that fixed power scopes are easier to manufacture, and those cost savings are passed on to you as added quality.
Glass quality is crisp and clear. With 2.75x you can use the scope with both eyes open. Light transmission is, unfortunately, ok but is inferrior compared to scopes with bigger objective lens. I suppose Burris was trying to make it as lightweight and compact as possible that they pick an objective lens of only 20mm. Another complain is that FOV is 15 feet at 100 yards, which is rather small. This downside is mitigate by the fact that you're supposed to use it with both eyes open.
The scope comes with Heavy Plex reticle which ensures that it will not be lost in low light conditions. Given the fact that you aren't likely to use the scope for long range purpose, the heavy reticle will not be obstructing your target.
Eye relief is 7.3". Turrets are accurate and positive with wide range of internal adjustments (140 MOA). The durability is good as it will hold recoil of larger rounds and will be reliable in harsh field environment. Burris also has Forever Warranty which is effectively a transferable Lifetime Warranty.
| Pros | Cons |
| --- | --- |
| ✓ Nice clarity optics | ✗ Fixed power scope |
| ✓ Works well for both eyes open | ✗ Not great in low light |
| ✓ Lightweight and compact | ✗ Low FOV |
| ✓ Durable | |
| ✓ Transferable Lifetime Warranty | |
Price : $$$
3. Burris 2-7x32mm Ballistic Plex
This is an upgrade from the prior Burris. It is a variable power of 2-7x which means it is more versatile. Glass quality is clear and crisp on all magnification. In my opinion, it's better than the Burris 2.75×20 mentioned earlier.
The optics features the Ballistic Plex reticle which is a simple, uncluttered BDC which allows for more accuracy at extended range.
Turrets are accurate and repeatable. Clicks are crisp and tactile. Durability is good for field conditions. Plus, Burris also gives transferable Lifetime Warranty for this product.
Now, to the downside. Light transmission is not as good as it should be. Even with the 32mm objective, low light image is not so good and hunts during low light will suffer a bit. Furthermore, eyebox at 7x is a bit tight.
| Pros | Cons |
| --- | --- |
| ✓ High quality glass, clear and crisp image | ✗ Not good with low light |
| ✓ Unclutter BDC reticle | ✗ Small eyebox at 7x |
| ✓ Holds zero on high caliber rounds | |
| ✓ Durable with reliable transferable Lifetime Warranty | |
Price : $$$$
4. Aim Sports 2-7X42 30mm Scout, Rangefinder Reticle
This Aim Sports is an entry level scope. I recommend it for people who are not sure what scout rifle concept is all about and whether it will fit their taste or not. Please note that it's not a quality scope and is more suitable for a cheap starter scout scopes only.
Glass quality and light transmission are not good. Yet it's acceptable considering price.
Turrets clicks are crisp and tactile. The optic features the rangefinder reticle which is a type of BDC, which has the added functionality of allowing you to easily approximate distance.
Objective lens are excessively big (42mm) for scopes of this magnification. Probably, Aim Sports tries to hide the fact of cheap glass by using large objective lens to enhance light transmission.
The Aim Sports brand seems to have quality control issue. If you happen to get the good quality one, it will hold zero to .308 or Mosin Nagant recoil. On the contrary, if you get unlucky, contact them to invoke their Limited Lifetime Warranty.
That said, low overall durability means that you should not risk to use it in the field. It should be used as a test or target shooting only.
| Pros | Cons |
| --- | --- |
| ✓ Cheap, starter scout scope | ✗ Bad Quality Control |
| ✓ Acceptable glass for the price | ✗ Not durable |
| ✓ Holds zero | ✗ Big objective lens for this magnification |
| ✓ Has Limited Lifetime Warranty | |
Price : $
5. Leupold FX-II Scout 2.5x28mm Duplex
Leupold is a 5 generation American family business. They have good reputation for reliable, quality rifle scopes.
For this scout scope, sight picture is clear edge to edge with no distortion nor chromatic aberrations. It also does well in low light and can be used with both eyes open. The high quality may be attributed to the fact that fixed power scope are simpler to design and manufacture. Maybe they can focus more on quality with same amount of resource.
Duplex reticle is chosen for this scope. There are no holdovers whatsoever, and wouldn't be suitable for range longer than 250 yards. If you wish to shoot longer range, this scope is not for you.
Turrets are finger adjustable and accurate to a point. Again the turrets aren't for long range and are more of a set and forget type. It features no zero reset nor zero stops.
Ruggedly built, this optic can take the heavy punishment from rounds such as .45-70 caliber. It is also lightweight (7.5 ounce) and compact (Length 10.1 Inch), making it a suitable scope for long trips into the woods. Eye relief is 9.3", about right for scout rifle scopes.
Leupold scopes are known for reliable field conditions and this scope is no exception. It is made to be waterproof, fogproof and shockproof. Plus, the transferable Leupold Lifetime Warranty will also cover it in case of defects from manufacturer and normal uses. Note that Leupold Warranty are deemed reliable and should be pretty safe.
| Pros | Cons |
| --- | --- |
| ✓ High quality glass | ✗ Fixed power scope |
| ✓ Good in low light | ✗ Not good for medium to long range |
| ✓ Can be used with both eyes open | |
| ✓ Lightweight and compact | |
| ✓ Holds zero | |
| ✓ Durable with reliable and transferable Lifetime Warranty | |
Price : $$$
---
Conclusion
Based from our recommendations above, the Leupold FX-II Scout 2.5x28mm Duplex is considered the best scout scope in my opinion. It has the best sight picture, works well in low light and can be used with both eyes open. Furthermore it is rugged, lightweight and compact as is proper in field use.
The downside is that it's a fixed power scope and doesn't have long range capabilities. But those are not the things scout scopes are designed to do in the first place.
Leupold's Lifetime warranty is also reliable. This ensures that any defects or wear & tear are not a huge deal.