Even though shotguns are generally used at short range, there are optics that go well with shotguns. Optics such as red dots greatly improve target acquisition rate compares to normal iron sights as the need to align the front sight and rear sight to the target is reduced to just the dot and the target. Magnified scopes also help when shooting smaller targets or shooting at extended range.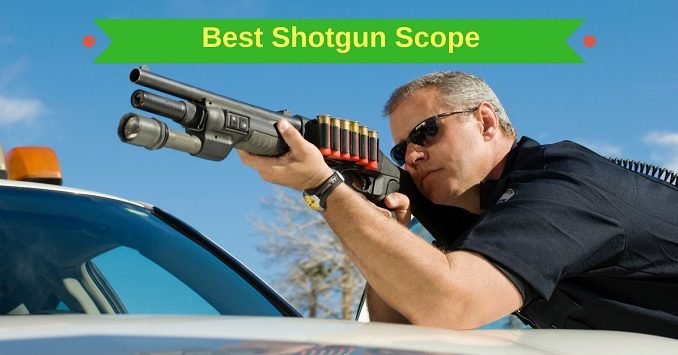 Now, here's a summary to my list of the best shotgun scope.
Before we proceed to recommended optics, let's explore characteristics that make a good shotgun scope.
---
What makes a good shotgun scope ?
Durability
The first thing to consider for shotgun scope is its durability. A 12 gauge shotgun can have recoil energy up to 54 foot pounds, which is significantly much higher than a typical rifle. This means a large portion of optics in the market will not withstand the recoil of shotguns.
When looking for suitable optics, make sure the manufacturer states that it can be used with shotguns.
Other than recoil, it must also be rugged enough for other harsh field conditions such as extreme temperature, rain and water submersion.
Reliable warranty is another factor. Luckily, the scope industry is in an intense competition. Each business tries to outdo their rivals, so intensely that they offer very generous warranties Easily, you can find Full Lifetime warranty that even covers for scope damage by your fault, such as dropping. Some warranties are also transferable if you ever need to sell the scope.
Type of optics
Red dots – When aiming with iron sights, users have 3 points of reference. Which are the front sights, the rear sights and the target. Red dots reduced that to only 2 points of reference. You only need the target and the reticle. Able to be used with both eyes open, red dots optics provide fastest target acquisition and unlimited field of view like iron sights. One downside for red dots is that they are useless without batteries.
Magnified scopes – These optics grant faster target acquisition than iron sights, albeit not as fast as red dots. They also provide magnified vision which extend the useful range of a shotgun especially on smaller size targets.
True 1x Magnified scopes – These scopes commonly are variable power as they combine red dots both eyes fast acquisition with magnified vision. That said, they are typically more expensive.
Magnification Power
Magnification power depends heavily on your specific use. As a rule of thumb, this is the amount of magnification I would go for :
Under 50 yards, red dot sights with no magnification should be the way to go.
50 – 100 yards with small targets, low magnification like 1.5-5x or 1-6x can come in handy.
100 yards and beyond, go for 2-7x scopes
If you happen to shoot at varying range, 1-6x scopes should do.
Glass and Lens Coating
Every quality scope needs good glass and lens coating. It's the main contributor to image quality. Durability is also enhanced due to waterproofing and scratch resistance coatings.
Look for things like Fully Multi Coated lens if you can afford it.
That said, here are some quoted jargons for lens coating
Coated: A single layer on at least one lens surface
Fully Coated: A single layer on all air to glass surfaces
Multicoated: Multiple layers on at least one lens surface
Fully Multi Coated: Multiple layers on all air to glass surfaces

Reticle
There are 3 main groups of reticle pattern
Simple

– Duplex, NikoPlex, V-Plex, Dot, etc.

Mil-Dot, MOA

– Crosshairs

BDC

– Bullet Drop Compensation calibrated to particular rounds
This is mostly up to your preference. But if you intend to shoot beyond 100 yards, BDC or Crosshairs reticle should come in handy as you need to cope with bullet drop.
Turrets
Shotgun scope turrets preferably are low profile and come with caps to prevent accidental adjustments when hunting in dense woods.
The adjustments do not need to be precisely accurate as it's more of a set and forget type. Features such as finger adjustability, zero reset and zero stops are nice to have but not a necessity.
Eye Relief
Since most shotguns recoil are significantly higher than rifles, optics with small eye relief is a negative as it might hit you in the eye during recoil.
3.5" – 4.2" is enough eye relief for shotgun scopes. Note that red dots and 1x scopes will not have this problem as they have unlimited eye relief.
Weight
When hunting in dense woods, desired scopes should be rather light and compact. Even though it is rather a hard thing to do, skip unnecessary features such as bigger tube size, or high magnification power.
---
Scope Recommendations
1. Nikon Prostaff P3 Shotgun BDC 200
Nikon Prostaff P3 Shotgun is designed specifically for shotgun users in mind. It has shorter parallax, longer eye relief and can withstand the heavy recoils of shotgun.
First thing you'll notice is how good Nikon Prostaff P3 Shotgun's glass is. It is plenty clear and considered top tier in its price range. Plus, light transmission is very high (especially if you use low magnification) as you can easily hunt past legal hunting hours where games are most active.
BDC Reticle is calibrated to 50 yards zero for sabot slugs with muzzle velocity of 1900-2000 fps. Holdovers of 100, 150, 175 and 200 yards are provided. You'd have to recalibrate these distances at the range with your own setup. Once done, it's pretty easy to use. That said, I'd prefer a slightly thicker reticle especially during low light.
Eye relief is ample at 5", eliminating any chance of you getting a black eye from shotgun's strong recoil. Coupled this with Prostaff P3's generous eyebox, you'll get a very fast target acquisition speed, albeit slower than a red dot.
One downside is its weight, as it is slightly heavy at 15.2 oz.This Nikon Nikon's Limited Lifetime Warranty has ok reputation, though not as reputable as Vortex's. My advice is to keep all the receipts and register your scope online with Nikon just in case.
| Pros | Cons |
| --- | --- |
| ✓ Good quality glass | ✗ Reticle a bit hard to see in low light |
| ✓ Good low light capabilities | ✗ A bit heavy (15.2 ounce) |
| ✓ BDC reticle dedicated for shotguns | |
| ✓ Holds zero for Shotguns | |
| ✓ Nikon's Lifetime Warranty | |
Price : $$
2. Primary Arms 2 MOA Advanced Micro Red Dot (MD-ADS) | (Red Dot Option)
This is a shotgun rated red dot by Primary Arms with 2 MOA dot as a reticle. It comes with 12 brightness settings, 2 of which are night vision compatible. With higher brightness setting you can clearly see the dot even on bright sunny days. On night vision settings, the dot will become invisible to the naked eye and can only be picked up by night vision optics to prevent bloom.
This red dot allows for very fast target acquisition as it can be used with both eyes open with unlimited field of view. Eye relief is also unlimited. Plus, the red dot is very lightweight (3.9oz) and compact.
This Primary Arms red dot are made in China. It boasts 50,000 hour of battery life which I haven't verify it. But it's unlikely the case. You better change the CR2032 battery before it runs to 50,000 hour. When the battery is running low, it will stay on low power, and that's the sign to change battery.
Waterproof for 72 hours under 2 meters depth, fogproof and shockproof, it is a durable red dot. Unfortunately, it has only 3 years warranty.
| Pros | Cons |
| --- | --- |
| ✓ 12 brightness settings | ✗ 3 years warranty |
| ✓ Clear and bright even on sunny days | ✗ Needs battery (CR2032) to run |
| ✓ Fast target acquisition | |
| ✓ Unlimited FOV and eye relief | |
| ✓ Lightweight (3.9 ounce) and compact | |
| ✓ Durable | |
| ✓ Has 2 night vision settings | |
Price : $$
3. Aimpoint PRO Patrol Rifle Optic | (Red Dot Option)
Aimpoint has long been the go to choice for military weapon system since 1992. They produce tactical, serious home defense optics that will not fail you in time of need.
Aimpoint Pro is one of the more affordable red dot sights from this brand. Rather a no-frill-but-excel-at what-it-does kind of optics, It has 2 MOA dot reticle with 10 brightness settings. On higher power, the dot is easily seen under sunlight. There are 4 levels of night vision compatible brightness. Furthermore, it weighs only 7.8 ounce.
The real selling point for any Aimpoint product is the reliability in real world situation. This red dot is designed to take some serious beatings and is favoured by the military. It can withstand a lot of shock (40 +/- 4 g in y and z axis, 500 g in x axis) and is waterproof up to 150 ft. The warranty is 2 years for professional or competition use and 10 years for personal use which is very acceptable in my opinion.
Battery life is dependable to 30,000 hours on power setting level 7. This is a reliable number as Aimpoint Pro is known to work for more than 3 years under a single battery. You can leave the optics always on, knowing that you do not have to fumble on on/off switch during an emergency, and be ready from the get go.
The downside is that, even though it's a cheaper model in Aimpoint's arsenal, it's still higher priced than other optics mentioned in this article.
| Pros | Cons |
| --- | --- |
| ✓ Reliable & Durable | ✗ Not much additional features |
| ✓ Long life battery | ✗ Higher priced |
| ✓ Clear, bright and night vision compatible | ✗ Needs battery (3V lithium) to run |
| ✓ Decent warranty | |
Price : $$$$$
4. Simmons 1.5-5X32 Prohunter Prodiamond Shotgun
This Simmons 1.5-5×32 shotgun scope is a budget option that does very well in terms of value. The optic comes with variable power of 1.5-5x which is adequate up to at least 100 yards. Magnification ring is rather stiff and could use some kind of lever to help ease turning it.
That said, the scope offers clear and crisp image quality for the price with adequate eye relief of 3.75". At 1.5x magnification, one can use it with both eyes open, albeit a little slower than true 1x scopes. This greatly enhance target acquisition speed and field of view.
It features the diamond reticle pattern, a simple reticle with a bit of distance / size measurement. The lines are a bit thick but is good for closer range shots. Some people might prefer thinner reticles.
The scope is shotgun rated and weighs 9.3 ounces. It is durable enough for hunting conditions. Furthermore, it's also waterproof and fogproof but should not be submerged under water as the seals might not be that good.
Simmons offers Limited Lifetime Warranty but their warranty is not rated highly, as sometimes you need to pay for shipping costs or needs to pay for some fixing. But at the price, I think it's acceptable.
| Pros | Cons |
| --- | --- |
| ✓ Budget option | ✗ Stiff zoom ring |
| ✓ Clear glass for the price | ✗ Not great warranty |
| ✓ Value for the money | |
| ✓ Handles recoil of shotgun well | |
| ✓ Durable | |
Price : $
5. Simmons 4×32 Prodiamond Shotgun Prohunter
This 4×32 Simmons is of the same model as the above Simmons but is a fixed power scope. Since it doesn't have 1.5x option, it's not suitable to be used with both eyes open. What it offers is that it's even cheaper than the Simmons 1.5-5x scope.
Even though it's the same model, fixed power scopes are easier to construct. This one collects light better than the variable model and allow for more hunting time during dawn and dusk when games are most active. In addition to that, it weighs 8.5 ounces which is also lighter than the variable power version.
If you decide that you're going to shoot within 35-100 yards, this scope should be the right one for you.
The scope is shotgun rated and is durable enough for hunting conditions. It also has Limited Lifetime Warranty but their warranty is not rated highly, as sometimes you need to pay for shipping costs or needs to pay for some fixing. But considering the price, it's acceptable.
| Pros | Cons |
| --- | --- |
| ✓ Clear and bright glass for the price | ✗ Fixed power at 4x |
| ✓ Lightweight (8.5 ounce) and compact | ✗ Not great warranty |
| ✓ Budget option | |
| ✓ Value for the money scope | |
| ✓ Handles recoil of shotgun well | |
| ✓ Durable | |
Price : $
---
Conclusion
For general hunting purpose, the Nikon Prostaff P3 Shotgun BDC 200 is the best choice in my opinion. It offers very clear and bright glass at affordable price. The scope can handle the recoil of shotguns and comes with BDC reticle calibrated especially for slug guns.
For tactical or home defense applications, Aimpoint PRO offers the best reliability and durability. Plus red dots offer fastest target acquisition possible, making it ideal for CQB or other close range use. You can rest assured that it will not fail you in the time of need.