Quick summary for Leupold VX-3i
Pros
Very good in low light
Lightweight & Compact
High quality glass
Very durable
Reliable warranty
Cons
Turrets have no zero stop and are not zero resettable
Hard to keep track of turrets revolution
1st impression; thrice the impact
The first things that'll struck you upon unboxing is how light and compact the VX-3i is.
If you inspect a number of Leupold scopes, you'll notice their devotion towards lightweight and compactness. Crunching the numbers, I found that the Leupold VX3i is lighter than comparables Nikon Monarch 3 and Vortex Viper HST by whopping 30% and 37.5% respectively.
Your fun doesn't end when it gets dark
Being such a compact scope, it makes me wonder how they managed to squeeze a lot of glass quality into that tiny 1 inch tube.
Crisp, bright and vivid view of the world are things you can expect from this scope. The ripples of water, the faint movement of the grass and the minute details of your game can be experienced up close. It's the kind of nature you should enjoy when out hunting.
How does the scope perform in low light, many times the defining moment whether a game decides to go back with us or not?
Well, you can easily locate a buck under the shadow of trees, past legal hunting hours.
As a comparison, if I had to pick between this and the Vortex Viper HST, I'd go with the VX-3i anytime of the day. The VX -3i is very much on par, but slightly brighter than the Nikon Monarch 3 of the same magnification.
So is this Leupold VX-3i a go-to scope in all possible situations? Not really.
Long Range? Nuh Uh!
If you come to me asking "Do you think the Leupold VX-3i is a superb scope for long range shooting?", you'd see me shake my head, frantically wave my hands and probably rolled my feet.
That blotch of disappointment originates from its turrets. Even though repeatable and accurate, they have a very unexpected shortcoming.
"Elevation turret knob doesn't rise/fall along with your adjustments". Meaning that there are no way to keep track of how many revolutions you've dialed, apart from pure memories.
So I was testing the scope with a 10 MOA box test. Happy with the results, I tried shooting back and forth between 100 and 600 yards target. It went well, but then, in the middle of the test, life called. I took a break, talked over the phone, went to the toilet and then come back.
And out of nowhere, my 100 yards shots went way, way too high. I was confused by how talking over the phone and going to the toilet could actually harm my scope!
That was stupid of me, but I took another good 15 minutes to figure out that my elevation dial is 1 revolution to much!
I measured and found out that the elevation knob height is constant no matter how much I adjusted. After some googling, I verified that this is what it's supposed to be, not a defect. Note that the turrets have 64 MOA internal adjustment with 15 MOA/revolution.
And there are no zero stop nor zero reset function with the turrets.
Bottom line : the turrets are repeatable and precise, but are not suited for long range shooting.
Leupold Custom Dial System
Some Leupold VX-3i models give you a free CDS (Custom Dial System) coupon which allow you to switch your elevation turret marking from MOA to yardage (or metres). It also adds zero stops both at your zeroed position and max yardage position.
In order to use this, you supply Leupold with your bullet trajectory data such as ammo type, grain, muzzle velocity, temperature and altitude. Then Leupold will send you a CDS cap which you can easily install with an allen key.
Unfortunately the CDS yardage markings are made for only one revolution range (15 MOA). Meaning that even though your scope has 64 MOA, only 15 MOA can utilize this system. To utilize all the 64 MOA you can inform Leupold to remove the zero stop (which somehow is not recommended by Leupold), or you can take the CDS off yourself (takes time) then count MOA clicks.
Furthermore the CDS is calibrated to only one bullet trajectory, meaning that it won't match if there's a change in bullet grain, temperature and altitude.
This feature normally costs between $60-$70.
Rock Solid with Iron Clad Warranty!
If you're a Leupold diehard fans, it's "Nuff said" and you should skip to the next section.
If not then read on.
Leupold VX-3i is rugged and made for heavy recoil. You can use any rifle/ammunition and the scope won't lose zero. It can also handle muzzleloaders, slug guns and airguns. (Eye relief of 3.7″ – 4.4" is also plenty, making a blacked eye an unlikely story!)
Leupold's golden ring warranty is also famous for its reliability. Even though one might not have the chance to use Leupold's warranty (due to the scope's durability), it adds to the reselling value when you wish to sell.
Other Boring Technical Info
Reticle
The Leupold VX-3i's reticle is clear and easy to find even in low light. There are 7 reticle patterns to choose from :
*Reticle illumination is available on some models.
Models
Based on magnification power, objective lens diameter and adds-on, Leupold VX-3i is available in 23 different variations. Here are some of the more popular version :
(Numbers in front indicate magnification, 3-9x = 3x-9x magnification. Numbers in the back are the objective lens diameter in millimeter, 40 = 40mm objective lens diameter.)
Leupold stopped manufacturing some models, leaving only 12 in production. But you can still find these discontinued models in the market.
Tech Specs
Technical Specifications for Leupold VX-3i 4.5-14x40mm
Length (Inch)
12.6
Weight (oz)
13
Tube Diameter (Inch)
1
Tube material
6061-T6 aircraft grade aluminum
Mounting Space (Inch)
5.8
Finish
Matte Black
Magnification
4.5-14x
Objective Diameter (mm)
40
Linear FOV (ft/100 yd) – Low
19.90
Linear FOV (ft/100 yd) – High
7.40
Reticle
Duplex
Wind-plex
Boone and Crockett
Varmint Hunter
Reticle Focal Plane
Second
Reticle illuminated
No, but available in other variants
Eye Relief (in) – Low
4.4
Eye Relief (in) – High
3.7
Finger Adjustable Turrets
Yes
Turrets Resettable to Zero
No
Adjustment Type
Click
Adjustment Click Value
1/4 MOA
Elevation Adjustment Range (MOA)
64
Windage Adjustment Range (MOA)
64
Parallax
Fixed at 150 yards
Waterproof
2nd Generation Argon/Krypton Waterproofing
Fogproof/Shockproof
Yes
Lens Coating
Fully Multi-Coated
DiamondCoat 2
Warranty
Full Lifetime
My verdict on the Leupold VX-3i
If you're looking for a quality medium priced hunting scope, the Leupold VX-3i won't disappoint you.
But if you want to shoot beyond 600 yards, the Leupold VX-3i's turrets, even though repeatable, are a bit lacking. Because you can easily lose track of your elevation turret's revolution (as it doesn't rise/fall along with your adjustment).
Pros and Cons Table
| Pros | Cons |
| --- | --- |
| ✓ Very good in low light | ✗ Turrets have no zero stop and are not zero resettable |
| ✓ Lightweight & Compact | ✗ Hard to keep track of turrets revolution |
| ✓ High quality glass | |
| ✓ Very durable | |
| ✓ Reliable warranty | |
Alternate Scopes
1. SWFA SS 10×42, Mil-Quad Reticle, 1/10 Mil, Side Focus
If you want to shoot long range (+600 yards), the Leupold VX-3i is not a great option due to it's turrets. The Nikon Monarch 3 also falls short due to it's limit internal turrets adjustment of only 40 MOA. Particularly for long range shooting, you'd be better off with this SWFA fixed 10x scope.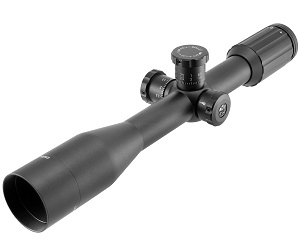 Precise turrets for long range shooting
Turrets revolution easy to keep track
Good quality glass
Matching reticle and turrets unit (MIL)
Very durable
Fixed 10x magnification
2. Meopta Optics MeoPro 4.5-14X44
The scope is an upgrade both in terms of glass and turrets, but it does have quite a higher price tag.
Better glass
Better turrets
Higher price
3. Leupold VX-2 3-9×40, Duplex
If you want to spend less, the Leupold VX-2 is a more affordable option.
Less expensive
Not as good light transmission
Not as reliable and repeatable turrets