Amazon Prime Day 2019 has ended.
Amazon Prime Day is an opportunity for you to acquire gears at markedly discounted price. These discounts range from 10% to as high as 80%. If your desired gears, be it optics, sights, hunting equipment, etc. can be found on Amazon, you might want to utilize this Prime day, which in 2019 starts at 15th July 00:00 to 16th July 24:00.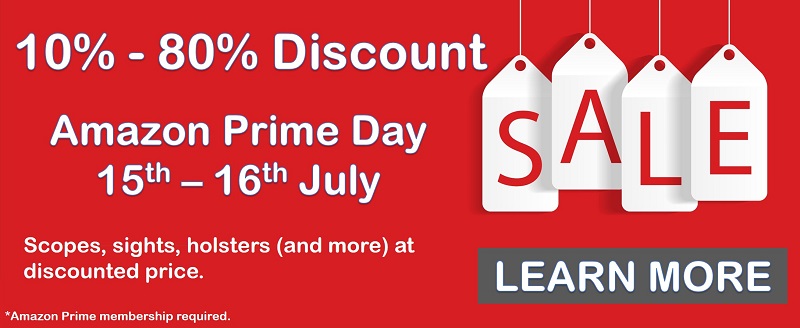 There's a slight barrier of entry. You need to be an Amazon Prime member to participate in this event. If you're not already an Amazon Prime member, one strategy is to get Amazon Prime monthly subscription. As long as you intend to spend more than $130 (130 x 10% = $13) and have more than 5 products in mind to buy (in case some of your desired products don't offer any Prime day discounts), the membership should be worth it.
Another possible course of action, if you have never been an Amazon Prime member, is to get the 30 day Amazon Prime member free trial. This way you can skip the member cost of $119/year or $12.99/month while getting the benefits from Amazon Prime day.
Some of benefits for being an Amazon Prime member are:
FREE One-Day, Two-Day Shipping
FREE Same-Day Delivery
2-Hour grocery & restaurant delivery
Scheduled, In-Home & In-Car Delivery
Unlimited photo storage
Alexa Voice Shopping & Deals
Savings at Whole Foods Market
And more
I'll be keeping you updated with gun-related deals on this page so that you don't miss out.
---
Interesting Amazon Prime Day deals
Gun/Hunting related
Amazon Prime Day 2019 has ended.