Have you ever wonder what's the best approach to attach your scope to your rifle (or other firearms)? There's a dazzling number of mounts, rings, bases and rails to choose from. And there are quite a number of factors to consider, such as
Do you want your rifle to be as light as possible?
Do you want to be able to adjust windage and elevation from your mount?
How much height are you comfortable with your scope?
If you don't know much about these mounting system, don't worry. I'll guide you through the mount selection process in an easy-to-follow manner.
Why choosing a mounting system is important to you
Your mounting system's key role is to hold your optics steady against hundreds or even thousands of violent recoil. To achieve this, the alignment between your scope, your mount and your rifle must be perfectly straight for optimal recoil absorption. Furthermore, manufacturer's tolerance of errors for rings and mounts must be minimal to prevent uneven pressure on your beloved scope, which otherwise could damage it in the long run.
Many cases of scopes losing zero or inconsistent shots are said to be caused by inadequate mounts.

Understanding scope mounting system
To choose a good mounting system, you need to understand how each part works.
Rail and Bases
Both rail and base act as a platform between your firearm and your scope mounting equipment. You attach your rail or base onto the upper receiver of your firearm. Then you attach scope rings and/or mount onto your rail or base.
Rail – Rails refers to a 1 piece equipment with many slots/positions for you to attach rings/mount. They are the newer standard for scope mounting. Generally they are more rugged than bases. And you have the added benefit of flexibility to switch between optics with ease.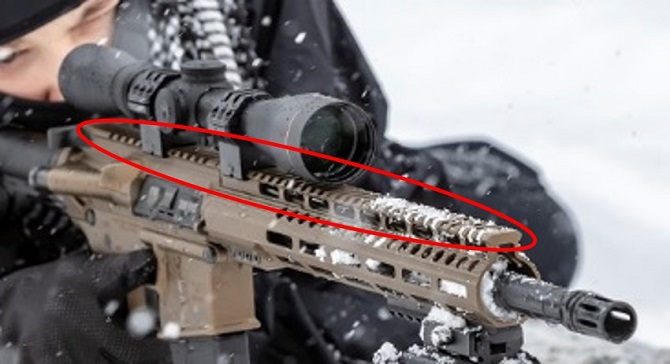 Rails are applicable to most firearms. However, since they are a 1 piece equipment, rails could obstruct the action of some bolt action rifles. Another downside is that rails are generally more expensive and heavier compared to bases.
Popular rails : Picatinny rails, Weaver rails, Dovetail rails
Bases – Bases often refer to 2 pieces equipment attached to the upper receiver acting as bases for rings and mounts. They are generally less rugged compared to rails. And they don't offer the flexibility of optics switching like rails. But they make up in lighter weight and lower price. Plus, the biggest advantage is that 2 piece bases won't obstruct your bolt action or ejection port, which means that bases are required on some firearms models.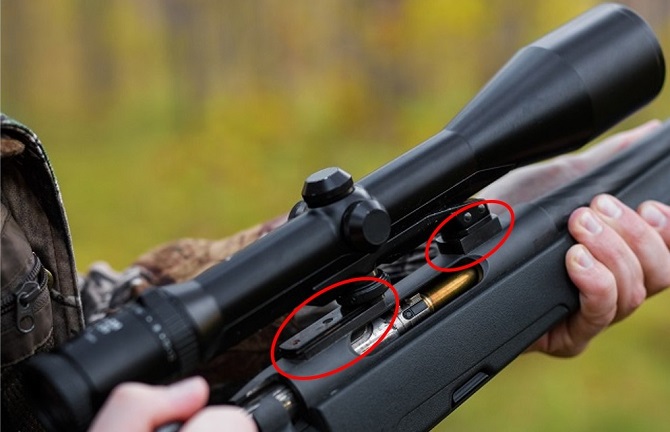 Scope Rings and Mount
Scope rings or mount are attached to your rail/bases. Then your scope is put onto the rings/mounts.
Scope Rings – A scope ring is a plain scope mounting device where you have a ring on top to hold scopes and a clamp (or other mechanism) on the bottom to interact with rails/bases platform. There are horizontally split rings and vertically split rings. In my opinion, horizontally split rings are easier to install and are more reliable.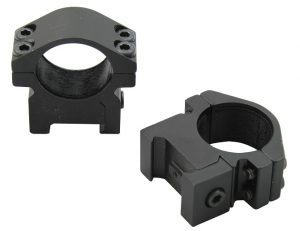 2 rings are needed to properly mount a scope. And you need to take extra attention aligning these rings.
Note that there are also options of 1 piece ring and base. These designs give improved ruggedness.
Popular rings : Picatinny rings, Weaver rings, Dovetail rings, Quick detach rings, etc.
Mount – Mount refers to any platform with mounting device on it. It could be a Picatinny rail on a platform or 2 scope rings on a single platform.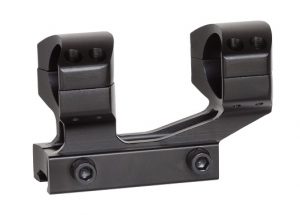 2 scope rings on a single platform solves the issue of aligning front and back rings together, because they are aligned from factory. However, 2 scope rings on a single platform mount is heavier and more expensive compared to 2 piece scope rings. And with every 1 piece equipment, it could obstruct your bolt action.
Some optics, especially red dot sights, are sold along with mounts. It's usually a good idea to check whether it fits with your rail/bases. Note that sometimes, sold-along mounts aren't that high quality, and it would be wise to switch those mounts to more reliable ones.
Popular mounts : Picatinny mounts, Quick detach mounts, Dovetail to Weaver Adapter mounts, Cantilever mounts, etc.
Factors affecting your mounting decision
Before we dig into the details and pros/cons of each mounting system, let's first discuss what factors affect your mounting decision.

Want to use this image? Feel free to grab this code!
Ring size
You need to check what size of scope you are putting on your rifle. Common ones are 1 inch, 30 millimeters, 33 millimeters (less common) and 34 millimeters (less common). Since we're going to handle recoil of a gun, our mount must snug up to your scope.
Scope height
Many, including me when I started out, heard that the most ideal scope height position is as low as possible without obstructing other parts of your gun. However I'd like to suggest otherwise.
I think our comfortable shooting position matters much more than "least discrepancies between your scope and barrel". For dedicated long range shooters, you might indeed prefer your scope to be as low as possible. But if you're like me, I don't want to squish my face and strain my neck everytime onto the buttstock. I want the most comfortable and natural shooting position for me.
Especially for AR-15s, or any other rifles with flat tops, low scope rings/mounts don't really make much sense to me. My recommendation is to experiment and find your comfortable scope height with your rifle and preferred shooting stance. Measure how high your scope should be from the top of your rifle to center of your eye level, then jot down that number and refer to it when looking for rings and mounts.
When out shopping, most scope rings have low, medium and high height for you to choose from. Riser mounts are another option for you to adjust your scope height.
1 piece or 2 piece mount
You need to ask yourself whether you want a sturdier 1 piece mount or lighter 2 piece rings. If a 1 piece mount would obstruct your rifle's action, then you're pretty much forced to use 2 piece bases and rings.
Type

Pros

Cons

1 piece rail with 1 piece mount

– Can withstand more abuse

– Don't have to worry about aligning your front and back rings

– Heavier

– More expensive

– Can obstruct your rifle's action and ejection port in some model

– Can be difficult to clear misfeeds and malfunctions in some model

2 piece bases with 2 piece mounts

– Lighter

– Cheaper

– Doesn't obstruct your rifle's action (Also mean lower mount on some firearms)

– Less rugged

– A bit harder to align
You can also mix them up with "1 piece rail with 2 rings" or "2 bases with 1 piece mount". The general idea remains the same : 1 piece is stronger but heavier while 2 piece are lighter and won't obstruct your rifle's action and ejection port.
How quick do you want to swap your optics?
There are some advantages when you can quickly swap your optics without losing zero, such as :
You may want to swap your scope onto other firearms quickly.
You may want to swap multiple optics onto your rifle quickly.
Example : Suppose you're hunting dangerous game in Africa. You spot a gemsbok 250 yards away and you want to take that long range shot. So you quickly attach your scope then take your shot. After accurately placing your shot into the gemsbok heart, you quickly put off your scope and switch to iron sights for wider field of view.
If you want something like this, go for a Picatinny rail with Quick Detach (QD) mounts. If the mounts are of high quality, and you have set up properly, loss of zero should be minimal.
Do you need to adjust your scope and eye distance (eye relief)?
Cantilever mounts can help you adjust for eye relief.
Suppose you can't get proper eye relief from your rimfire rifle's long range scope due to the scope being too close, you can opt for cantilever mounts to place your scope a bit forward. On the other hand if you feel the scope is too far forward, you can also move the scope closer to you with cantilever mounts.
Do you want to adjust windage and elevation with your mounting system?
In order for a scope to perform to its fullest potential, light has to pass straight through the scope. But when you adjust the scope's windage and elevation turrets, there're internal shifts of lens within the scope, making the glasses not fully align. This could result in darken image or glares in some corners. Even $2,000-$5,000 scopes can't perform well if you crank your turrets all the way to one side.
Watch this informative video from Burris to see graphical illustrations on this subject.

To fix this, experienced shooters try to approximately keep their turrets to mechanical zero (center of both your windage and elevation adjustments) by using mounts such as Dovetail rings, Burris Signature Pos-align inserts, MOA rails or shims to adjust windage/elevation instead of using the internal scope adjustment.
Also, if you plan to shoot long range, you may want to use 20, 40 or 60 MOA rails so that you have enough elevation adjustments for your long range shots.
Looking for a scope for your AR-10? See Best AR10 Scope.
Equipment breakdown
Here's a quick overview of what we're going to talk about.
Type
Weaver
Picatinny 1913 (STANAG 2324)
Difference between Weaver and Picatinny
Dovetail
NATO STANAG 4694
Handguard Rail
Quad Rail
Keymod
M-Lok
Special Features
Quick Detach rings
Cantilever rings
Adjustable Mounts and Ring Inserts
Offset mounts
Materials
Type : Weaver
Weaver : Rails and Bases
The Weaver rail is a popular and time-tested design invented in the 1970s by William Ralph Weaver. It employs a pair of parallel rails with several perpendicular slots (recoil grooves) to insert rings and mounts.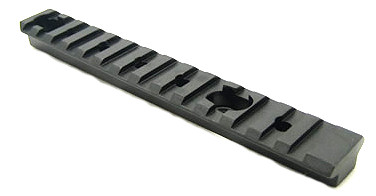 Each Weaver slot has a width of 0.180 inch (4.57 mm). However, the spacing and frequency of these slots are not standardized. It's up to the designer and manufacturers to decide where they want these slots. Thus weaver rails lack the flexibility to switch scopes easily especially with 1 piece mount where the spacing of slots matter more. So don't forget to check whether the rail slots fit your mount before purchasing.
Note that Weaver rails accept only Weaver rings/mounts. A Picatinny ring or a dovetail ring will not fit on a Weaver rail, unless you use adapters.
The advantage of Weaver rails are its lightweight and low cost. Plus, some Weaver rails are a bit lower in height than Picatinny rails. That means you can mount your scope lower.
Weaver : Rings and Mounts
2 piece Weaver rings and mounts can fit on both Weaver and Picatinny rails. But 1 piece Weaver mounts (with 2 or more point of contact with the rail/bases) might not fit. You need to check for slot spacing on your rails, no matter whether it's a Weaver or a Picatinny rail.
Due to the fact that Weaver rings and mounts can be fitted on Picatinny rails, many vendors/manufacturers name their Weaver rings and mounts "Weaver/Picatinny" to ensure customers that they can be mounted on both Weaver and Picatinny rails.
Weaver : Summary
If you value lightweight and want to save some bucks go for Weaver system.
| Pros | Cons |
| --- | --- |
| ✓ Lightweight | ✗ Weaver rails are not compatible with other rings & mounts |
| ✓ Low cost | ✗ Weaver rails are not standardized nor flexible when you want to switch scopes |
| ✓ Lower height | |
| ✓ Weaver rings and mounts can also fit Picatinny rails | |
Looking for a scope for your 17 HMR? See Best Scope for 17 HMR.
Type : Picatinny
Picatinny : Rails and Bases
Picatinny rail, also known as "MIL-STD-1913 rail" or "STANAG 2324 rail", is an upgraded version of the Weaver rail. Back in 1992, the military was dissatisfied with the non-standardized rails and bases in the market. The solution was the Picatinny rail design which was adopted on February 3, 1995.


One of the biggest improvement of the Picatinny rail is the standardized slots (recoil grooves) spacing. In former Weaver rail design, users need to check whether the slot spacing fits with their mounts and rings. This is the case no longer, as every Picatinny rail has a center-to-center distance of 0.394 inch (10.01 mm) and slot width of 0.206 inch (5.23 mm).
Once things are standardized, manufacturers know what they need to produce. And users know that when they buy Picatinny mounts, they can surely fit on any Picatinny rails. Plus, users can switch between scopes much easier compared to Weaver rails.
Another advantage for Picatinny rails is that Weaver rings & mounts with 1 contact point can be used on Picatinny rails. That's because the Picatinny slots are bigger, and you can insert those Weaver rings & mounts just fine. Note that 1 piece Weaver mount with 2 contact points will not fit into Picatinny rails due to different slot spacing.
To sum up, Weaver mounts with 1 contact point can be used on Picatinny rails while Weaver mounts with 2 contact points will not.
The downside of Picatinny rail is slightly higher costs and heavier weight.
Additional tips about mounting on your Picatinny rails
If you decide to put Weaver rings on Picatinny rails, put those rings farthest to the front in its slot to improve recoil handling. Recoil will push scope rings to the front, but since they're stuck within the recoil grooves, they will not move. (This tip also applies to Picatinny rings on a Picatinny rail.)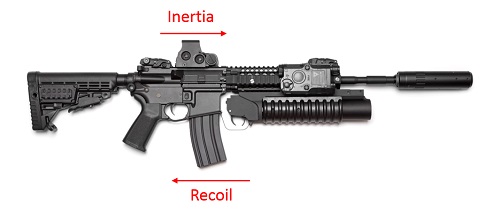 On a spring piston airgun, however, you would move the rings to the rearmost position since the dual recoil wants to move the rings towards the rear of the gun. An alternative is to position the rings in the slots you want as far away from each other in the slots as possible, or as close as possible.
Picatinny : Rings and Mounts
Picatinny rings and mounts will only fit on Picatinny rails. That said, you can easily swap these rings on another Picatinny rails, as they have standard recoil grooves and spacing.
Picatinny : Summary
At the time of this writing, the trends are moving toward more Picatinny rails & mounts products. So if you ask me, I recommend Picatinny rails.
| Pros | Cons |
| --- | --- |
| ✓ Standardized rail, better compatibility | ✗ Slightly more expensive |
| ✓ Picatinny rails can be used with Weaver rings & mounts | ✗ Heavier |
| | ✗ Picatinny rings and mounts cannot be used on Weaver rails |
Looking for a scope for your AR-15? See Best AR15 Scope.
A comparison between Weaver and Picatinny rails

Want to use this image? Feel free to grab this code!
| | | |
| --- | --- | --- |
| Description | Weaver Rail | Picatinny Rail |
| Recoil grooves spacing | Undefine | 0.394 inch (10.01 mm) |
| Width of recoil grooves | 0.180 inch (4.57 mm) | 0.206 inch (5.23 mm) |
| Compatible with Weaver Rings | Yes | Yes |
| Compatible with Picatinny Rings | No | Yes |
Standardized : Picatinny
Lighter : Weaver
Cheaper : Weaver
Recommend : Picatinny
Want a good scope for plinking? See Best .22 Scope and Best Rimfire Scope.
Type : Dovetail
Dovetail system
Dovetail rails refer to any rail with a dovetail, or an inverted trapezium cross-section running parallel to the bore, for mounting a scope or diopter sight to a rifle. Due to the fact that Dovetail rail is an older design, there was no standard nor agreement on the specs of Dovetail rails.
Because there was no standard, everyone make their own versions of dovetails. Leupold have their own Dovetails and Double Dovetails. Redfield, Burris and many other also made their own Dovetail versions.
Thus Dovetail rails come in many sizes, but the most common ones are the 11 mm and ​3/8 inch (9.5 mm). Some other less popular dovetail mounts, are 12, 13, 13.5, 14, 14.5, 16, 16.5, 17 and 19 mm.
One unique advantage of most dovetail rings (not all due to many designs and variations) is the built-in windage adjustment. You can use this to adjust your point of aim without having to mess with internal scope adjustments.
You'll often see Dovetail system on airguns, rimfire rifles and many European guns such as the Sako TRG, CZ500 and SIG Sauer 200 STR.
Since there are quite a number of versions and manufacturers with no specification standard, Compatibility is a big issue for the Dovetail system.
Pros and Cons of Dovetail System
| Pros | Cons |
| --- | --- |
| ✓ Built-in windage adjustment | ✗ compatibility issue |
Type : NATO STANAG 4694
NATO STANAG 4694 is the new improved rail system, approved by NATO on 8th May 2009. It is quite similar to a Picatinny rail, but boasts of better repeatability (the ability to maintain the same alignment of the accessory when it is removed and then reinstalled on the accessory rail). Better yet, it's 100% compatible with Picatinny rings and mounts.
For more in-depth comparison, go to Thomas Mechanical Design.
That said, I haven't tried this STANAG 4694 rail myself and cannot vouch for its quality. Plus there are very few STANAG 4694 rails in the market nowadays that I guess the "better repeatability" is just a very marginal improvement and doesn't worth the increased cost.

Types : Handguard Rails
The optimal place to mount your scope is on the upper receiver due to adequate eye relief distance and stability. But some firearms such as AR-15 offers you the ability to mount optics, bipods, flashlight and other equipment on its handguard. Most notable systems that I'll cover are
Important note : Even though some rifle's handguard and receiver look 1 piece, they're mostly often than not 2 pieces. Because of this 2 pieces fact, handguard rails can subtly shift and change the zero of your scope. Thus you should not mount your precision optics on your handguard rail.
It's ok to mount short range optics such as red dot sights, 1-4x scope, bipod or a flashlight onto your handguard rail. That said, do not mount with 1 ring on the upper receiver and another ring on the handguard, as uneven shift/pressure could damage your equipment.
Quad Rail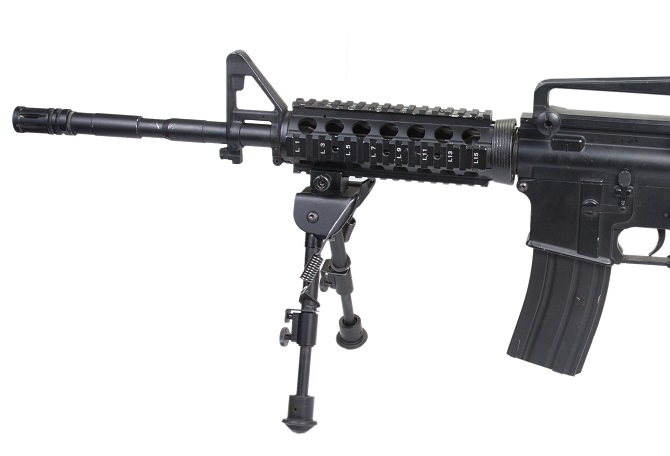 Quad rail refers to a handguard with 4 picatinny rails attached to the top, bottom, left and right. The advantages for quad rail are reliability and abundant mounting space. While its disadvantage is added weight.
KeyMod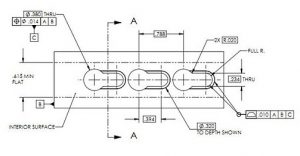 KeyMod, an open source system first created by VLTOR Weapon Systems of Tucson, Arizona, allows you to add "parts" of Picatinny rail to the handguard where you want it, not 4 full length Picatinny rails like quad rails. Thus the KeyMod has less weight. But is not as reliable as a quad rail in terms of repeatability, rough handling and drop.
M-LOK


M-LOK, or Modular Lock, is a free licensed firearm rail interface system patented by Magpul Industries. The M-LOK's aim is to attach Picatinny rails onto the handguard only where it will be used, similar to KeyMod. Some studies suggest that M-LOK system is more reliable than the KeyMod system.
Special Features : Quick Detach Rings and Mounts
Quick detach (QD) mounts gives you the ability to quickly remove and reattach your scope by hand with minimal loss of zero. QD mounts generally employ 1 or 2 levers in place of thumb screws, nuts, or Allen head bolts to secure themselves onto rails.
Imagine shooting at various ranges in your hunting trip. Suppose you are hunting dangerous game in Africa. You spot a lion 300 yards away. You quickly swap out your long range scope, take your shot, then swiftly switch back to your iron sights or red dots in case there are other games nearby.
Suppose you purchased a gun safe that cannot fit in a scoped gun. Quick detach mounts can solve this problem for you as you can take out your scope and store them separately. When you want to use it, the scope mounting process is simple, with minimal loss of zero.
The switch between your day scope and night vision optics is another beneficial case for QD mounts. Plus, the cleaning and maintenance of scope and mounts become easier as you can conveniently detach them from your rifle.
The downside for QD mounts are increased weight, bulkiness, cost and loss of zero.
If you're interested in shooting long range but don't have a long range scope, see Best Long Range Scope and Long Range Scope on a Budget.
Special Features : Cantilever Rings & Mounts
Most cantilever mounts give you 2"-3" of adjustments further away or closer to you depending on how you set up your mounts.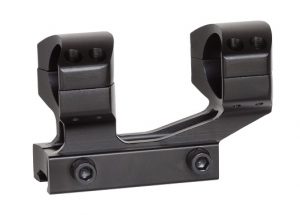 Cantilever rings and mounts are useful when you want to adjust your eye relief. Suppose your scope is too close to your eye and you can't get proper eye relief behind it, you can opt for cantilever mounts to place your scope a bit forward. On the other hand if you feel the scope is too far forward that you can't see the optimal sight picture, you can also move the scope closer to you with cantilever mounts.
Another useful example is when your scope mounting space is too small compared to your mounting bases. You can use cantilever rings to solve this issue.

Special Features : Adjustable Mounts, MOA rails, Ring Inserts and Adjustable rings
Your scope performs best when it's at mechanical/optical zero. That way, all the internal lens are aligned, and you'd be surprised how bright, clear and no glares your score can be.
However, due to manufacturing's imperfections, you may need some help aligning your mechanical zero's point of aim with your point of impact. Examples for causes of imperfections are :
The holes drilled on the receivers might not be perfectly aligned.
The tolerance errors in manufacturing of rails, bases, mounts and scope rings.
Your firearm barrel may point left, right, up, down.
To maintain mechanical/optical zero, the parts you can adjust are rails, mounts and rings.
Adjustable mounts and MOA rails
Adjustable mounts can adjust for both windage/elevation while MOA rails are for elevation adjustment only. If you happen to shoot long range, you'll find these very helpful as you don't need to strain your internal scope adjustment.
Ring inserts & Adjustable rings
Some scope rings such as the Burris Signature Pos-Align rings, Weaver Windage Adjustable Sure-Grip rings (Windage only) and Dovetail rings (Windage only) allow you to adjust for windage/elevation without exhausting your scope's internal adjustment.
Looking for a scope for your 300 Win Mag? See Best Scope for 300 Win Mag.
Special Features : Offset mounts
Offset mounts give you the ability to mount optics at different angles. You can even use it in conjunction with your normal scope mount, resulting in multiple optics on your firearm. For example you can mount your long range scope with normal mounts and your red dot sight at 45 degrees mount. This way, you're ready at both long/short range!
Materials
Another important factor when looking for scope mounts and rails is to see which material they're made of. In the market the most popular material are steel, aluminum and a mixture of both. Steel mounts and rails are more rugged, can withstand more abuse and would also result in better precision and consistency, especially if you tend to shoot a lot. On the other hand, Aluminum mounts and rails are cheaper, lighter and would be a perfect fit if you don't need heavy duty equipment.
Type

Pros

Cons

Steel

– Better durability

– Better precision and consistency

– Heavier

– More expensive

Aluminum

– Lighter

– Cheaper

– Less durable

– Less precision and consistency
Steps to choosing your scope mounting system
Ask yourself if you have special needs for your mount, such as 45 degree mount, long range shooting mount (MOA rails) or windage/elevation adjustable mount.
Measure your optimum scope height from your upper receiver to your comfortable eye level (in your shooting stance). Also make sure that your scope will be high enough not to touch any parts of your rifle. Jot this number down.
Determine your mount/rail material between steel and aluminum. If you shoot high recoil rounds or need extreme precision, go for steel mounts. For low recoil rounds aluminum mount would work just fine.
Choose your scope rail/bases. Picatinny rail is recommended for best compatibility and flexible eye relief.
Decide between 2 pieces rings or 1 piece mount. 1 piece mount is recommended for better ruggedness and better front & back ring alignment.
Pick the rings/mount with appropriate height, which can be defined as :
Appropriate Ring/Mount Height = Your Optimum Scope Height – Rail/Bases Height

Note that manufacturers have different measurement and specs for their rings height. Low Leupold rings can have different height compared to low Burris rings. So you really need to check the rings/mount's dimension.
Looking for a great hunting scope? See Best Hunting Scope and Best .308 Scope.
Conclusion
That's it for my guide on how to choose scope rings, rails and mounts. Hope you have better clues for your scope mounting system!
To sum up, I recommend Picatinny rails and mounts for 90% of the cases. Steel mounts are better for ruggedness and precision if you don't mind the added cost and weight. Your optimal ring height is where you'll be shooting comfortably. Another tip to maximize your scope performance is to obtain mechanical/optical zero by approximately sight in with your mounting system.